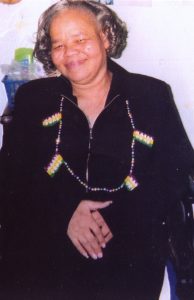 Betty Lee Dixon was born to the late Curtis and Valentine Williams on Aug. 2, 1947 in Slayton, Texas. She received her wings on December 14, 2016. She accepted Christ at an early age and loved the Lord with all her heart.
She was preceded in death by her father, Curtis Williams, mother, Valentine Williams, sister, Heddie Coit and nephew Henry Coit.
She leaves to cherish her precious memories: husband, Virgil Dixon, son Patrick (Nikki) Williams, three daughters: Angela Renee Williams, Demetria Denise (Trey) McDaniel of Dallas, and Prisilla (Linzo) Parker of Minden.