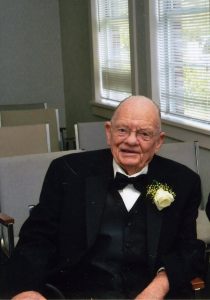 Funeral services for Dr. Tom K. Alley will be held Thursday, Aug. 11, 2016 at 11 a.m. at First Baptist Church in Minden with the Rev. Bill Crider officiating. Interment will follow at Gardens of Memory in Minden. The family will receive friends from 10 a.m. until service time Thursday at the church.
Tom was born March 23, 1924 in Conroe, Texas and entered into rest Aug. 8, 2016 in Minden.
He was preceded in death by his son Ken Alley.
He is survived by his wife Maxine Alley, daughter Marsha