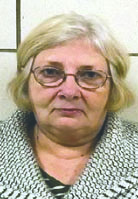 A Cotton Valley woman has been arrested for Medicaid fraud, according to a press release from Attorney General Jeff Landry's office released yesterday.
Ella Smythe, 66, was one of two women arrested by Landry's Medicaid Fraud Control Unit. Smythe formerly worked as the Assitant Municipal Clerk for the Town of Cotton Valley but is no longer employed by the town.
Joseph Alexander, mayor of Cotton Valley, confirmed that Smythe worked for the town and added that she "walked out" in March of 2017.
The press release said Smythe allegedly submitted time sheets for times she was also working for the town.
"Medicaid welfare fraud