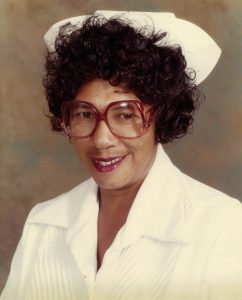 Homegoing celebration services Mrs. Juanita Ruth Nelson Robinson will be held Monday, May 15 at 11 a.m. at St. Rest Baptist Church with the Rev. Willie Bryant officiating. Interment will follow at St. James B.C. Cemetery.
Juanita Ruth Nelson Robinson was born on Dec. 13, 1930 to the union of the late Lloyd Peterson Sr. and Aline Seamster Nelson.
At an early age, she accepted Christ at St. James Baptist Church. Juanita later joined the Mt. Calm Missionary Baptist Church where she was a devoted and loving usher under former Pastor E. J.