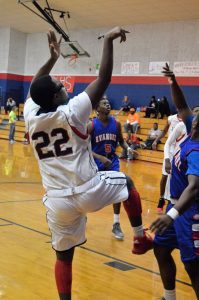 SIBLEY – The Lakeside Warriors were on the hunt for a much-needed district win at home Tuesday night when they hosted Jonesboro-Hodge.
It looked like they were going to get one, but in the final moments of a crazy, overtime game, Jonesboro-Hodge snuck out of Sibley with a 83-76 win.
Jonesboro-Hodge led Lakeside by 10 points at halftime after two highly-competitive quarters.
"We did not come out and play very well to me," Lakeside boys head coach Jason Gould said. "There were a lot of turnovers early and our defense