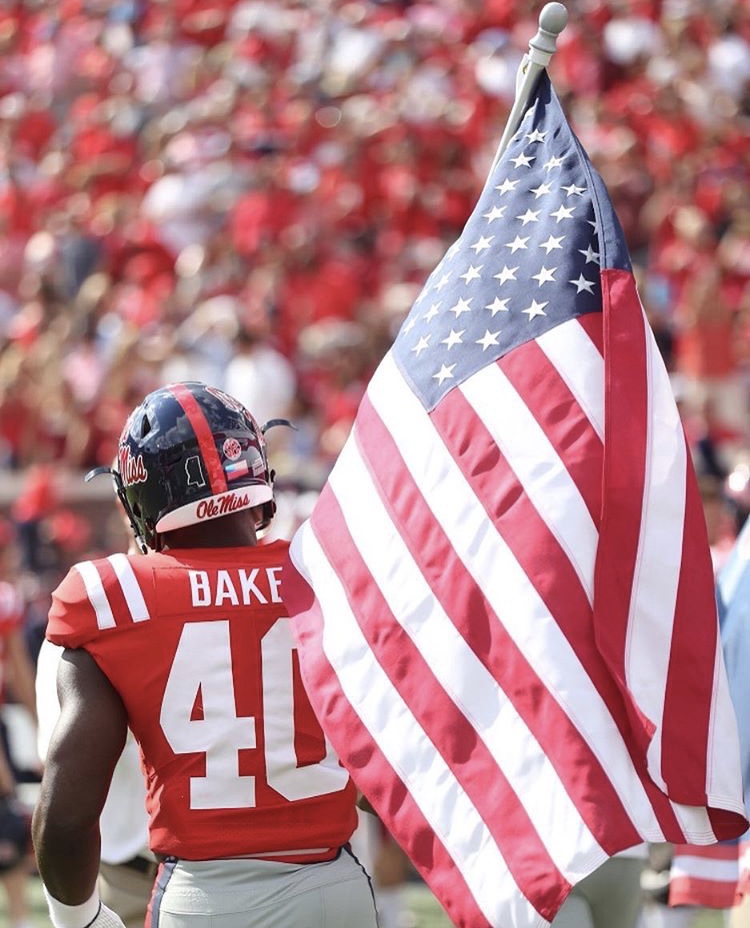 Webster Parish may not have the volume of SEC-caliber players to compete with southern Louisiana, but currently LSU's Devin White is showing the importance of quality over quantity. Could former Minden High star Zi'kerrion Baker be the next Devin White? Which current Webster Parish player has the potential to be the next area player to become a star in college and possibly make the NFL?
First, White's game has to be discussed. He had his breakout year in 2017 for LSU when he totaled 133 tackles with 14 for a loss, 4.5 sacks, three passes broken up and one interception. White didn't get the attention of other SEC linebackers like Roquan Smith and Rashaan Evans, who were first-round picks in the 2018 NFL Draft, but team sources say that White is as good as, if not better than, either of them in 2017. That is a bold statement considering Smith was a top-10 pick.
He's putting up similar numbers this season. Through six games, White already has a forced fumble, 26 solo tackles and 53 overall with 6.5 coming for a loss and one sack. He's listed as "rover" on the team roster, so a slight dip in production was expected as far as total tackles are concerned. Offenses are certainly planning around him, since his talent isn't surprising anyone this season.
Whatever numbers he puts up this season, he's already made a name for himself in NFL general manager circles. He's a potential top-10 pick, with some scouts comparing him to some of the all-time linebackers in the NFL Here is how one of the advance scouts summarized White:
"This kid could end up being similar to Ray Lewis. I'd take White over any of the linebackers this year. He's unbelievable. Unless he gets hurt or completely shuts it down to protect himself, he'll be the first linebacker drafted next year. He's the complete package. Great character. He's the signal-caller of the defense with a super football IQ. He's big, sturdy, and stout enough for [middle linebacker]. Swift enough for [weakside linebacker], great athlete and coverage instincts. Stacks up the stat boxes, all of them. He's fast, an explosive tackler, and elite reactionary quickness."
Another scout told scouting website NFLmocks.com: "Right now, he's among the best and maybe the best I've scouted. Better athlete and versatility than [Dont'a] Hightower. More explosive, violent, and bigger than C.J. Mosley, same level of instincts. Better than Jerod Mayo at Tennessee. Bigger than Jonathan Vilma while being more violent and instinctive than D.J. Williams, same kind of freak athlete, explosiveness wise. Thumper like Sean Weatherspoon. Basically he's a bigger version of Roquan Smith in the 240-250-pound range. He's FUN to watch. Unbelievable stamina and motor. He could be the best linebacker ever to come out of LSU.
"For the NFL, White looks like a true three-down starter. He looks like he has Pro Bowl potential early in his pro career. White could end up being one of the best inside linebackers in the NFL."
White does have some drawbacks. Scouts have noted his inability to shed blockers. He gets held up by bigger players too often. But, it's hard to find holes in his game. While at North Webster, White played some running back which obviously taught him about footwork.
What separates White seems to be his work-ethic and his swiss-army skill set. He has said "I want to be the best linebacker to ever come out of LSU." If he can lead LSU past #2 Georgia this weekend, he could really stamp his legacy on the program and potentially turn LSU's season back around. White has been consistent all season, but his breakout game is coming.
Baker is having a quiet season after looking like a potential rotational linebacker for Ole Miss entering preseason. Baker only has four tackles this season and has yet to really get his chance for the Rebels. That was probably what was to be expected. Baker was a redshirt last year as a freshman and he is not quite of White's ability to where he could just slot in as a full-time player in his first season. Baker dropped down to a three-star recruit as a senior after his unbelievable junior year when he racked up over 100 tackles for the Tide. He only needs the smallest window of opportunity to make a name for himself heading into next offseason. It doesn't look like he's close to snagging a starting spot this season, but anything can happen, especially concerning injuries, and Baker will be more than ready for his opportunity to shine.
White is already a stud, if not the stud in the SEC. I imagine Baker will be a solid player for the Rebels next year. LSU coach Ed Orgeron said before the season, "This is a very good class. One of the best classes in the state in a long time.''
Which means that some players will surely go under-the-radar. I can think of a few area players that could play at the next level. Minden's Jacareon Lathan is too talented to stop playing after high school. North Webster's Sam Plants Jr. has the skill and strength to play D-1 football, but most coaches might not give him a chance because he is a few inches short of what is considered average height for defensive lineman. The Knights' Tyrell Markray could follow White and find a position on defense at the next level. Lakeside's Trey Sanders and Jacquez Lott have both shown their explosive athleticism all year and can find a place to play.
The Warriors' Jordan Preuett has the size and arm to find a role at the next level. Preuett still has a long high school career ahead of him; there's no telling what he can make of himself.
I'm always interested in young athletes finding a place for themselves at the next level. In other parts of the world, there are leagues that continue, at most every skill-level, well after high school is over. It saddens me a little to know that many of these athletes are hitting their peak right as their high school careers end.
I hope some of these amazing talents can find a place at a university. Getting to play in college meant that basketball didn't have to stop after high school, and that meant the world to me.
Part of getting that recognition is through media, so I'd like to know: Who is going to be our next Devin White?