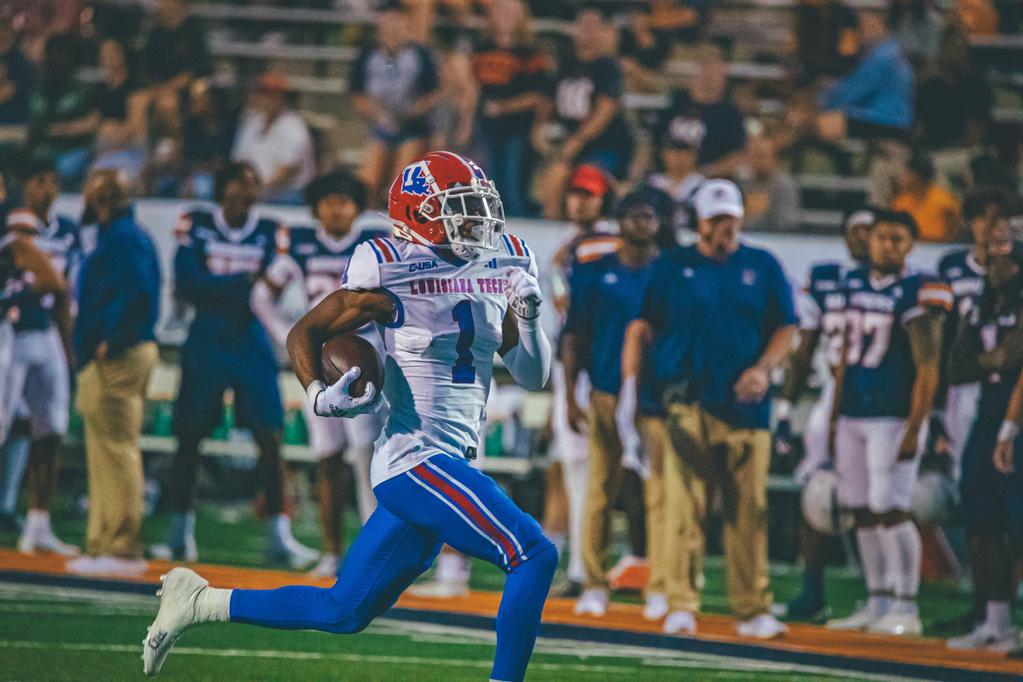 Louisiana Tech Athletic Communications; featured photo by Josh McDaniel
Louisiana Tech put an end to its road losing skid while also remaining unbeaten in conference play, defeating UTEP by a final score of 24-10 on Friday night at the Sun Bowl.

LA Tech (3-3, 2-0 CUSA) used all three phases to get the victory. Offensively, it was a pair of explosive pass plays to go along with another 100-yard rushing performance by Tyre Shelton. Defensively, it was keeping UTEP (1-5, 0-2 CUSA) off the scoreboard in their final four drives. And on special teams, it was Smoke Harris electrifying with a punt return for a touchdown.

It was a downer when the Bulldogs lost the coin toss for the first time this season. However, the Bulldogs needed just five plays to find the end zone on their opening drive of the contest. The big one was Cyrus Allengoing 85 yards on a catch-and-run down to the 1-yard line. Shelton punched it in from there to make it 7-0 just a little over two minutes deep into the game.

After the LA Tech defense forced a 3-and-out on the Miners first drive of the night, Harris took a punt return to the house for 67 yards to give the 'Dogs a quick 14-0 lead.

Punter Blake Ochsendorf pinned UTEP back on its own 7-yard line, but the Miners proceeded to go on a 15-play, 93-yard drive that was made up of 13 rushing attempts. The 13th one put UTEP into the end zone on a 2-yard carry with the first play of the second quarter.

LA Tech did its own version of ground-and-pound later in the stanza, leading to a 32-yard field by Jacob Barnes to make it a 17-7 lead with 2:28 to go in the half.

UTEP got its own field goal, a 36-yarder to close out its opening drive of the second half. But that was the last time the Miners would find the end zone. The LA Tech defense forced another 3-and-out, had a turnover-on-downs near its red zone, and for good measure stopped the home team at the 4-yard line with multiple pass breakups.

Meanwhile, the Bulldogs cashed in one more time in the second half thanks to an extended drive because of a UTEP penalty. As a result, Jack Turner dropped in a perfect pass to the back corner of the end zone to Tru Edwardson the first play of the fourth quarter for the 20-yard score.

QUOTABLES
Head coach Sonny Cumbie

On the quick start…
"It was a great start for us. The fast start really helped us. Really proud of how we started the football game and a great effort by our defense at the end to hold UTEP out of the end zone."

On Tyre Shelton…
"Tyre has done a phenomenal job. You can see the burst and the speed he has. In terms of brining him here, it has been a perfect match. I hope he continues to stay healthy. He is a big part of our offense."

On the defense…
"Our defense did a great job in the red zone. UTEP had a good combination of thunder and lightning. They put stress on you. We challenged our team and got a tough win on the road."

NOTABLES
With the 24-10 win, LA Tech now leads the all-time series with UTEP, 17-3-1.
The Bulldogs are now 8-2-1 all-time playing the Miners in El Paso.
The 10 points was the fewest the Bulldogs have allowed since shutting out Miami (Fla.) in the 2019 Independence Bowl. It was also the fewest allowed against the Miners since 2016.
Smoke Harris had a 67-yard punt return for a touchdown, the first by a Bulldog since Teddy Veal did it in 2017.
Cyrus Allen had only one catch tonight, but it went for 85 yards. It marked the 10th longest reception in program history.
Tru Edwards caught his first career touchdown reception.
Smoke Harris caught three passes, giving him 262 for his career which is tied for the third most in program history.
Tyre Shelton had his second 100-yard rushing performance of the season, carrying the ball 16 times for 104 yards and one touchdown.
Blake Ochsendorf had a 66-yard punt in the fourth quarter, the 11th longest punt in program history.
UP NEXT
After two straight road games, LA Tech is back home in Joe Aillet Stadium on Thursday, Oct. 5 to battle the WKU Hilltoppers. Kickoff is set for 7 p.m. CT and will be nationally televised on ESPNU.