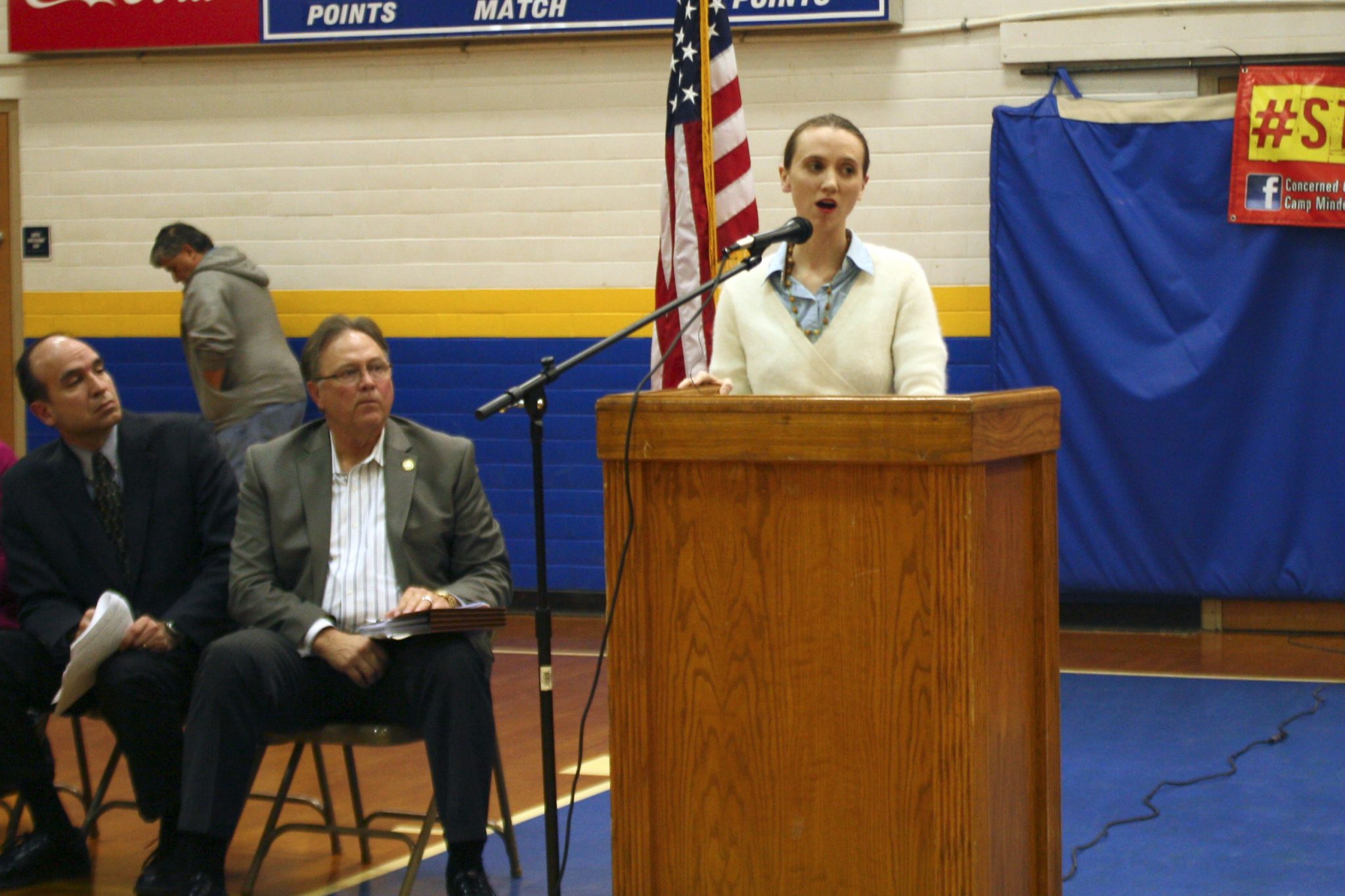 DOYLINE — A plan to offer an alternative for the safe disposal of nearly 19 million pounds of M6 propellant stored at Camp Minden was revealed at a public meeting in Doyline Monday.
Following the go ahead for the formation of a dialogue committee headed by the Environmental Protection Agency, this committee will be tasked with finding a safe alternative before the April 15 deadline set by the EPA. Wilma Subra a scientist with Subra Company set out a tentative itinerary of dates to meet before presenting a recommendation to the Office of State Procurement and the Department of Justice.
The committee will be made up of local and independent people, elected officials and scientists to hash out the best, safest alternative to dispose of the M6 propellant now properly stored in 97 magazines, or bunkers.
[adrotate banner="6″]
"As we look at those alternatives, we also have to remember we can have the best (method) in the world to do this, but if it's not available to be set up in a very short time period, then we may have to look at other alternatives," Subra said, "because we have to do it and put it into place quickly. So, we have to look at not only which technologies are the best, but which ones are available and which ones are within the contract requirements."
Once the committee is named, they will have several meetings whether through conference call or in person, to come up with a recommendation. Subra says the committee will meet two to three times per week until roughly March 2, at which time there should be a recommendation. Tentatively, by March 9 and 10, public meetings will be set to reveal the recommendation before it is presented to the state and Department of Justice on March 11.
Frances Kelley with Louisiana Progress Action says they want Kristi Parker Celico to facilitate the meeting because she facilitated a dialogue committee on chemical weapons in the 90s and seems to be the best fit for this committee. Kelley says she has experience negotiating with the military and has extensive knowledge about chemical weapons.
Kelley also said the Concerned Citizens of the Camp Minden M6 Open Burn are asking the alternative methods to be considered are ones already certified by the Department of Defense Explosives Safety Board.
Once an alternative is agreed upon, then the original Order of Administrative Consent must be amended to allow for an alternative method. However, the Army still must sign off on the alternative method. Since Webster Parish has been under a state of emergency for the last year and a half, Gov. Bobby Jindal is legally authorized to execute the contract immediately to implement a safer disposal method.
Kelley says the only way the community has gotten where it has on stopping the open tray burn method of disposal is because of public pressure, and that pressure must not let up.
"Folks all across the country are watching what's happening here, because they want their communities to be protected too and they don't want munitions burned in their communities either," Kelley said.
Sam Mims, retired Army, told those in attendance to be vigilant and not to expect the Army to bend to "our will just because we want them to."
"If y'all think just because we're having all this dialogue and we're doing all this talking these boys are going to give up, you got another thing coming," he said. "When we stop this burn, there will be no burn. You have to commit yourself to that – that there will be no burn. You know why they want to burn it here? Because they think we're stupid. They think we're a bunch of country hicks. If you look around the country, everywhere they've done this is in a community just like this."
Mims asked audience members "Are you resolved? Are you committed that there will be no burn of M6 propellant at Camp Minden?"
Those questions were answered with a resounding "Yes!"
Rep. Gene Reynolds, D- Minden, updated everyone on where everything stands from the legislative point of view. He ended saying he would probably introduce a bill that would outlaw open tray burning of munitions. If something like this was passed, it would mean that open tray burning would be outlawed throughout the state.
The Village of Doyline unanimously passed a resolution in its council meeting Monday night to discontinue the proposal of an open burn of these materials and to actively seek a safer and more environmental method of disposal and/or removal.