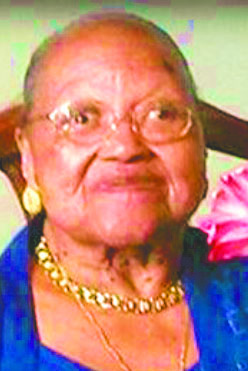 Services for Essie Mae Mack Jenkins will be held February 16, 2019 at 2:00PM at Mt. Zion C.M.E. Temple in Minden. Burial till take place at New Zion Cemetery in Evergreen, La. Visitation is Friday, February 15 from 10am-7pm at Benevolent Funeral Home.
Essie Mae Mack Jenkins, affectionately known as "Madea" was born on July 6, 1924 to the late Lula Roe Mark and Robert Mack Sr. in Claiborne Parish. She joined the New Zion Baptist Church at an early age. She was a faithful member of new Zion Baptist Church serving as an Usher as well president of the Pastor Aide.
On July 31, 1937 Essie was united in holy matrimony to Therman Jenkins. To this union three children was born.
On February 5, 2019 Essie departed this earthly life and entered into rest. She was preceded in death by her parents, Lula Mack and Robert Mack, her husband Therman, one son Johnny Jenkins, Three brothers Henry, Jim and Donald. Two grandson Jeffery Jenkins and Patrick Allums.
She leaves to cherish her memory two daughters, Lula M. Gilbert (Roy) Queen E. Allums (Milton) one steps Sister Allie Cooksey and Florence Calhert a sister she adopted into her life all of Minden, LA, one daughter-in-law Nora Jenkins and one sister-in-law Norma Jean Mack of Shreveport, LA, three children she help raise from little babies, Mrs. Lyn Slack, Glen Hilburn and Susie, eleven grandchildren; Tammie William (Michael), Teresa Hudson (Anthony), Kim Thomas (Frank), Brenda Morgan (Walter), Cynthia Fuller (Jeffery), Roy Gilbert (Paulesta), Willie Allums (Glenda), Sharon Jenkins, Wendy Jenkins, LaTonya Allums all of Minden, LA, Diae Jones (Tim) California, Debra Gilbert of Michigan, twenty-three great grandchildren, fourteen great, great grandchildren, seven great, great, great grandchildren.
Reverend Bernard Moore
Homegoing services for Reverend Bernard Moore, 89 will be held on Saturday, February 16, 2019, 11:00AM at Mt. Zion C.M.E. Church, 414 East Union Street, Minden, La. 71055. Burial will follow ar Pringle Place Cemetery in Minden. Visitation is Friday, February 15 from 10am-7pm at Benevolent Funeral Home
Rev. Moore made his transition on Saturday, February 09, 2019 at Minden Medical Center.
He is survived by his wife of 23 years, Mrs. Reecie A. Moore, five daughters, one son, a host of grand & great grand children, nieces, nephews and other relatives and friends
Benevolent Funeral Home is in charge of arrangements.