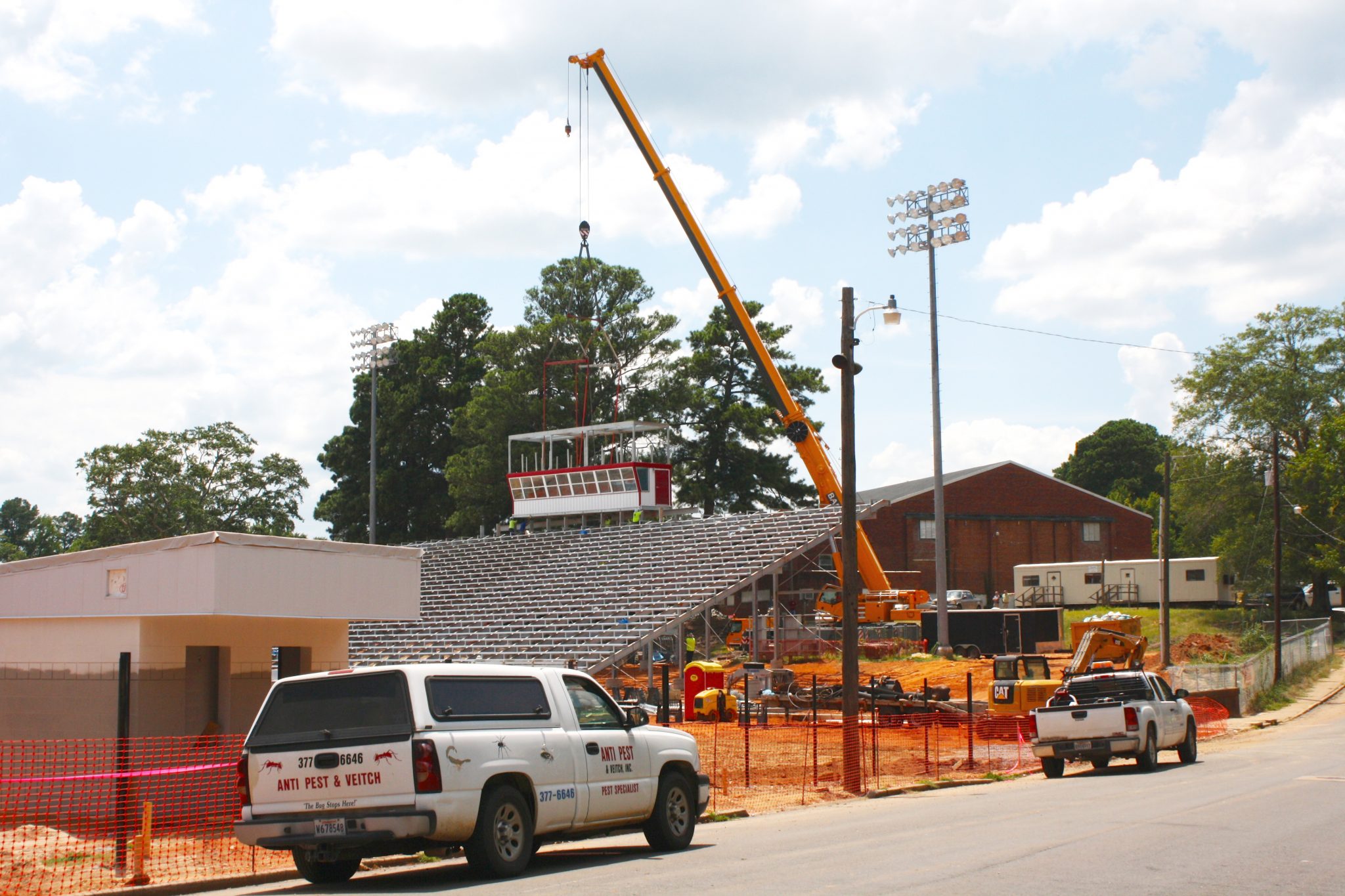 Webster Parish Superintendent of Schools Johnny Rowland said the decision on whether or not Minden opens the season in their new home will come down to the Louisiana office of state fire marshal.
As crews continue to work on the new stadium, many are pondering whether or not the stadium will be fully-constructed in time.
Rowland shed some light on where the stadium's progress lies entering the month of August.
"Things are starting to happen now," Rowland said. "We're still hoping to have everything ready to go Sept. 1. The water tap should be in place by Wednesday, then they'll come in and do the irrigation system which should be done in maybe a week, so we're hoping to lay sod in a week or so."
Plenty of work remains to be done on the grandstands, field and concession stand/restroom building in the South end zone.
All of this comes at a busy time for Rowland and the School Board as they work diligently across the entire parish to prepare for the grind of another school year.
Rowland said a progress meeting was held Thursday, July 27, to discuss the latest in the stadium's construction. Among the attendees of that meeting, Rowland named Maintenance Director Buster Flowers, general contractor of the project, David Walker, multiple Minden Board members, Personnel Director Robin Tucker, Assistant Principal Todd Patterson and the site foreman, engineer and architect.
Details of the meeting are being kept private, but Rowland did say one of the topics was what to do if the fire marshal deems the stadium unfit to host a football game on Sept. 1.
"It was a very productive meeting," Rowland said. "We anticipate the grass being ready for Sept. 1, but we don't want to discuss anything until after we've met with the fire marshal on Thursday. Even if some areas of the stadium aren't quite finished, we're hoping the fire marshal will say we can go ahead and play."
Minden's first two games of the 2017 season are supposed to be at home, and the team will likely need the homefield advantage in both, with the first being against the Tide's rivals from Haughton and the second being against perennial powerhouse Haynesville.
Minden would suffer substantial financial losses should they host neither, as home football games are the largest gates of the school year.