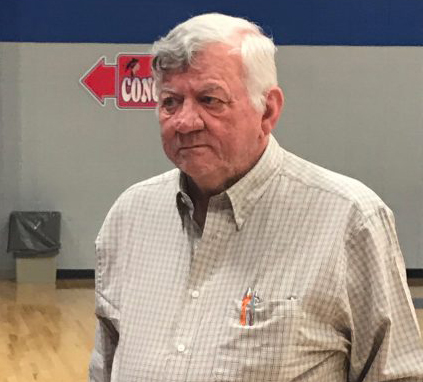 Coach accused of forging family member's checks
Glenbrook's head football coach Ronnie Powell is expected to coach the Apaches Friday night following his arrest earlier this week.
Powell, 73, of Plain Dealing, was booked on charges of exploitation of the infirmed and forgery by the Bossier City Police Department Tuesday. He has since bonded out.
BCPD spokesperson Mark Natale said the arrest follows an investigation by the Bossier Sheriff and Police Financial Crimes Task Force.
Powell is accused of forging multiple checks belonging to an elderly female relative. Natalie said Powell deposited the checks, which totaled more than $31,000, into his own bank account to use for personal use over several months.
Glenbrook headmaster Darden Gladney said the arrest centers around a family financial dispute and will not affect Powell's status with Glenbrook School. He issued a statement Thursday following an inquiry by the Press-Herald.
"We are aware that it is a personal financial matter that led to these charges filed against coach Powell. We have also been assured by the district attorney and the Bossier Police Department that there is nothing in these charges that should prevent his working in an educational environment. The administration at Glenbrook School is hopeful that this situation will be resolved soon and offer our support to him and his family during this time," the statement read.
Powell was hired to coach the Apaches in June by former Glenbrook athletic director and boys basketball coach Jeff Dalton.
Powell won two MPSA state championships, one at Plain Dealing Academy and one at Claiborne Academy, and has a career record of 223-84.
The Glenbrook Apaches will travel to Rayville Friday to take on the Riverfield Academy Rebels.