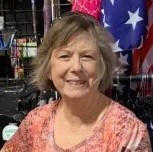 Gloria Joye Childs Makowsky was born June 26th, 1945, and passed away on December 1st, 2020 in the company of her son and friend to hold her hand.  A memorial service will be held at 2:00 p.m., Saturday, December 12th, 2020, at Hill Crest Memorial Funeral Home, officiated by Bro. Joe Whitney.  Inurnment will follow in Hill Crest Memorial Park.
Joye is survived by her son, Michael Makowsky; grandchildren, Bradley Makowsky, Katie Makowsky, Paige Makowsky, and Josh Makowsky; along with seven great-grandchildren. Preceded in death are her husband of 54 years, Samuel Makowsky; sons, Dale and Ronnie Makowsky; grandson, Matthew Makowsky; sisters, Gail Childs and Sandra Haynie; and parents, Thurston and Oleta Childs.
Joye retired from South Cental Bell, later AT&T, after 25 years of employment and was a member of First Baptist Church, Bossier City. She loved singing in the choir and exploring genealogy. Joye was also a member of Daughters of the Confederate and she, along with her late husband, had several antique stores.
The family thanks Milton Todd Anderson for his love and support, special friend, Betty Lou Young, cousins, Frances Foster and Florence Goyanes, and Nightingale Hospice Services Jackie Martin and Misty for their care and support.
You may offer condolences to the family by visiting www.hillcrestmemorialfh.com.