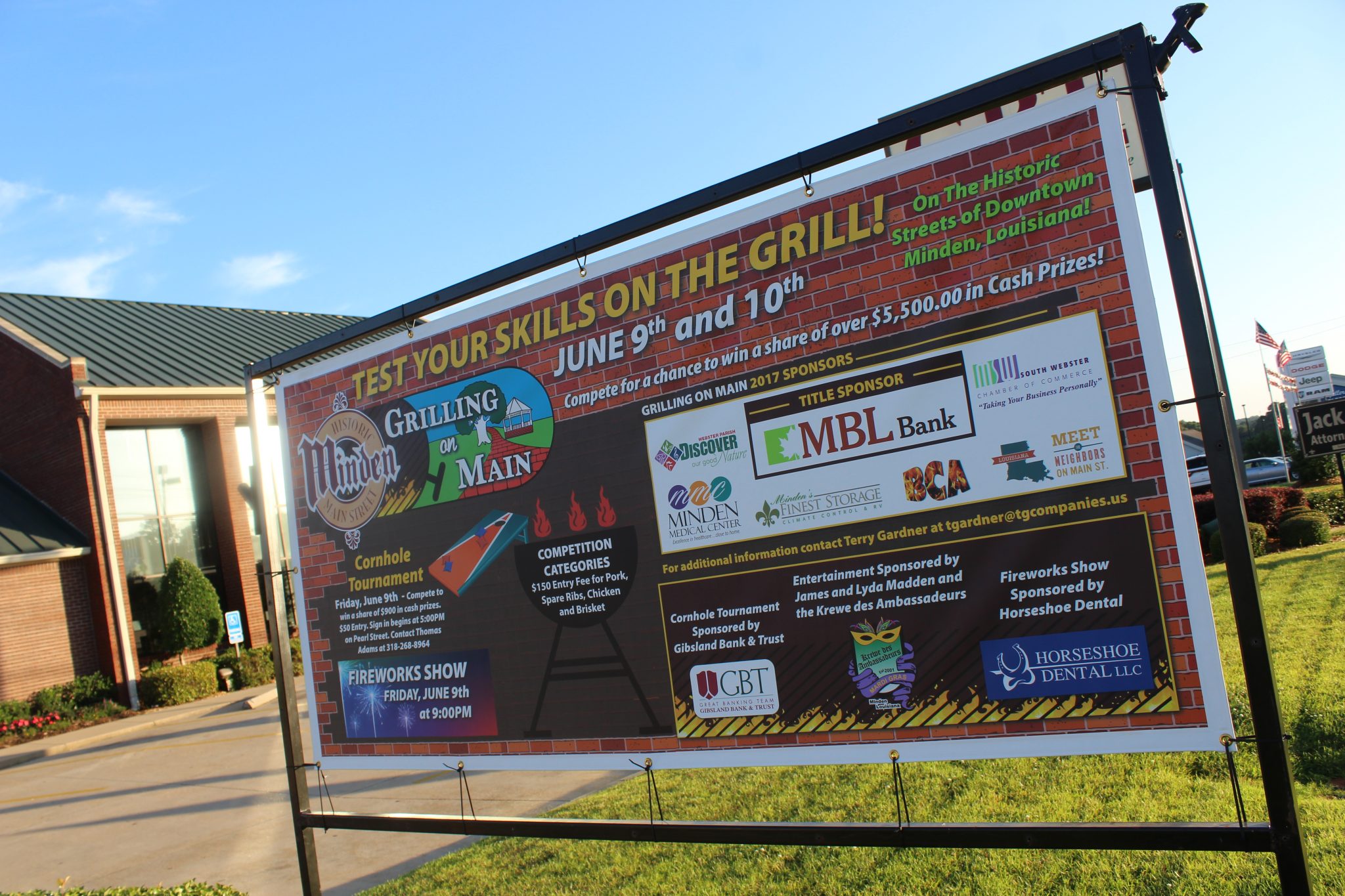 The smell and sizzle of mouth-watering meats will soon fill the air in downtown Minden.
Festival creator and organizer Terry Gardner said there is still time for people to sign up to compete in the cook-off and corn hole tournament.
Currently, there are 35 cooks registered to compete.
"Last year we pulled vendors from Louisiana, Texas, Arkansas and Mississippi," Gardner said. "We expect that once again."
Vendors competing in Grilling on Main will check in at the Minden Civic Center at 4 p.m. and the brick streets downtown will be closed to traffic Friday at 5 a.m.
This year's title sponsor is MBL Bank; joining MBL as co-sponsors are Minden Medical Center, Minden's Finest Storage and Elm Street Dental; Entertainment sponsors are James and Lyda Madden.
The festival expansion includes a cornhole tournament, title sponsored by Gibsland Bank & Trust. Currently, 20 teams have signed up to play the popular southern bean-bag game, and it's not too late to enter the competition as registrants will be taken up until 5 p.m. on Friday. The tournament will be capped at 50 teams should it reach that figure.
There will also be a fireworks show sponsored by Horseshoe Dental and Beer Garden sponsored by Krewe des Ambassadeurs at Easley's Studio Courtyard; this year's festival will also feature a children's area complete with bounce house and face painting.
The cook-off will be judged in three categories: brisket, chicken and ribs and the entry fee is $150. First through fifth place winners in each category will take home cash prizes, with $5,500 to be paid out to the best cooks. Tasting tickets will be for sale on-site for $5, allowing patrons to access every vendor and vote for People's Choice. Grilling on Main is a Barbeque Competitors Alliance (BCA) sanctioned event. Applications can be picked up at the Minden Civic Center, at 520 Broadway St., by visiting the Main Street page on mindenusa.com or by emailing a request to mainstreet@mindenusa.com.
A downtown night market will be held on Friday for craft vendors to sell their merchandise. The fireworks show sponsored by Horseshoe Dental will begin at 9 p.m.
"We'll have the LED signs and craft vendors set up with lights to light up downtown," Gardner said. "The night market will go until 10 p.m. and it's our first downtown market. With the market and fireworks, it's going to be something to see; this event has taken on a life of its own."
Anyone interested in being part of the night market should contact Becky White at City Hall at 377-2144.
With such a large amount of food to be eaten, fresh plates will be for sale Saturday, starting at 2 p.m., and Coca-Cola is providing the festival's refreshments.