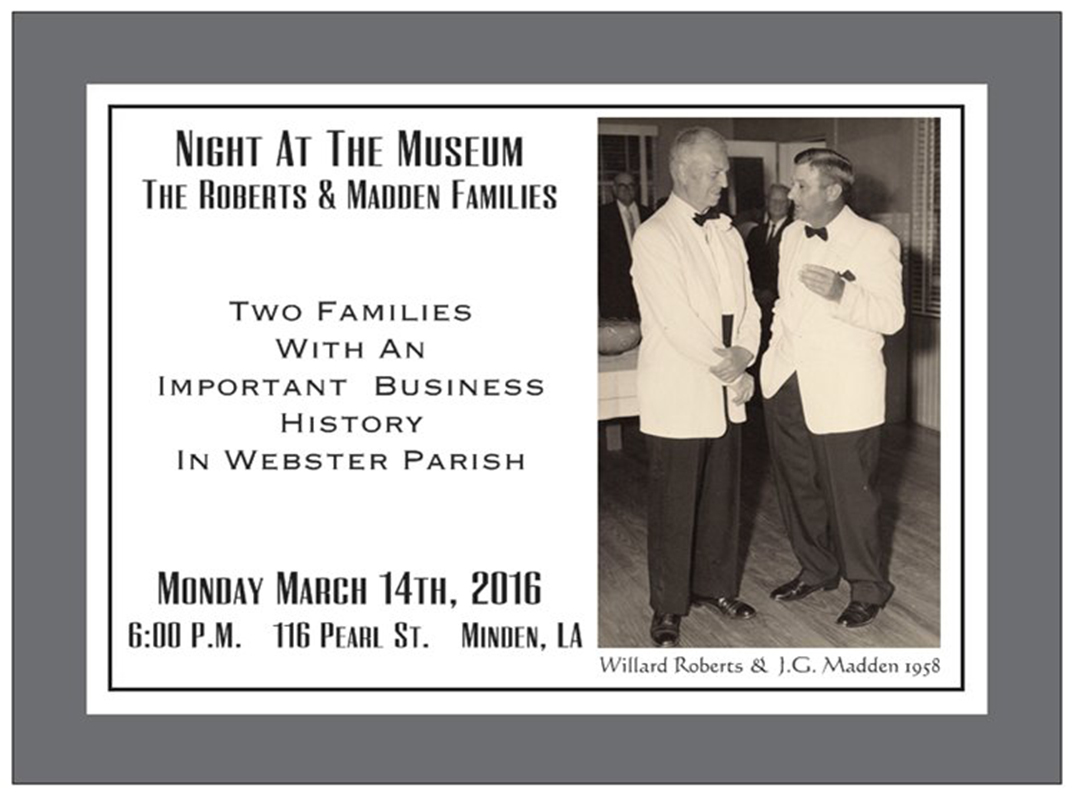 The 57th "Night at the Museum" will take place at 6 p.m., Monday, March 14. This event will feature several of our long-time Webster Parish residents and family members. The talk will be centered on the Roberts and the Madden families and the impact they had in the Webster Parish area.
The Roberts and Madden families came to live in Minden in the late 1930s and mid-1940s. The Minden Lumber Yard was purchased by Willard Roberts in 1938. It later became Roberts-Brown, then Roberts Company. J.G. Madden opened Madden Supply in the early 50s evolving into J.G. Madden, Contractor and later, Madden Contracting Company.
Today, the last Roberts living in Minden is Lyda Roberts Madden. Through the marriage of Lyda and James Madden there are today 15 descendants living in Minden. Eight of these are active members of the family corporation.
Don't miss the chance to hear about some of Minden's history. The museum events will be held in the
Media/Learning room at the Bayou Dorcheat Historical Association Museum located at 116 Pearl St. in Minden. Museum doors will open at 5:30 p.m., with first-come, first-serve seating and admission is free with potluck desserts and snacks welcome.
For more information, contact Schelley Brown Francis at 377-3002 or visit www.museuminminden.blogspot.com.