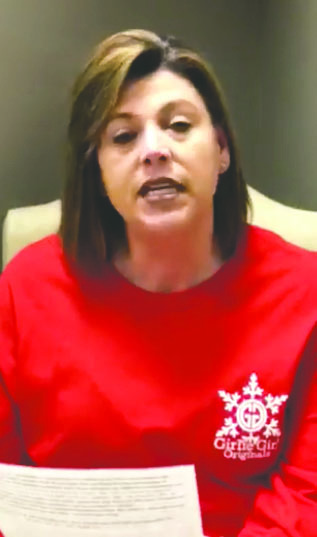 Mention of Jesus spurs action from attendees, school officials
A play that was intended as a gift to Webster Parish children has become the center of controversy due to the mention of religious figures.
A Christmas play produced by Minden's Junior Service League, had its first performance Thursday morning in the Minden High School Auditorium. "After our first performance this morning, several in attendance felt that it was necessary to report us for the mention of the reason for the season, Jesus," play director Jennifer Powell said, reading a prepared statement via social media Thursday afternoon.
"We as a group chose to use this play as a platform for promoting positivity," Powell said. "We understand that there are families in our community who are financially unable to do what other families can do for their children. We felt that it would help those families to have a more positive holiday season if we could tell a story of old about the reason for the season. This story in fact, does mention Jesus. To clarify, there's no manger scene, but there is a religious reference. Along with that reference, our story also discussed positive use of social media, encouraged teamwork among friends, and showed that even if you make mistakes, people can and do forgive you."
Webster Parish Superintendent of Schools Johnny Rowland issued a press release Friday to clarify the district's position regarding this, or any other activity.
"On December 18, 2017, the Webster Parish School Board was named as a defendant in a lawsuit in the United States District Court in Shreveport," the release said. "That lawsuit alleged that students in Webster Parish were subjected to prayer and other aspects of religion in violation of their First Amendment rights. An order regulating religious activities in schools was ultimately issued by the Court and that order prohibits the Board and its employees from promoting religion at school. Specifically, events held at schools, even by third parties, may not encourage students to engage in religious activities. The court order also precludes schools from allowing third parties to distribute religious information to students on campus, and school officials may not express their personal religious beliefs to students."
The release went on the address the events of Thursday, specifically.
"Minden High School has hosted an annual performing arts production by the Junior Service League for several years," Rowland said. "Students from around the parish have attended. This year's production is 'Toy Story.' School officials recently learned that the production contains content in conflict with the above-described Order of the United States District Court. Upon learning of this issue, the superintendent contacted the Ladies' Auxiliary [Junior Service League] and asked that the portion of the production at issue, near the end of the play, be removed. When this request was rejected, the school district had no other alternative than to withdraw from participation in the event or other otherwise face contempt of court."
"The play, in its entirety, lasts about 35 minutes. The section discussing Jesus is less than two minutes of that time," Powell said. Due to the reporting of those individuals at our first performance, we were given two options: change the play we've discussed for months and months or public schools would not be allowed to attend on tomorrow."
"After conversations involving tears, loud voices and much discussion, we as a League chose to continue on with our original script," Powell said. "Several of our members voted to continue on, even knowing that their children would not be able to attend the performance tomorrow, as they attend public school."
"Because of the totality of the circumstances that we are now in, a newfound spotlight is shining upon the Webster Parish School System," Rowland told the Press-Herald Friday morning. "No longer is there any grey area associated with this matter in our school system.
"After conversation with my good friend, Congressman Mike Johnson, yesterday, he acknowledged that the Webster Parish School System, along with our neighboring system to the immediate west, Bossier Parish, is under more scrutiny than most school districts in our country right now."
"It saddens us the public schools aren't allowed to attend," Powell said. "It saddens us that this is even a choice that we as Junior Service League of Minden had to make today. We will continue to stand behind our views, our thoughts and our beliefs. We are thankful for all of the calls, texts and emails from members of the community that have reached out to us in the last couple of hours and that support us in the decision that we had to make this morning."
"While the school district appreciates the efforts and support of the Junior Service League and while school officials hold their own strong religious beliefs, they are bound to enforce the Court's order," Rowland said in the release.
"Public bodies and their employees are often required to lay aside their personal convictions and beliefs when those beliefs conflict with state and federal law and orders of the courts, as in the present case. Violating the court's order would not only subject the school district to a contempt of court citation but could also result in a further erosion of students' rights to religious expression."
Rowland went on to say that protecting students' rights is of paramount importance."I am passionate about our student's rights to religious expression being protected in our schools," he said. "It would be unfortunate if those student rights were in any way hindered or impeded in the future."
The Junior Service League will be performing more shows today, Powell said. "We will have our bells on and we will put on the play of a lifetime."