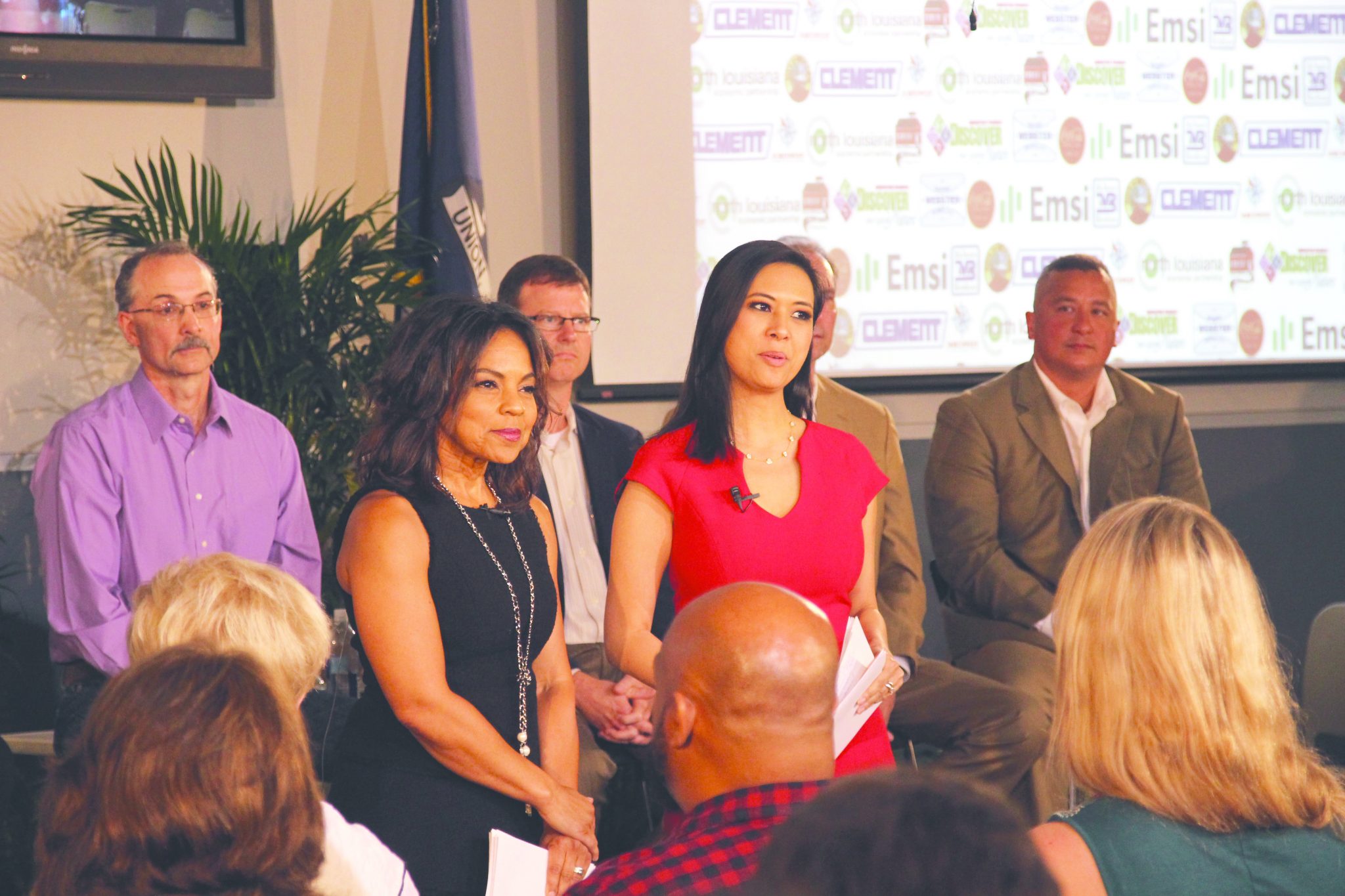 Televised town hall talks skills gap solutions
Caleb Daniel
caleb@press-herald.com
Heavy hitters from north Louisiana's coalition to address workforce readiness, locally known as "The Collaboration," gathered Tuesday evening to discuss on live television both the problems and new opportunities facing today's workforce.
A "town hall" meeting at Northwest Louisiana Technical College brought together representatives from the City of Minden, the Webster Parish School Board, NWLTC, several Minden-based private employers, and the Northern Louisiana Economic Partnership on a panel to explain to viewers on KTBS 3 just what their collaboration is doing to improve the local workforce of today and tomorrow.
"Workforce Readiness in Northwest Louisiana: A New Model for Success," attended by invite only, was moderated by CNN correspondent Maribel Aber and KTBS news anchor Brenda Teele.
Perhaps the core idea of the collaboration is that if the entities represented at the town hall work together to equip and provide opportunities for future workforce members, from K-12 to technical college to local businesses, then the entire community will benefit from an improved local skilled labor force.
"This collaboration is a commitment to focus in on what is best for our students, which will be great for our community and for our businesses," said Johnny Rowland, Webster Parish schools superintendent. "And we understand that it takes all of us to grow our community in every aspect."
The panelists reiterated several key aspects of the partnership that have been previously reported from past gatherings, including an emphasis on soft skills, opening students' eyes to multiple pathways, and programs like ACT WorkKeys.
Earl Meador, Chancellor of NWLTC, said the college is incorporating new ways to fill the growing need for soft skills awareness in today's youth.
"We began to see that we had to turn out a different type of student," he said. "If our students don't go straight to work when they leave here, then we've failed. We have a work readiness course that every student will take now starting with the summer session tomorrow morning. It will go over resume writing, soft skills, showing up to work on time, everything we've talked about that they need."
Greg Leong, president of Clement Hilbilt Trailers, said one of the coalition's goals is to widen public perception to see that a four-year university is not the only pathway to success.
"I think we've done a disservice to the children by saying you're not successful unless you have a master's degree or invented a new iPhone," he said. "The American Dream is out there. Good-paying jobs are available. I've got 85 people at work in my company, and they've provided for their families and built their retirement. They've done that through a skilled job, and there's still more skilled jobs available for the generation coming through. It doesn't have to be through a four-year degree path."
Angela White is the senior vice-president of workforce strategy and administration at the north Louisiana economic partnership. She spoke about the importance and effectiveness of the ACT WorkKeys program.
ACT WorkKeys, recently implemented in Webster Parish, is a combination of skill training and assessments across multiple career fields that students can undergo to obtain a readiness certificate in their field.
"How many students do you know anymore who don't work during college?" White said. "If they have a WorkKeys certificate when they graduate from high school, that may help them get a job where they're making more money during college. It's demonstrating their work readiness for a wide variety of occupations. "
The first half-hour of the meeting was televised live on KTBS 3, while the second half-hour was live on the KTBS 24-hour news channel and KTBS.com.
Panelists briefly fielded four questions from audience members during the closing minutes of the hour-long meeting.
The full list of panelists is as follows:
Johnny Rowland, Superintendent Webster Parish School Board
Earl Meador, Director Northwest Louisiana Technical College
Angela White, Senior Vice-President, Workforce Strategy & Administration North Louisiana Economic Partnership
Dr. Beverly Smith, Webster Parish School Board
Ben Baldwin, Executive Vice President McInnis Brothers
Allen Strickland, Manager, Webster Machine Works
Matthew Hirsch, President Coca-Cola Bottling Company of Minden. Inc.
Greg Leong, President Clement, Hilbilt Trailers
Cason Bates, Dual Enrollment Student, Northwest Technical College