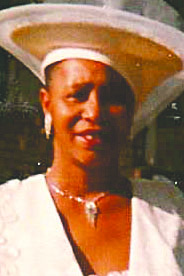 Sister Mary "Mae" Elizabeth Harris Thomas was born on October 5, 1954 to the late Bertha Johnson and Willie Eason in Shreveport, Louisiana. Mary departed from this earthly life on February 13, 2019.
Mary attended Gibsland Coleman High School (Bienville Parish).
"Mae" as we knew her, accepted Christ at an early age. Mary shared with many her testimonies and about her faith in God. Mary enjoyed going to church. Mary attended church regularly until her health failed.
Mary was strong, very bold and outspoken. Mary would tell you what she thought and what was on her mind. Mary enjoyed shopping. She enjoyed cooking and sharing several meals with family, neighbors and friends. But most all, she never meets a person that she didn't leave an impact on.
Mary was united in matrimony to her first husband, Joe E. Harris and from this union one daughter was born, Anita Elaine Harris Sterling. Mary later married John Thomas and was blessed with several wonderful stepchildren.
Mary was preceded in death by her mother and father.
Mary leaves to cherish her precious memories to: her husband, John Thomas, her daughter, Anita E. Harris Sterling (Anthony) Haughton, LA. Brother, Mike West (Niece) Wisconsin. Sister, Patricia Tibbs, (Bossier City, LA) Sister, Sallie Easton, (Minden, LA). Stepchildren: LaTonya Edwards (Marcell) Shreveport, LA, Kayatta Lee (Wilbert) Texas, Sheryl Smith – Kansas City, Carolyn Washington (Elvis) Houma, LA, Shelia Kemp – Shreveport, LA, Terry Thomas – Kansas City, MO, Barry Wayne Bonds – Minden, LA, Raynard Thomas – Fort Worth, Texas, Robert Watts – Minden, LA. A very special Goddaughter, Shenikka Abbott – Minden, LA. Nieces: Shirley West – Minden, LA, LaTonya Heard (Kenneth), Shreveport, LA, Tawanda Roberson (Terrell) Washington. Nephews: Tyrone Tibbs – Hanford, CA., Milan West – Wisconsin and a host of grandchildren, relatives and friends.
BENEVOLENT FUNERAL HOME ANNOUNCEMENTS
DECREASED NAME: Mary Elizabeth Harris
DATE OF SERVICE: Saturday, February 23, 2019
TIME: 11AM
PLACE OF SERVICE: New Light Baptist Church
CITY: Minden STATE: Louisiana
PLACE OF BURIAL: Sheppard Cemetery
CITY: Minden STATE: Louisiana
VISITATION TIME: Friday 10AM-7PM Chapel