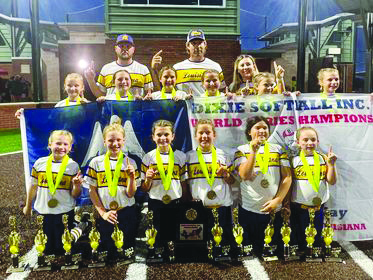 ALEXANDRIA — Mother Nature nearly ended Wednesday night's Dixie World Series Championship Game for Minden's 10U X-Play All-Stars before it ever got started.
But then she also helped Minden — known at the DWS as Team Louisiana — to a 7-6 walk-off win over Alabama in extra innings to earn the World Series title.
Heavy rains and thunderstorms ended just in time for the game to get underway at its scheduled start time even though the wet stuff continued falling for much of the game.
"We didn't know if we were going to play," assistant coach Marcus Harmon said. "We went ahead and started our batting practice and getting warm, and the game pretty much started out at the scheduled time – 5:30 (p.m.). It was misting rain and rained throughout the game pretty much."
And Minden jumped off to a quick 3-0 lead in the bottom of the first after Ella Wood shut down Team Alabama with a three-up, three down pitching performance in the top half of the stanza.
But the light rain that kept falling caused some pitching issues for Minden in the top of the second inning as Alabama bounced back to take a 6-3 lead thanks to a slew of walks.
"It was wet and (Ella) and the catcher were having problems — I think the parents panicked more than the team and coaches did," Harmon said. .
Madisyn Jernigan came in and pitched the third and fourth innings before Minden came back and added three more runs, pushing the game into extra innings.
Then the Minden coaches made the move to put Wood back out in the circle to pitch the top of the fifth, and she again shut down Team Alabama.
"We saw that she had calmed down and we told her we'd keep the balls dry and to just go out there and do her best," Harmon said.
With two outs in the bottom of the fifth inning, Kinzie Pamintuan reached first base, and then surprisingly made the move to steal second.
"We knew Kinzie wasn't the fastest base runner," Harmon said. "But I knew I had to get her into scoring position."
So Parmintuan took off, but started her slide early. But because the field was so wet, she looked like she was on a slip and slide and glided safely into second base.
"That was huge," Huddleston said of the stolen base. "That was all Marcus Harmon, the first base coach. I didn't tell her to go. Marcus told her to go and thank God it was wet, because she wouldn't have made it to the base if it was dry. We got lucky there.
"That was huge," said Minden head coach Chase Huddleston about the stolen base. "That was all Marcus Harmon, the first base coach. I didn't tell her to go. Marcus told her to go and thank God it was wet, because she wouldn't have made it to the base if it was dry. We got lucky there."
That brought Wood, who had blasted a three-run homer against Alabama in a previous game, to the plate.
"I just knew we had a girl coming up to bat with two outs that could put it over the fence — ( Huddleston said. "I'm really surprised they threw that last pitch to her because she had three balls already called. If I would have been their coach I would have walked her.
"But the pitcher threw one up there and Ella rode it. I couldn't be more proud of her."
And just like that, the Minden girls were dancing in the rain after winning a Dixie World Series championship.
"We set this goal back when we started," Huddleston said. "We went through district undefeated. Then as we went to state I started realizing we had the opportunity to go through state undefeated.
"And when we came out of state undefeated, that's when we made the goal, or I did — we've got a new goal. We didn't want to just win the World Series, we wanted to be the only team to have done it on all three levels — district, state, and World Series. And this team stepped up to the plate and did it. It's something very special."
Even though the team consisted of girls only 9 and 10 years old, experience played a role in their championship.
"The core group of girls on this team we started with in SweeTees," Harmon said. "My daughter is nine, and we started this when she was 6. We were district champs and then state runner-up that first year.
"Then the next year was the COVID year – 2020. We didn't have a district or a state championship, but they did hold a World Series out in Alabama. And we put a team together and went and played in the World Series out there and finished third. It was a lot of the same girls, but two years ago."
Harmon said he believes that 2020 World Series experience for much of this year's Minden team played a big role in Wednesday's championship win.
"I think it absolutely helped them," Harmon said. "A lot of these girls play travel ball — 11 out of 12 girls play travel ball and nine of out the 12 were on our travel ball team this year. I think a lot of that helped as far as their softball IQ and their understanding and knowledge of what to do in gametime situations because of that experience. It definitely paid dividends for these girls."
Those dividends brought Minden the World Series championship — with a little help from Mother Nature.
"It just all worked out for the best," Huddleston said. " When Ella was out there pitching at the start of the game, it was raining pretty hard. Alabama did all their scoring without any hits. If it wouldn't have been raining I think we would have shut them out. But it ended up being a very exciting game."