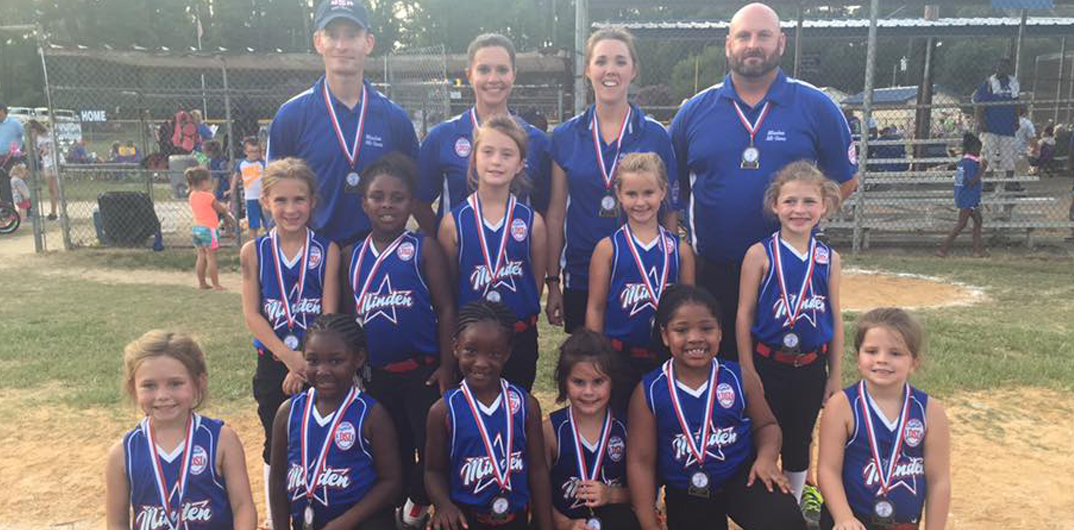 Minden was well-represented over the weekend at the various state all-star tournaments happening around Louisiana.
Here is a recap of how our local all-stars fared.
Minden Sweetees 9
Pine Prairie 10
Ahmani Hawkins led the sweetees with a home run and two singles, followed by Kaylynn Williams and Sunni Franks with a double and two singles each. Aaliyah Garrett doubled and singled, while Presli Waller, Lexi Wood, Joslyn Rabb, Lizzie Balkom and Loren Sivils added base hits for Minden.
Minden Sweetees 23
Winn Parish 12
Kaelynn Williams had a triple and three singles to pace the offense, followed by Sunni Franks with a double and three singles. Ellie Earnhardt had four singles on the day, while Ahmani Hawkins and Loren Sivils had three singles each. Briley Cupples, Lizzie Balkom, Lexi Wood and Aaliyah Garrett all had two singles and Joslyn Rabb, Maggie Pesnell and Presli Waller added base hits for Minden.
Minden Sweetees 18
DeRidder 7
Loren Sivils had a home run and two singles, Joslyn Rabb and Sunni Franks tripled and added two singles each, Lizzie Balkom and Ahmani Hawkins doubled and had two singles and Kaelynn Williams had a double and single. Presli Waller and Lexi Wood had two singles and Ellie Earnhardt and Aaliyah Garrett added base hits for Minden.
Minden Sweetees 5
Pine Prairie 15
Joslyn Rabb, Aaliyah Garrett, Sunni Franks and Ahmani Hawkins all had a pair of singles to lead the Sweetees. Ellie Earnhardt, Maggie Pesnell and Lexi Wood added base hits for Minden.
The Minden Sweetees finished fifth out of 10 teams at the state tournament, making Minden proud.
Minden 12u
The Minden 12 and under All-Stars took their talents to Bayou Vista for their state tournament, and are in the middle of a tightly contested tournament, having played three games thus far. Here's a look at their progress so far.
Minden 12u 2
Gonzalez 0
In a close one, Minden edged Gonzalez in their tournament opener, 2-0.
Jackson Mayfield singled and scored on a double off the bat of Grady Brasher. Minden got their second and last run when Brasher came around third on a steal of home. The game's final out was recorded by RJ Dillard in centerfield on a spectacular diving catch.
Cale Hollis pitched 4 1/3 innings for Minden and struck out four batters. He only allowed two hits. Peyton Wells finished the game and struck out two batters, allowing one hit.
Minden 12u 15
Alexandria 6
Minden moved to 2-0 at state with a nine-run victory over the Alexandria All-Stars.
RJ Dillard had the big hit, blasting a home run for Minden. He was followed by Drake Freeman, AJ Coleman and Peyton Wells with doubles. Connor Humphreys had two singles, while Jackson Mayfield and Nick Mercer came through with clutch base hits. Grady Brasher tossed three innings and struck out four batters. Peyton Wells struck out two batters in relief and Drake Freeman struck out one.
Minden 12u 5
Ville Platte 12
Minden fell to Ville Platte in their third game, but got a grand slam home run off the bat of RJ Dillard, who also singled. Connor Humphreys and Nick Mercer each singled for Minden.
Cale Hollis started for Minden and pitched two innings, striking out one batter, Connor Humphreys struck out one batter and Peyton Wells struck out three batters.
These results were those available at press time. To report All-Star scores call 377-1866 Ext. 106 or email blake@press-herald.com