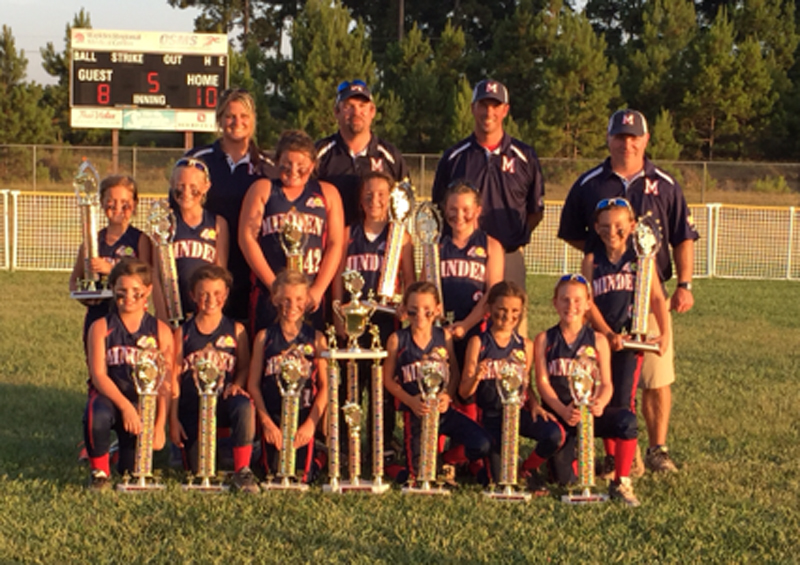 The Minden Dixie Darling All-Stars can celebrate this morning, because last night the resilient group of girls took down Jena 10-8 in a decisive game three to win Minden's first ever Darlings state championship.
After losing the first game of the series, Minden won a crucial game two setting up last night's wild showdown.
Minden jumped out to an early lead in the game, and were forced to fight off a charging Jena team for most of the night.
Addison Monk had a big night for the Darlings, crushing a double and a single to lead the way.
Jacey Adams and Vivian Still had good games as well, finishing with two base hits. They were followed by Kylie Ryan, Riley Robinson, Colby Hollis, Rebecca Mosley, Audrie Teutsch, Lindsey Ryan, Lainey Mercer, Mackenzie McCoy and Paition Levesque with base hits.
Minden led 10-3 in the third inning. That's when Jena began their comeback, scoring four runs in the fourth and one more in the fifth. That's where Minden would strand them though, as back-to-back fly outs to Colby Hollis and a great play by Riley Robinson on a hard hit ball ended the game.
Now the state champions will await the start of the Dixie Darlings World Series, next Saturday, August 1, on the University of Louisiana-Monroe campus.
As the representative from the host state, Minden will receive the first round bye and play the winner of Alabama and Georgia on Sunday at noon.
The Minden Dixie Darlings are our city's third state championship team of the season, making this summer truly one for the books.