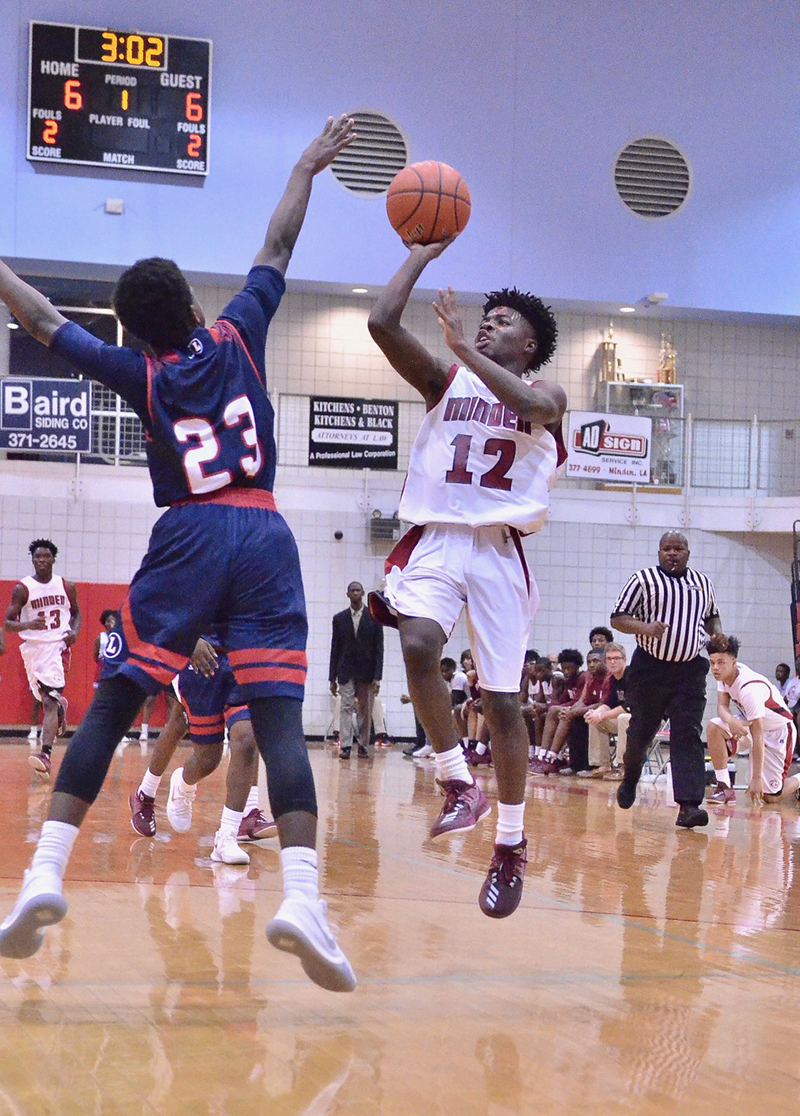 HAUGHTON – Webster Parish began it's participation in the Haughton Jack Clayton Invitational Tournament with a 2-0 start.
The Minden Crimson Tide and Lakeside Lady Warriors showed up ready to play Wednesday evening, each pulling out narrow victories against their first round opponents.
Minden (2-6) was able to defeat the North DeSoto Griffins 50-49 in a game where the Tide led wire-to-wire.
The Griffins were put in a hole right away thanks to an astounding firstquarter performance from the Tide's Curtis Carter, who knocked down six 3- pointers in the opening frame and finished the game with a team-high 20 points.
When Carter wasn't busting the open trey, it was Zi Crawford penetrating to the tune of 12 points; Meanwhile, Trey Oliver continued to be a consistent presence on the floor for Minden at point guard, chipping in 8 points and managing the team's offense. Although Minden held a 10-point lead at the break, they had to hold off North DeSoto's attempt at a fourthquarter comeback. The Griffins began to climb back, aided by some quick, empty possessions by a young, inexperienced Tide team.
"We had the lead throughout," Minden head coach Rennie Bailey said.
"But out youth showed up in the fourth quarter. I thought we settled for too mant 3's; hopefully this is a learning experience for us."
With the win, Minden advances in the winner's bracket where they will face off with tournament host Haughton, Thursday night at 8:30 p.m.
Lakeside Lady Warriors vs. Montgomery Lady Tigers
The Lakeside Lady Warriors began their tournament run at Haughton Middle School against the Montgomery Lady Tigers, winning by just three points, 43-40, for their fifth win early in the season.
The Lady Warriors were led by Ja'Mya Jackson with 15 points in a big night for the freshman; Allison Lofton followed with 8 points and LaCandria Key added 7 points.
Much like the Minden game, Lakeside stormed out to a large lead at halftime, going into the lockerroom up 32-17.
"The first half was good for us," Lakeside head coach Rendi Dillard said. "Defensively, we came out with intensity and pressured the ball well which caused Montgomery to turn the ball over and gave us some quick points."
The Lady Warriors seemed to rest on their big lead in the second half, as the Lady Tigers began to inch closer and closer, trimming the deficit to three points by game's end.
"The girls are still learning every game," Dillard said. "We're making strides in the right direction."