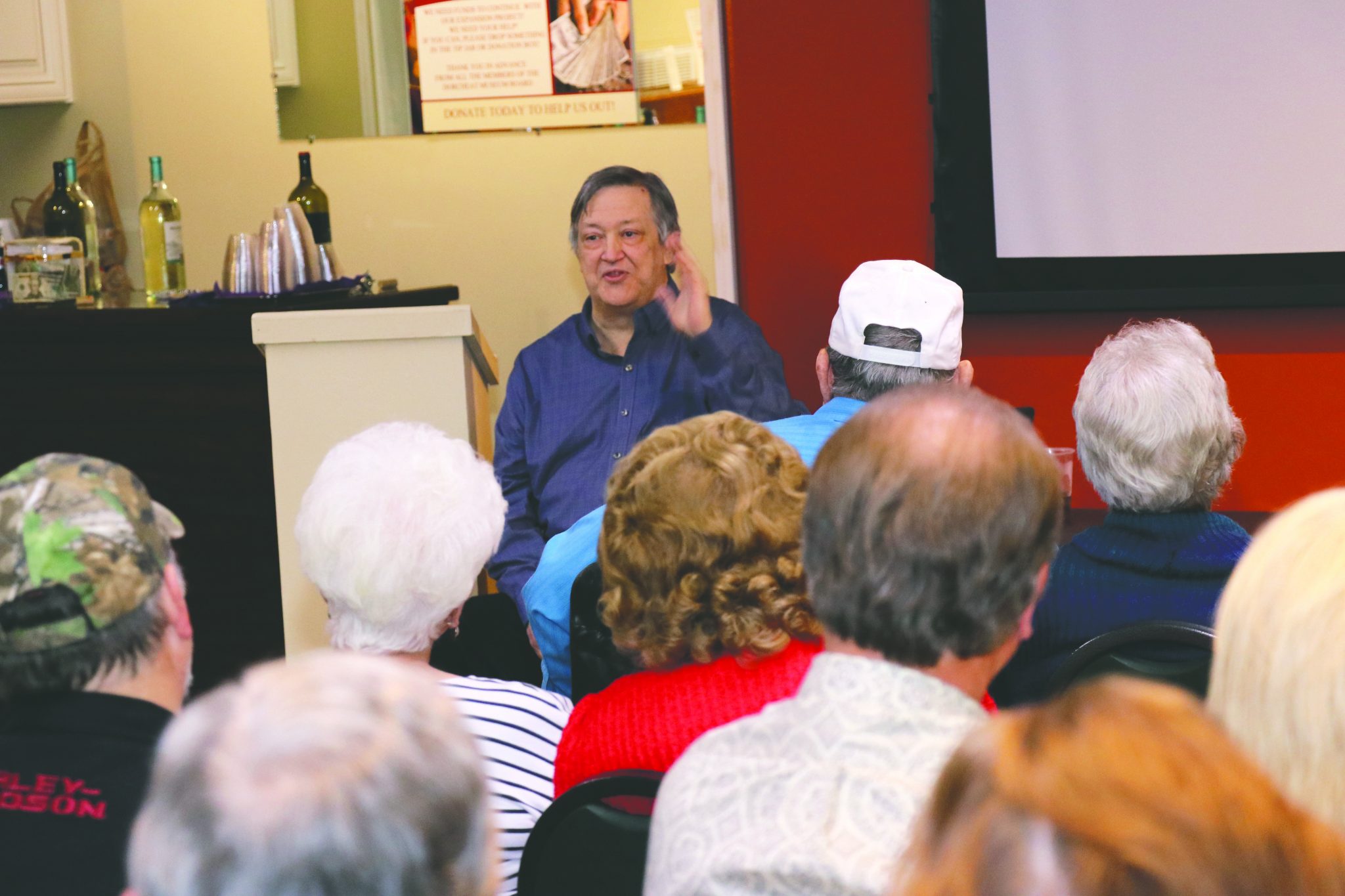 John Agan discusses book based on newspaper articles
Webster Parish Historian John Agan was the featured speaker at Monday's Night at the Museum. He spoke on "Echoes in Newsprint, Part 2," a compilation of articles he had written for the Minden Press-Herald, and others.
"Once again, I write the little stuff up. With my knowledge of history, I can make up something no can prove is not truth," Agan said eliciting laughs from the audience.
Agan gave an overview of several articles he published, including "The Minden Tennis Club", "'The Immigrant' and Germantown," "Republicans, Desegregation and the 1966 Election."
Along the way, stories that Agan has told countless times always seems to bring new meaning, or revelations each time they are told.
On such revelation came after Agan wrote about the 1966 election in Minden. "It never dawned on me how much changed in Minden when Tom Colten was elected mayor," he said. "It was a watershed year."
Agan spoke about how Minden almost garnered a junior college, but "someone didn't play nice with Huey Long," and the college went to Monroe.
The book also chronicles the history of Minden's brick streets. "Someone pointed out, correctly, that it's Minden's brick street," Agan said. "Broadway hasn't been brick in a long time."
Agan spent much of his time speaking about Louisiana Governor Huey P. Long's ties to Minden, good and bad. He chronicled much of the story in a series of columns in the Press-Herald titled, "Huey Long vs. Harmon Drew."
Long visited Minden multiple times over the course of his shortened life, as a traveling salesman, and a politician.
In 1927, during his second attempt to be elected governor, Long campaigned in Minden at the Webster Parish Courthouse, but the crowd was too large, and the stump was subsequently moved to City Park.
Agan hit many of the highlights of Long's storied history with Minden, but he left out many details by design. "You need to buy the book," he said. Proceeds from this and Agan's other books benefit the museum.
Agan was the 65th speaker for Night at the Museum, Dorcheat Historical Association Director Schelley Francis said. The museum is in its 11th year of operation.