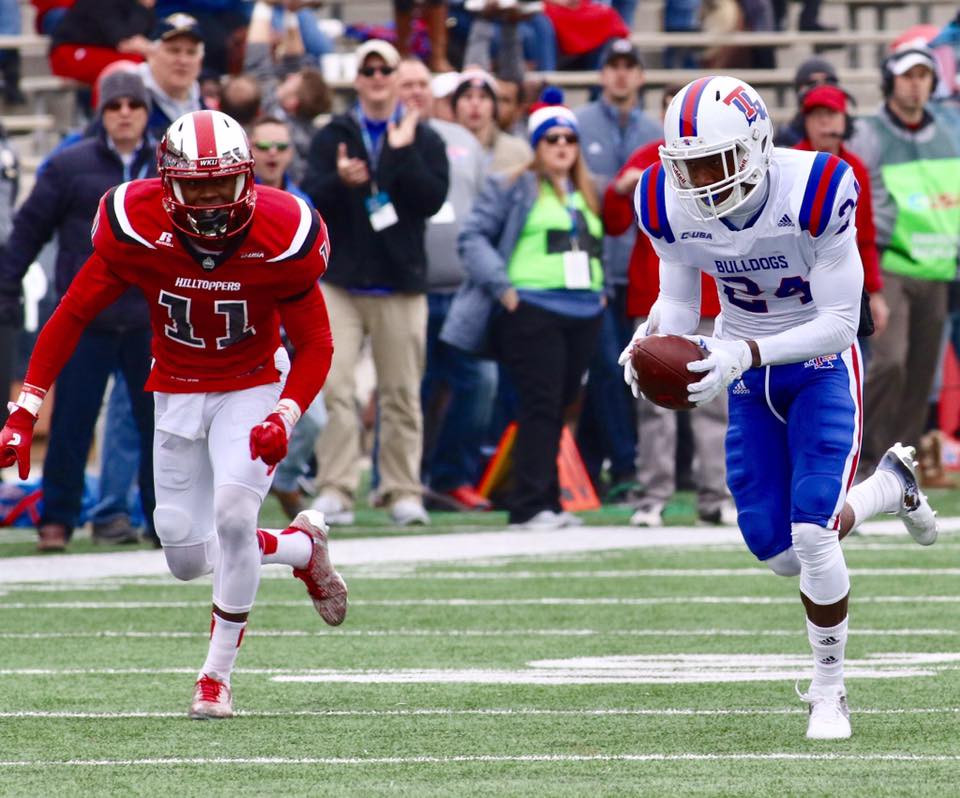 Watching Minden alumnus and Louisiana Tech freshman cornerback L'Jarius Sneed glide into the end zone so cooly in the first quarter of the Conference USA Championship Game against Western Kentucky was familiar for many fans watching in northeast Louisiana, particularly in Tider Country.
For Sneed, it was nostalgic. The converted wide receiver, who scored 19 touchdowns on only 64 touches his senior year at Minden, finally got his hands on the football.
Of course he was going to score.
It was his first start of the season after months of playing only special teams, and it's safe to say he made his presence felt.
"They had been throwing a lot of hitches," Sneed said about the play. "I saw the receiver lining up with outside leverage and we had been studying the routes all week. I opened up my hips and then saw him start to throw. When I got my hands on it, I was just thinking touchdown."
Sneed's pick-6 was Tech's only defensive highlight on a poor defensive day, but the Bulldogs bounced back and beat Navy last week in the Armed Forces Bowl to end the season on a high note.
With his freshman season in the rear-view mirror, Sneed said he's learned more than he could have ever imagined.
"In high school I had everything down," Sneed said. "Then you get here and the speed is different. During summer and fall camp I lost a lot of my confidence. The technique and playbook is so different. I was slowly progressing though."
Sneed, who finished his first quarter at Tech with a 3.0 GPA, was thrust into the starting lineup after grades made a trio of defensive starters ineligible. Sneed still remembers the moment he found out he would start against WKU.
"I walk into our special teams meeting and they tell me to go to cornerbacks room," Sneed said. "When I walked in they just said, 'You're starting this week,' and I got happy.
I started working even harder after practice with my technique and my craft. It was my first start, but I think I did pretty good though."
Sneed said in times when his confidence wavered, he leaned on his support system, consisting of his family and friends in Minden.
"They helped me a lot," Sneed said. "I love my hometown and I got a lot of people in Minden that believe in me and want to see me make it. Sure, there are some who don't, but I don't focus on that. I play this game to honor God, my mom and the rest of my family."
He's certainly made them proud so far, and will have a chance to do so next year by earning a starting spot.
But where on the field?
Sneed said he had discussions towards the season's end with head coach Skip Holtz about possibly going back to offense and filling Tech's void at receiver after the departure of Carlos Henderson and Trent Taylor.
"I haven't talked with anyone about it but coach Holtz," Sneed said. "We'll see."