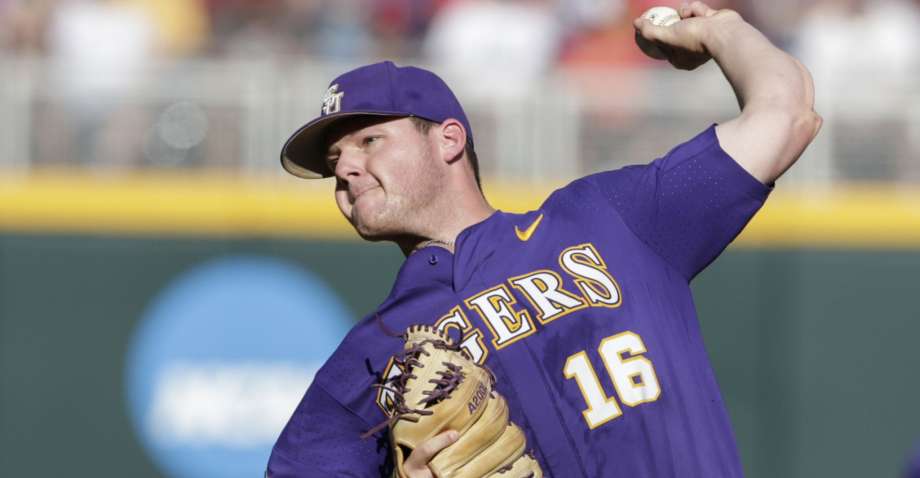 OMAHA, Neb. (AP) — Jared Poche' became LSU's career wins leader, Jake Slaughter hit a three-run homer, and the Tigers eliminated Florida State from the College World Series with a 7-4 win Wednesday night.
LSU (50-18) advanced to the Bracket 1 final against No. 1 national seed Oregon State, which beat the Tigers 13-1 on Monday. The Tigers would have to beat the Beavers on Friday and again Saturday to reach the best-of-three finals next week.
Florida State (46-23) will go home without a national title for a 22nd time, and 16th under Mike Martin, who completed his 38th year as coach. No program has as many CWS appearances without winning the championship.
Poche' (12-3), making his school-record 69th career start, won for the 39th time to break the record Scott Schultz set from 1992-95. He left after Quincy Nieporte and Cal Raleigh homered on consecutive pitches in the ninth. Zack Hess struck out the side for his third save.
Slaughter, making his first CWS start and batting out of the 9-hole, barely cleared the left-center fence when he connected on a hanging breaking ball from FSU starter Cole Sands (6-4) in the second inning. The homer, which made it 5-0 and ended Sands' night, was the freshman's first since March 15 and third of the season.
Slaughter, who had been a pinch runner and pinch hitter in the Tigers' first two CWS games, got the start in place of Nick Coomes and also came up big on defense. He somehow kept his foot on the bag as he laid out to catch second baseman Cole Freeman's relay to complete an inning-ending double play in the third, and he snagged a low liner off Jackson Lueck's bat in the fourth.
Andrew Karp struck out seven and limited the Tigers to two singles over 5 1/3 shutout innings in relief of Sands. The Tigers tacked on a couple insurance runs in the ninth against Drew Carlton.
MARTIN CHASING HISTORY
Florida State's Martin, under contract through 2018, will continue his pursuit of college baseball's all-time wins record. Martin ranks No. 2 with 1,944 wins, 31 behind Augie Garrido. Martin's teams have never won fewer than 41 games in any season since he took over in 1980.
BYE-BYE, BAT
Umpires took away the bat belonging to LSU's Cole Freeman just before the game because it didn't meet specifications. Coach Paul Mainieri said part of the bat had become flattened.
Freeman borrowed a teammate's bat and went 1 for 4 with a double.
HENDERSON INJURED
Florida State second baseman Matt Henderson left in the top of the ninth when his leg was struck by a sliding Kramer Robertson on a steal. Hank Trulock finished the game at second.
50-WIN MILESTONE
LSU reached the 50-win mark for the fourth time in nine seasons under 11-year coach Mainieri. The Tigers have 13 50-win seasons, most in the Southeastern Conference.