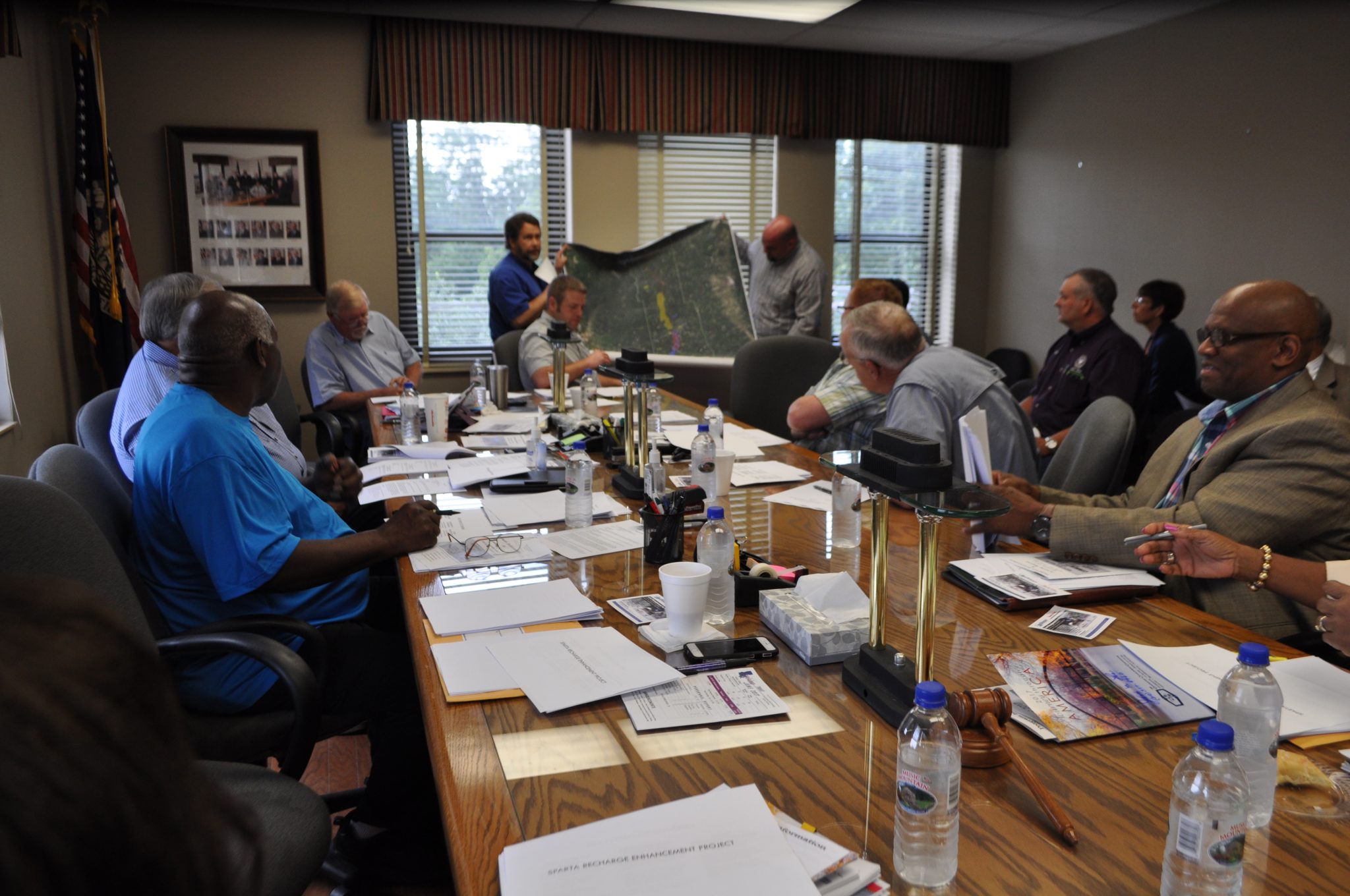 A discussion about the future of Webster Parish's water resources turned into a debate about turning water into revenue.
In the economic development committee meeting of the Webster Parish Police Jury Tuesday, a presentation about the proposed Sparta recharge enhancement project led to a discussion about getting the long dormant surface water treatment plant at Camp Minden up and running again. The question then became, "Who will pay for it?"
Juror Dustin Moseley said if the jury paid for it, then they could sell the water and turn it into a revenue stream for the jury.
"I'd like to look into Webster Parish finding a way to fund that plant being brought up to speed and the sale of the water to Bossier, Doyline or whoever needs the water could easily pay back whatever it costs to get it up to speed," he said. "Webster Parish would be totally 100 percent in control, and I think it could be a source of revenue for us."
Last year, Bossier Parish offered to pay for a feasibility study on the plant, but later Webster Parish pulled its support. To date, a permit has not been approved by the state, and Bossier officials said if they could not get the permit, there was no reason to move forward with the study.
However, Juror Nick Cox said no matter who pays for it, it's beneficial to Webster Parish.
"Let's go ahead and start working on some terms we could live with," he said. "We need to go ahead and get with (Parish Attorney) Patrick (Jackson) and see what it will cost. I know Bossier Parish has the money, and it might be better for us to become the customer, or on the flip side if we want to develop it ourselves, in seven years, it could pay for itself."
Moseley replied, saying he would "never, ever, ever" be in favor of "us becoming a customer of Bossier Parish. There is no circumstance where I would agree to that…Why would I want to become a customer of Bossier Parish when it could be a source of revenue for us?"
It all comes down to money, Juror Steve Lemmons said.
"That's why at one time we tried to join with Bossier and go with them on it and collaborate with them," he said. "We just cannot afford it."
The rejuvenation of the plant is also part of the plan to enhance the Sparta Recharge area. Ben McGee, with the U.S. Geological Service, said if the parish used surface water, Bayou Dorcheat is the only surface water in which the parish could draw from. He explained 78 million gallons of water flows through Bayou Dorcheat every day from other sources, and it is virtually an untapped source of water. If they draw from Dorcheat, it would be less than 5 million gallons per day.
The Sparta recharge area is a vast area of the aquifer that starts in Arkansas and comes down into north Louisiana continuing on down into Sabine Parish.
"The enhancement project is a very small part of the entire recharge area," he said.
Rick Buckner, executive director for the Sparta Foundation, has been talking to officials for the last several months about an enhancement project that would implement the use of surface water to decrease the pull on the Sparta Aquifer.
The plan is to get the surface water treatment plant at Camp Minden up and running and build two lakes, one just north of Dixie Inn and one west of Sibley to help recharge the aquifer.
He said approximately 54 million gallons of water is being pumped from the Sparta every day and the refresh rate is 54 million gallons per day. Past use exceeded 74 million gallons per day, he said.
"If we have future economic development, we could be pumping even more from the Sparta," he said.