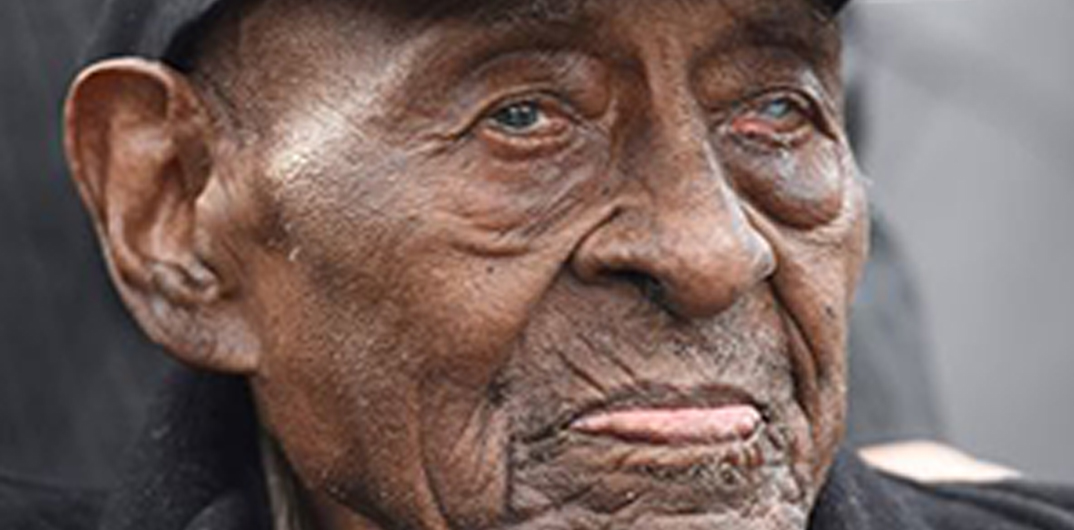 The man considered the world's oldest World War II veteran has died.
Services for Frank Levingston, 110, were set for 11 a.m. Tuesday, May 10, at Wesley Grove Church in Cotton Valley, located at 373 Humble St.
Affectionately known as "Uncle Frank" to his family, he was born Nov. 13, 1905 to the late Frank and Ida Levingston in Cotton Valley. He was one of seven children, and along with his younger siblings, he helped maintain about 200 acres of land obtained by his parents, which remains in the family today.
Levingston's nephew, Joseph Levingston, 73, says his uncle left a lasting legacy for his family, teaching them valuable lessons.
"He was a very inspirational individual to the family," he said. "He always stressed education to his nieces and nephews. He never married and had no children, but he devoted his time and efforts to his sisters' and brothers' children to make sure we got a good education. We appreciate that."
After the death of his parents – his mother at age 11, his father at age 13 – he went to work at a gas station in Cotton Valley to support his siblings, and then left to work in a shipyard in Galveston, Texas, Joseph Levingston said.
Frank Levingston enlisted in the United States Army in 1942, serving as a private and automobile serviceman during the war in the Allied Invasion of Italy. Following his honorable service in the military, he became a union worker specializing in cement finishing.
"He worked on the military trucks," he said. "It was his responsibility to make sure those trucks were running so they could get those supplies out to the front line. He was in charge of the motor pool."
Joseph Levingston says one of the things his uncle liked best was hunting with his rifle, calling him an expert marksman.
He moved to Lake Charles in 1981, and was a resident there for 35 years before moving to Bossier City into the North Louisiana Veterans Home last year.
"He was driving all the way up from Lake Charles to Cotton Valley up until he was 105," he said. "He'd go up to Cotton Valley with his lawn mower and cut the grass before they finally took his license when he was 106 or 107."
He is considered the world's oldest World War II veteran, and as such, he saw many changes and growth during his lifetime, including the Great Depression, the Jim Crow era and equality for blacks and women.
His travels took him to Rome and to the Holy Land in Mecca, along with others. Frank Levingston was honored with an invitation and the trip of a lifetime to Washington DC to
visit the White House and other historical buildings and monuments in November 2015 as a
member of the Austin, Texas Honors Flight.
"It meant the world to him," he said. "His only disappointment was that he didn't get to see the president, but he did get to see the White House and the Capitol. It was an enjoyable trip for him."
He became a Muslim in the late 1950s under the leadership of Elijah Muhammad.
While Frank Levingston was many things to many people, a union worker, a cement finisher, to his nephew, he was just "Uncle Frank."
"He was a lot of fun, but he could sit down and get serious," he said. "He wanted to teach us, because he had a lot of things he could tell us about life in general. He always wanted us to be polite, stay smart, be smart, think for yourself, stay in school and stay out of trouble. He was firm on that, but he had his way of talking to people in general. He could deal with people at every level. The most important lesson I learned is to stay calm and think before you speak."
He passed away May 3.