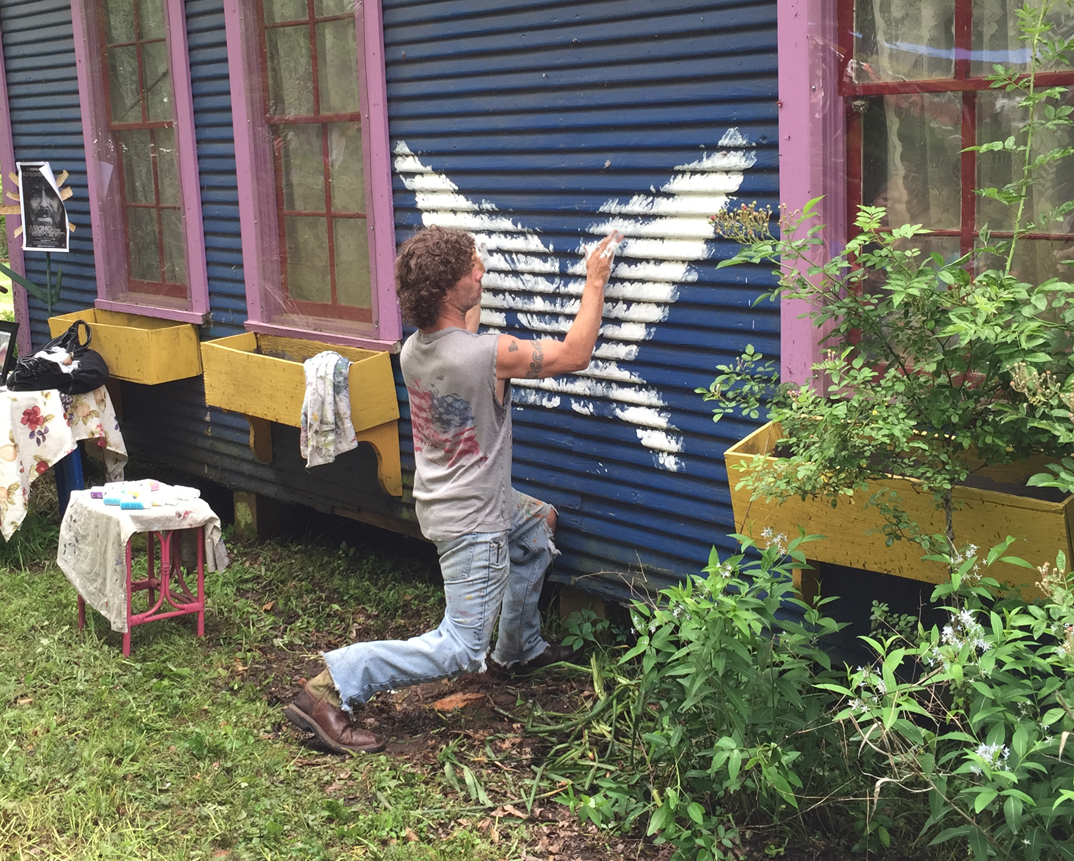 A Ruston artist found meaning in his art after finding his way to God, but it was after filming a documentary on homelessness that brought the issue home for him.
Trent Dion Soto spent 30 days as a homeless man on Skid Row in Los Angeles, choosing this path to document a prevalent issue and show them as real people with real emotions. "Among the Discarded," to be premiered at The Farm Saturday, May 16, is a documentary which follows Soto as he delves into the world of homelessness.
"I've had a taste of homelessness," he said. "In 1995, Hurricane Opal ripped up Panama City Beach and this Louisiana boy lost everything he owned. Everything – truck, my apartment, almost my life."
At that time in his life, he says he was making bad choices and literally had to choose between those choices or a place to live. It was in that moment he turned his life over to God, and in part, his own experiences led him to share the issues that are the epidemic of homelessness.
"I know the basics of homelessness," he said. "Throughout my life, I created art with no meaning. I am a Christian, and I know God gave me these talents and I'd been using my talents for 20 plus years for all the little gods. Some of the greatest art pieces I've done is a ministry to me. (Homelessness) is an epidemic in one of the richest countries in the world."
It will never go away, he says, and the 30 days he spent on Skid Row was an enlightening one.
"There are many reasons behind it, but there's a lot that we can do," Soto said. "My first day on Skid Row was sensory overload. The noises, the smells, the movement – it was at first glance, to me, a true human wasteland. It was a place where people were discarded. It was something you see on TV you would figure would be in a third world country."
The hardest thing, he says, was watching everyone around him in need, hurting. There are things most people take for granted, like a fresh cup of coffee or the security of a locked door.
"You felt for them, and I felt helpless knowing that I couldn't help everyone," he said. "Since then, I've formed relationships that I still have with people on Skid Row and it's really about building a relationship one person at a time, and not taking on the whole community at once."
Soto is the son of a military man. Born in England, he and his family came back to the United States, to Ruston, where he was raised and graduated high school. His life experiences include an array of things many people in the Deep South might not ever see, and he delved into the world of art, music and television. He has produced art for the covers of music albums and done the stage backdrop for famous bands such as Aerosmith.
"I've always been artist," he says. "The first play I ever painted was the background on the stage in the third grade. It was 'The Christmas Carol.' I remember doing the bricks so detailed the teacher was like, 'Trent, you're so good.' So that stuck with me."
That impression has followed him throughout his life, he says. His talent pulled him into the world of the music and film industry, allowing him to use his skills in music videos as well.
"I did my last tour with Aerosmith in 1997, and I did two pieces that traveled with them," he said. "It was probably one of my favorites, getting to meet Steven (Tyler), getting his autograph and pictures. I did this for 13 years with MTV, then freelanced."
Soto and ChickenStock chairman Melissa Downer went to school together, and she says she reconnected with him on Facebook, where she discovered his love of the arts.
"When he decided to begin his journey to Skid Row, I was not really surprised as he has always been one to step out of the box and go a different route," she said. "But I was amazed at his strength and confidence in his mission. I am beyond proud of him and his work and we are absolutely thrilled to have him premiere his documentary with us at The Farm."
"I left a chunk of my heart and a sliver of my soul on Skid Row, and I will forever be a part of that community one way or another," he said.
Today, when he visits with the homeless, he gives back in the most basic way, helping to meet their physical needs first. When he travels, he emerges himself into homeless communities bringing with him hygiene kits, clothing and other materials, but he also sits with them and talks to them.
In the film, he only scratched the surface of the many issues that face the homeless, but the one that stuck out to him the most is the homeless military veterans. One he talked about was a veteran Soto thanked for his service, and his last words always were, "It was an honor to serve."
"I think it is a great travesty that men and women serve our country and they're truly discarded," he said. "They suffer the highest suicide rate of any social group that exists – 22 suicides a day."
Tearfully, he spoke of a veteran who took his own life at only 30 years old.
"Because he couldn't afford a house, he couldn't afford to live," he said. "And he lost everything. He didn't have anything to live for. So I'm here to be a voice. My journey will continue and it will be lifelong."