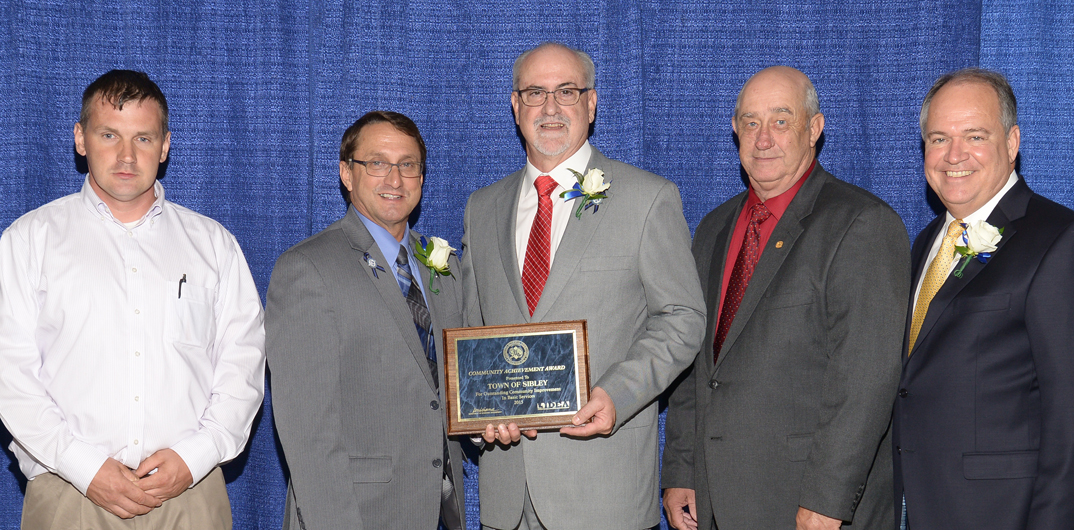 ALEXANDRIA – The Town of Sibley's 'Elevated Water Tank Rehabilitation' project won the Louisiana Municipal Association's Community Achievement Award in the Basic Services category during the LMA's 79th Annual Convention in Alexandria. The pinnacle event of the gathering of local elected and municipal employees from across the state is the unveiling of the Community Achievement Awards for outstanding municipal achievement.
The Community Achievement Awards recognize the achievements of elected municipal officials and their staff's accomplishments over the past year in three main categories – Community Development, Economic Development and Basic Services. Sibley's win, for the Elevated Water Tank Rehabilitation project, represents the highest quality of work, dedication, and sacrifice by elected municipal officials and their staffs for a town with population of 3,000 or less.
"Citizens don't always see the progress that the Town of Sibley has made but we strive for betterment. The Water Tank Rehabilitation was the most effective and necessary project at this time. The year-long rehabilitation of two elevated water tanks included interior and exterior cleaning and repairs, as well as, the painting of both tanks, Sibley Mayor Jimmy Williams said.
"It took strategic planning by the Sibley Board of Aldermen, our engineers and myself to come up with a project that would benefit all of Sibley."
Williams said as a small municipality, it was necessary to be creative for funding this $331,000 project. Funding was made available by combining the funds from Facility Planning and Control, 2013-2014 Local Government Assistance Program, 2014-2015 LGAP and 2014-2015 Community Water Enrichment Fund.
The project benefited all Sibley citizens and industry by ensuring a safe and dependable potable water source, Williams said.
Numerous entries were considered by a panel of judges from the following agencies – Louisiana Economic Development, Louisiana Industrial Development Executives Association, Capital Region Planning Commission, the Louisiana Main Street and the Louisiana Office of State Fire Marshall.