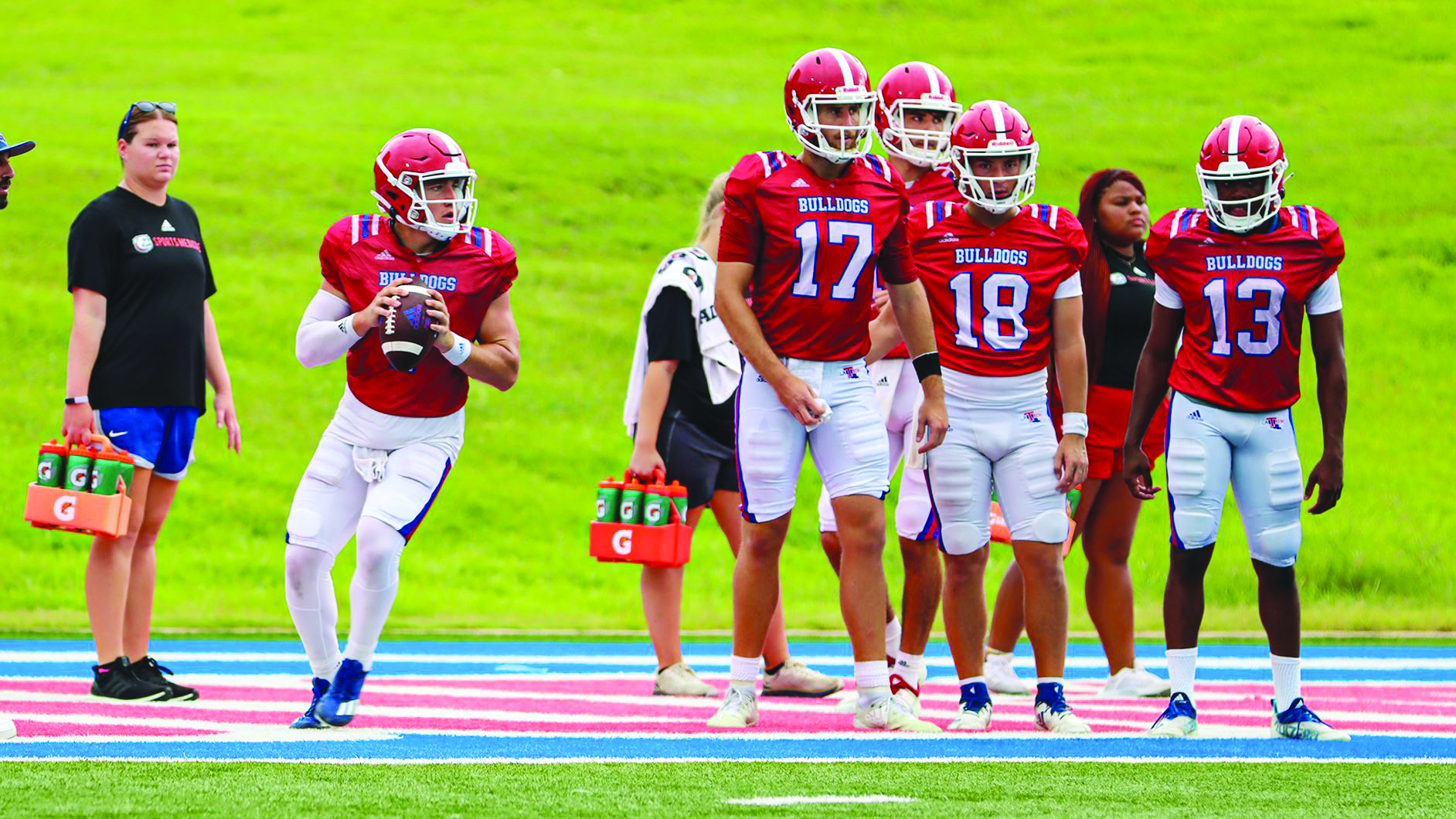 Louisiana Tech head coach Sonny Cumbie has been synonymous with explosive offenses dating back to his days as the signal caller at Texas Tech. Bulldog fans have seen many high-octane offenses themselves throughout the years and should expect no different in 2022.
For the third-consecutive season, the quarterback position is up for grabs in the middle of fall camp. However, no familiar faces vying for the role as the quarterback room was completely overhauled following the 2021 season.
Transfers Matthew Downing (RS Jr., TCU/Georgia) and Parker McNeil (RS Sr., Texas Tech, Troy, Navarro CC) headline the quarterback position battle. Rounding out the quarterback room is the 2021 Louisiana Football Gatorade Player of the Year Landry Lyddy (Fr.), in addition to Northern Colorado transfer Andrew Brister (RS Fr.), Navarro JC transfer Jack Turner (So.) and Lonnie Ratliff IV (Fr.).
"Quarterback is where it really starts on offense," Cumbie said. "Both Matthew (Downing) and Parker (McNeil) are the two that have the most experience, but that does not mean others can't get into it. It is not a job that is decided by one play or one day. It is decided by consistency throughout fall camp and how they prepare and execute in live situations."
McNeil and Downing are familiar with Cumbie's offense as McNeil spent last season at Texas Tech with Cumbie and Downing played under Cumbie in 2020 while at TCU.
Downing and McNeil are both fierce competitors but vying for the same starting role has not hurt their friendship.
"We have a nice cohesive quarterback room," Downing stated. "It is always a pleasure to work with guys like we have. Me and Parker are great friends and hang out a lot off the field. We are all able to build off each other's ideas and ask questions. We challenge each other every day. Parker is a great quarterback. He works hard and it has been a lot of fun."
"Me and Matthew (Downing) are competing as hard as we can," McNeil said. "Matt is a great quarterback so it is always a great challenge. He always pushes me to do better and I hope I do the same for him."
"Both Matthew and Parker have done a lot of good things through fall camp," Cumbie remarked. "They both have each had their days with the ones and then with the twos. They both have had good moments and moments where they have to value the football more. I have been pleased with where they are at in terms of knowledge and execution. Landry Lyddy has done a very good job too and is picking up where he left off in the spring. He has really improved over the summer in terms of what we are doing and knowing where to go with the ball. I am really pleased with our quarterbacks and how they have competed."
While the starter remains unknown, one certainty is that they will have plenty of weapons to target. The Bulldogs return 59.6 percent of their receiving yards, 65.3% of their receptions and 59% of their receiving touchdowns from last season.
"Our receivers have been great so far," Co-Offensive Coordinator and Wide Receivers Coach Jake Brown said. "Our guys have done a good job of learning the playbook and catching on. Our older guys have done a good job of helping the younger guys out. We have a really close room and we all pull for each other, the energy has been great."
Smoke Harris returns for his redshirt junior season after tallying 71 receptions, 756 yards and six touchdowns last season. He also led the Bulldogs in receptions in every single game in 2021, becoming the first player since Biletnikoff Award Winner Troy Edwards (1998) to accomplish the feat. The Bulldogs' second-leading receiver, Tre Harris is also back. Harris posted 40 catches, 562 yards and four receiving touchdowns last season.
"It is really big having receivers like Smoke and Tre back," Brown said. "They have taken a lot of reps in their career. They are leaders that lead by example.
"All of our newcomers have impressed me so far. Every day we are getting a little bit better and that is all that we can ask of them. We have thrown a lot at them with learning a new offense but they are getting a lot better every day."
One newcomer at the wide receiver position that has been making a lot of noise in fall camp is Tru Edwards, a transfer from Hawaii by the way of Navarro Junior College where he was coached by Co-Offensive Coordinator Scott Parr. Edwards is the son of former Tech great Troy Edwards.
One thing that is vital for Brown and the receivers this season is the importance of their play when it comes to setting the tone of the offense.
"I tell the receivers that they set the tone every day. If we make plays we set the tone and if we don't make plays then the energy level is low. In game and in practice our play impacts the tone of our offense."