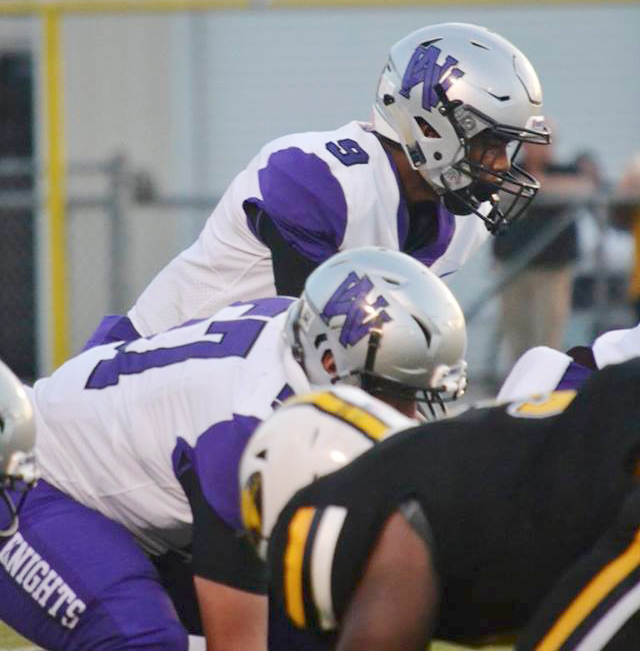 You can't always judge a football team based off their record.
No one knows this better than North Webster head coach John Ware.
The Knights are currently 1-3, having picked up their first win of the season last week against West Ouachita.
Before that, many may have mistaken the Knights for a bad team; perhaps the Chiefs made that mistake themselves in last week's game.
The Class 5A Southwood Cowboys, next up on the schedule for North Webster, currently sit winless at 0-4.
That won't draw any sympathy from Ware and the Knights, not after studying the film.
"They are a little better than they have been the past couple of years," Ware said. "They can move the football on offense. They have a couple of explosive guys at quarterback and running back and also a couple of guys who can catch the football."
The Cowboys have been their own worst enemy on offense this season, with turnovers and senseless penalties playing spoiler to successful drives. That's a scary thought for every opponent on their schedule, as logic would suggest the unit is due for a fundamentally-sound ball game any week now.
"That worries me," Ware said. "They've shot themselves in the foot more than they've been stopped. You never know when it's going to all click, so that's a concern this week; an 0-4 5A team is still very dangerous."
The Knights were pretty dangerous in their own right last week, as the offense finally sustained drives and finished with touchdowns. As the team looks to build on that success, Ware says it won't be easy if the last two years of this matchup are any indication.
"The way they line up to what we do, it's given us trouble," Ware said. "It will definitely be a game where we can't afford to lose possessions, and the ones we get, we have to make them all count."
Injuries derailed the Knights offense in week three against the Minden Crimson Tide, but in the short amount of time between that game and last week's win over West Ouachita, the team made the proper adjustments.
Quarterback Tyrell Markray tossed a pair of touchdown passes to 2016's All-Parish offensive MVP TJ Hawthorne, Kyler Harbour went over 100 yards rushing and Lorenzo Johnson has picked up his play in place of the injured Jaylen Thomas.
Ware feels fine about the offense as long as the offensive front can find a way to move a larger defensive front from Southwood.
"They have 5A size and we're small," Ware said. "But it's been that way the last four weeks, so we know if we can just execute what we do we'll be able to play well."
The vibe at practice is up this week after tasting victory. Players are flying around and making plays, being coached without pause and responding to the gameplan.
It's funny how a win seems to calm all doubts.
"Confidence," Ware said. "When you win it gives you confidence, and the thing about it is we've thought we've played well the past couple weeks too; we just shot ourselves in the foot too much against good football teams. We didn't shoot ourselves in the foot last Friday, and that just breeds more confidence and we're seeing that in practice."