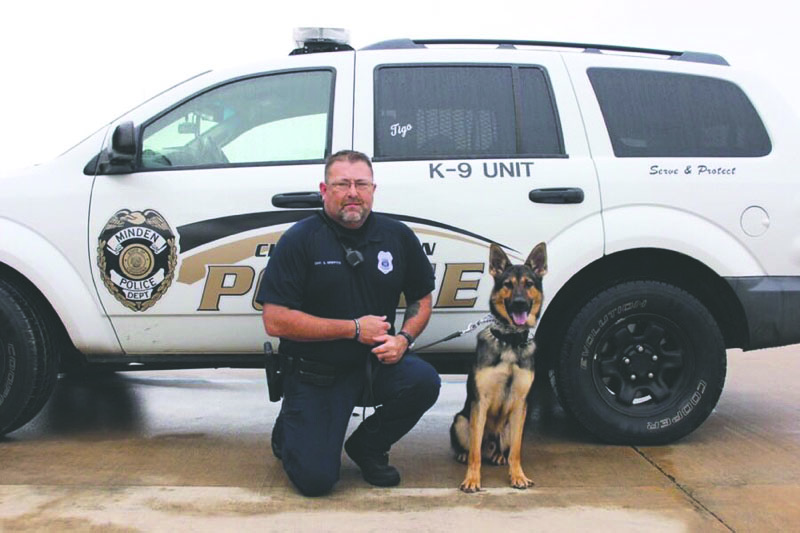 Crowdfunded K-9 officer settling in at Minden Police
Minden Police Department's canine, Tigo is making a successful entry into his new position. Tigo has made over 10 arrests since he joined the department on October 11.
Tigo was given his name in Hungary where he was born. The department acquired Tigo from Roger Abshire with US Canine Unlimited who imported him to the States.
He is trained in obedience, narcotics detection, tracking and bite work.
Not only can Tigo detect drugs but he can help find people such as Alzheimer's patients who may wander off. He is also skilled in bite work for situations where it's safer for a dog to go into than an officer.
Tigo was funded 100% by the people of Minden through donations, t-shirt sales, and a gun raffle held by Ramsey's Outfitters.
"It was unbelievable. I was totally floored. The businesses and people in Minden were unbelievable. We raised enough money to get the dog and to do the training. The Sheriff's office donated a second hand Dodge Durango and we were able to outfit it with everything the dog needs," Chief Steve Cropper said.
Tigo only works with Officer Shane Griffith.
"My 8 year old son, Gunner helped raise a lot of the money at WalMart by helping people with buggies," Griffith said.
Tigo is not only an assent in crime, he is already performing community service by visiting Town and Country Health and Rehab twice.
"He's a really social dog. The Minden Police Department has never owned a social canine. Any other dogs we've had would bite you," Griffith said.
"To me, that's one of the most important things. Our last canine, he was a very good drug dog and a very good biter.
Too good of a biter. We couldn't take him into the general public without putting a muzzle on him. Tigo is different, he's already been to a couple of ball games and the kids can walk up and pet him. He's not going to bite unless he gets that direct order to bite," Chief Cropper said.
Even being a friendly asset to the community, Tigo has been doing his job and fulfilling an important need for law enforcement here in Minden and the surrounding areas.
"His number one asset to the department is illegal narcotic control. We were without a dog for a pretty good while and anytime we needed a dog we had to try to get ahold of another agency to bring a dog. A lot of times their canine wasn't accessible. It gives us the benefit of having our own dog. In fact, it's not only going to be beneficial to us, in reference to narcotic control, he's already been used in Claiborne Parish. They asked for our assistance and he went over and did some work for them. He's just a big benefit to the department just having him there," Cropper said.