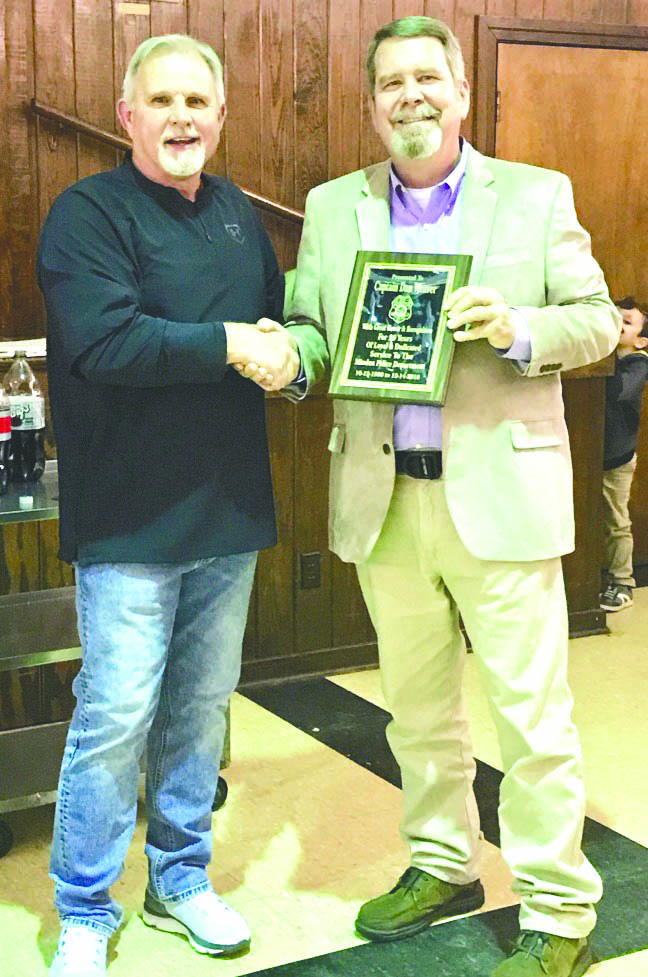 Captain Dan Weaver retired from the Minden Police Department December 14 with 28 years of service to the citizens of Minden.
Weaver started with the Minden Police Department in September of 1990 under Chief Chester Adcock then worked for Chief T.C. Bloxom.
"Back then there was a lot going on, in the early 90's in Minden. We'd have several homicides a year and narcotics were rampant," Weaver remembered, "Chief Bloxom was a wealth of knowledge as far as investigations and everyday was like going to school."
After Bloxom retired, and Steve Cropper took the reigns as Chief of the Minden Police Department, Weaver says he was blessed with another great Chief to work under.
"From the eight years that I've worked with Chief Cropper, not only has he been supportive of anything that me and my partner, Captain Marvin Garrett, needed – he would supply it. If we needed a piece of undercover equipment, we always got it. Anytime we asked for things, we always got it. Anything that he thought would help protect the citizens of Minden, he was all for. He's been a very supportive Chief," Weaver said.
Captain Weaver and Captain Garrett have had a close relationship, moving up the ranks and remaining partners for years.
In 2004, Weaver went to Iraq through the Department of Defense to train Iraqi police.
"Naturally I wasn't going to quit to go, so I took a leave of absence for a year and went over to Iraq and helped train through academies off of Ford Operation Base in Iraq," Weaver said, "Being away from family was about the only thing I regretted about that. That was a long year for us."
When Weaver returned, he and Garrett teamed back up on Narcotics and Investigations until Weaver's retirement.
Weaver says some of his best memories are of people coming back after being arrested by him and having turned their life around. One of his saddest memories is when one of his fellow officers was shot.
"Danny Turner got shot one night. He's fine now but that was a sad night," Weaver reminisced.
"Years ago when I went to work, my big deal was protect and serve. Never did I think that someone would not like me," Weaver said.
He said one of the hardest parts about being a member of the Police Department is that sometimes people don't like him just because he'd arrested someone they'd known even if they'd broken the law.
"That was always sad to me," Weaver said, "We get a lot of negativity making arrests and not a lot of people patting you on the back."
However Weaver said the people who came to him and let him know they appreciated what he did made it worth it. Weaver said he has received calls of well wishes from citizens of Minden, members of other police and law enforcement offices, and even calls from people he'd arrested in the past. He was overwhelmed with the love he'd received through his retirement party. He also received a plaque of appreciation from the Claiborne Police Department for his assistance over the years.
"It's been a good career," Weaver said.
Weaver spoke of his wife's support throughout his career.
"She's the real hero in all of this," Weaver said.
Weaver is not going to rest in his retirement, he has already gone to work for the interim City Marshal, Cynthia Hawkins and plans to run for City Marshal in the March election.
"Randy Shelly, who was the Ward 1 Marshal, retired. They appointed Cynthia Hawkins. After I learned neither Cynthia or her husband were going to run for the Marshal, I decided I would think about running. I discussed it with my wife and family and decided this was the time," Weaver said.