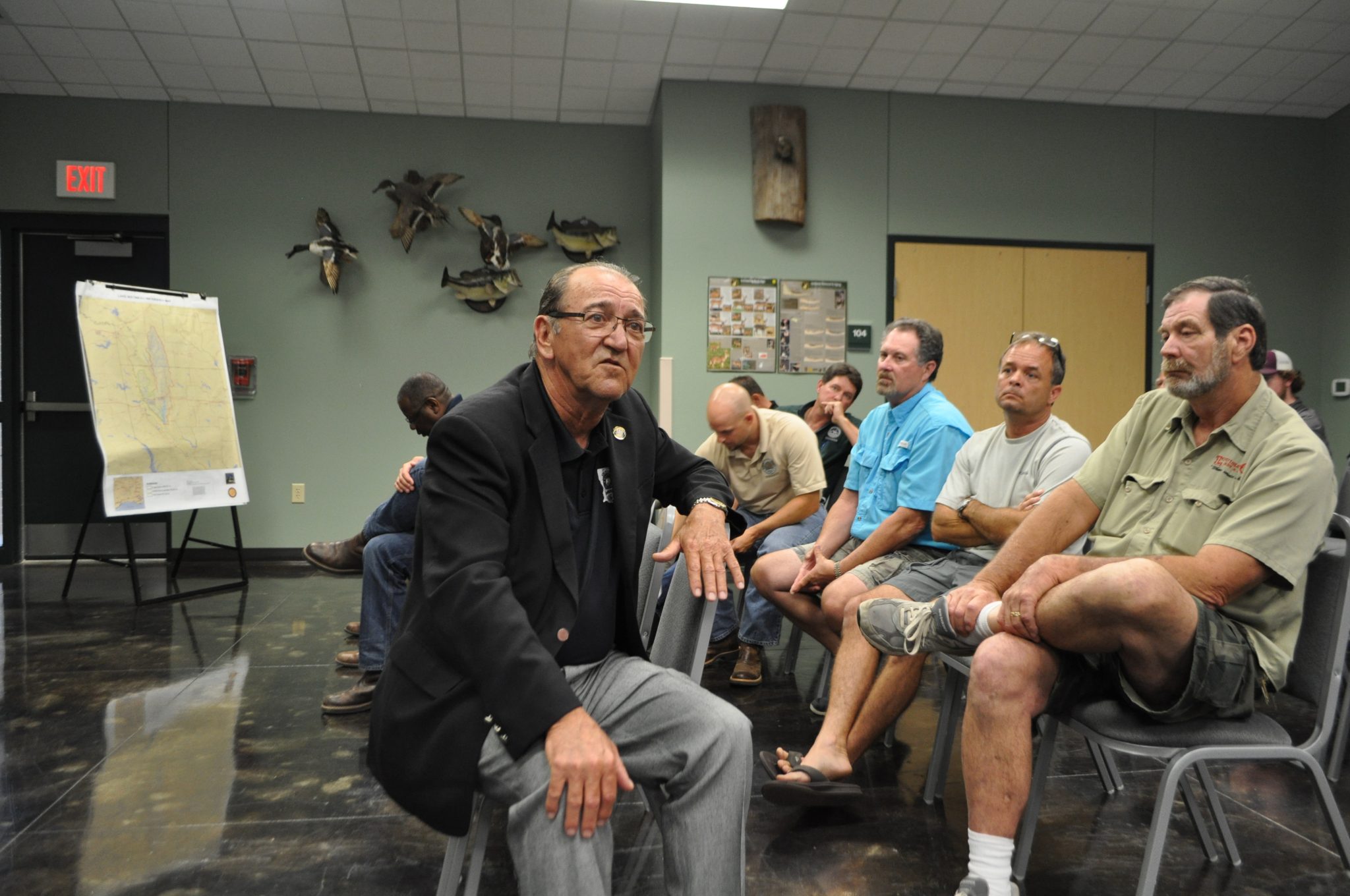 Weevils will be made available to residents around Lake Bistineau Saturday as part of an initiative that has shown promise, Louisiana Wildlife and Fisheries officials said.
From 10 a.m. until noon, those who have signed up can pick up two bags of weevils to set into the water on their property to help in the fight against giant salvinia. Jeff Sibley, Region 1 biologist manager, said the weevils come from Lake Iatt, just outside of the Colfax, Alexandria area and these weevils have shown promise.
"These weevils are a potential breakthrough because they represent the farthest north we've ever had weevils established at high numbers," he said. "They're starting to have impact on the salvinia."
Research has been ongoing in finding and establishing weevils that can tolerate cold weather. Until now, there hasn't been much success. Sibley said weevils survive during the cold winters but usually in too low of numbers to impact salvinia.
"It's possible this weevil is more tolerant to cold weather allowing it to be established farther north, and try and bring some of those here," he said. "It's possible the reason we've had such high numbers in weevils is simply the fact that we've had two very mild winters in a row, and the temperatures in that area are similar to what we've experienced in the past farther south. Time will tell, but they are beginning to have severe impact on salvinia on Iatt Lake."
In addition to the Weevil Day announcement, LDWF Secretary Jack Montoucet and his staff attended a public meeting after spending two days on Lake Bistineau talking to residents about the salvinia and the issues associated with fighting it. He said he understands the plight of the residents who want something done.
"Managing this salvinia has been overwhelming," Montoucet said. "It's a plant that is so invasive and so productive that we haven't been able to keep up with it. It's creating problems for people who have camps around the lake who can't enjoy the investment they have. We understand the problem, but we also realize this is not just an isolated area."
The giant salvinia is in every lake in Louisiana, and is even in the marshlands that protect the state's coasts. Montoucet and LDWF officials will look at how they are spending their money to see if some can be shifted to more research. That's where the long-term solution is going to come from, he said.
Several Bossier and Webster parish residents who have camps on Lake Bistineau again shared their frustration at the slow process of finding a solution. Butch Ford, with the Bossier Parish Police Jury, asked LDWF panel members Sibley, Kevin Houston and Ronnie Christ why they couldn't at least try another idea, such as tree-cutting or booming (encasing) small areas in the trees.
Sibley said they run into a multitude of issues, including possible litigation with landowners who might own portions of the lake bottom, plus the cost of such a massive undertaking. The watershed of Lake Bistineau about 1,400 square miles, or approximately 900,000 acres. The surface area of Lake Bistineau is only 17,000 acres.
Montoucet said they are seeking grants for research and federal money to help fight the salvinia, but he wants to make Lake Bistineau a template in management.
"We're going to concentrate on Bistineau and see if we can't at least, for the time being, do some management that can get people to enjoying the lake for a longer period of time," he said.