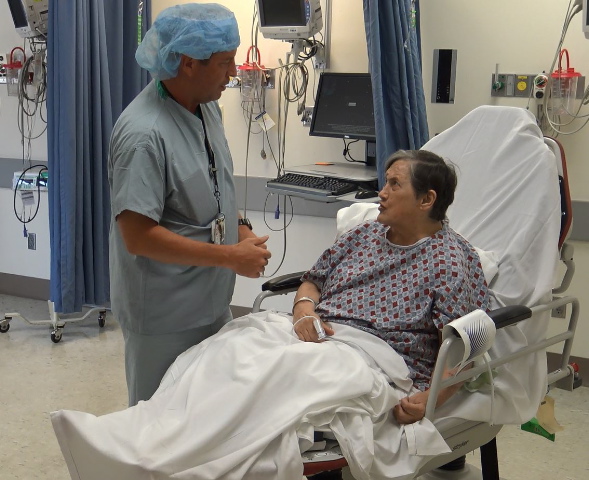 A Minden woman is the first patient at University Health in Shreveport to receive an ultra-small pacemaker without having to open her chest.
Juanita Bui, a resident at Meadowview Health and Rehab in Minden, underwent the procedure Tuesday to regulate her heartbeat. Her daughter, Susie Day, said Bui had a low heart rate and her heartbeat would pause. She is also in end stage renal failure, and this procedure allows doctors later access to her chest area if she needs a dialysis port.
"She has dialysis three times a week, and they decided to go with this pacemaker in order to keep that side of her chest available for the port if they need it," Day said.
The Transcatheter Pacing System is inserted by catheter, through the leg, up into the heart, according to Medtronic, the maker of the leadless pacemaker. Although it is designed to be left in the body, if needed, it can be retrieved, doctors say.
The leads in a traditional pacemaker run from the pacemaker, implanted under the skin near the collarbone, through a vein directly into the heart's right ventricle. That lead delivers electric pulses from the pacemaker to the right ventricle to regulate the heartbeat. The leadless pacemaker eliminates the lead, according to Medtronic documents.
These leads can sometimes malfunction or cause problems when infections develop in the surrounding tissue, requiring a surgical procedure to replace the device.
"As the first leadless pacemaker, Micra offers a new option for patients considering a single chamber pacemaker device, which may help prevent problems associated with the wired leads," said William Maisel, M.D., M.P.H., acting director of the Office of Device Evaluation at the FDA's Center for Devices and Radiological Health.
The leadless pacemaker is about 1 inch long and weighs about the same as a penny.
According to the Food and Drug Administration, data from a clinical trial of 719 patients implanted with the Micra device, found that 98 percent of patients in the trial had adequate heart pacing six months after the device was implanted. Complications occurred in less than 7 percent of participants in the clinical trials and included prolonged hospitalizations, blood clots in the legs (deep vein thrombosis) and lungs (pulmonary embolism), heart injury, device dislocation and heart attacks.