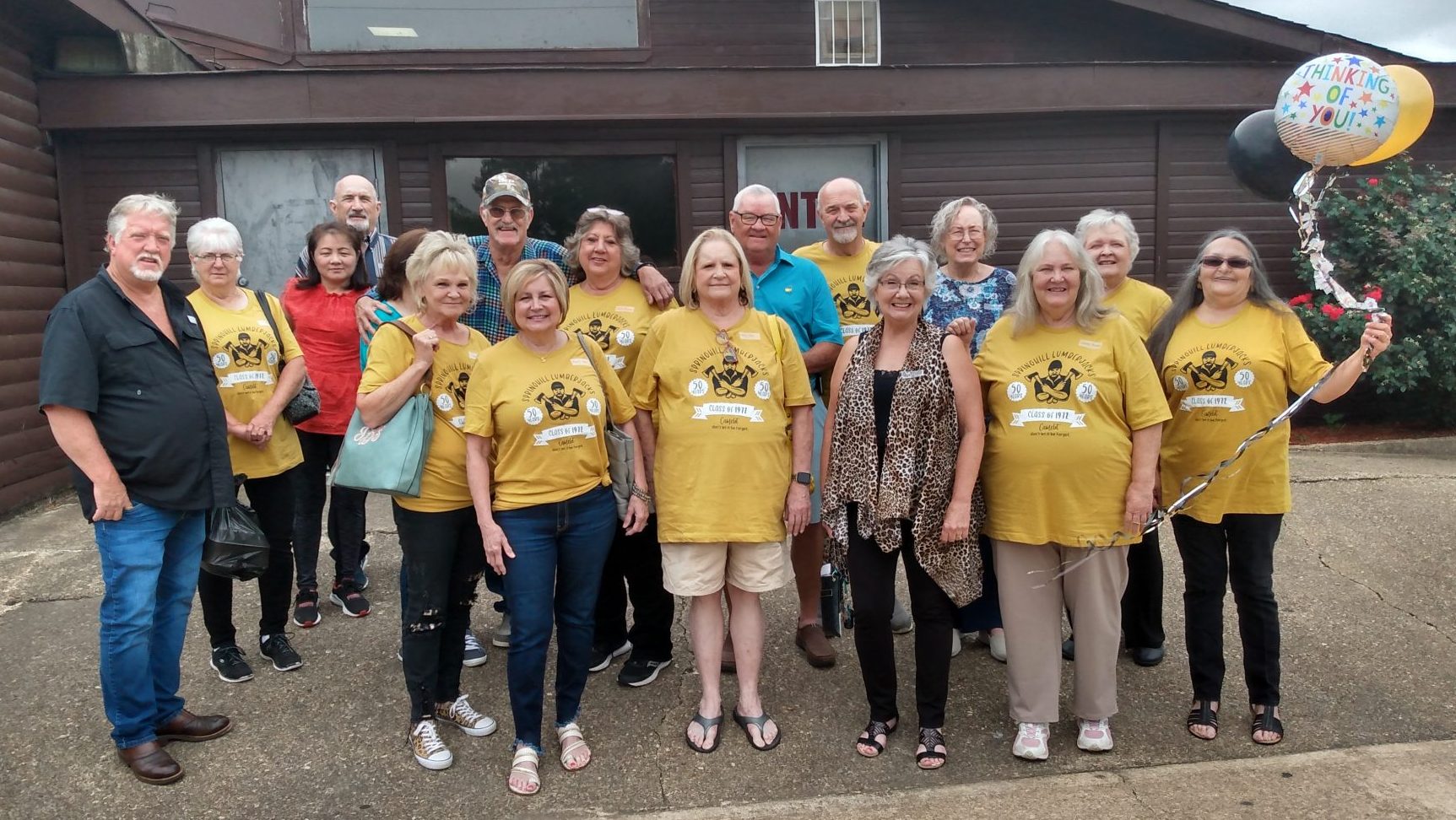 DIXIE INN – At 11 a.m. Monday, May 23, 15 members of the 1972 Springhill Lumberjacks celebrated their 50th class reunion, along with two spouses and a friend, at Dorcheat Seafood and Grill in Dixie Inn on the actual day of graduation.
The classmates included Barry Barnard and his wife, Lane, of Shongaloo, Reggie Barker of Welcome, Ark., Dennis Beavers and Annie of Conway, Ark., Gary Pearson of Texas, Sammy Stanford of Springhill, Janet Sexton Baker of Cotton Valley, Kathy Foreman Tuminello of Benton, Patty Cox of Shreveport, Sherri Dyer Huggins of Bossier City, Freda Dunn Jones of Sarepta, Brenda Oswalt Kirkley and her husband, Randy, of Camden, Ark., Vickie Collier Beshea of Sarepta, Debbie Brown Rader of Springhill, Dianne Dunn Rogers of Cullen and Cindy Kauffman Richardson of rural Sarepta.
Everyone enjoyed a variety of fried fish filets, fried butterfly shrimp, crawfish etouffee, etc., with a full salad bar with their bean soup and hushpuppies. I don't believe anyone considered a dessert or an appetizer.
Before the meal, I stood and welcomed everyone and Debbie Rader followed with blessing our meal. A program was distributed with a list of our deceased classmates, which was read to the group. The names were written on labels and attached to the strings of our balloons to be released outside following our lunch.
The deceased names gathered, with a lot of help from others including our classmate, Debra Miles-McCauley, from Birmingham, Ala., included the following:
Calvin Clifton Bagwell, Darrell Baker, Kathy Baker Wesson, Susan Baker Tate, our Queen Guinevere in our Senior Play, "Camelot", Sharon Bandy Smith, Ruth Barham, James Barnes, Jr., James Beene, Roy Bonner, Karen Elaine Brantley, R.L. "Raleigh" Bridges, Ronnie Brown, Wanda Brown Maxey, Ricky Carroll, Johnny Conville, Jimmy Farrington, Billy Gibson, Jim Gore, Ricky Griggs, James Harris, Greg Haynes, Susan Holmes Hudgeons, Teddy Madden, Gloria Manning, Ruth McConnell, Ted Miller, Christen Moore-Decker, Gloria Jean Oliver, Gary Pickett, James Rader, Carolyn Rhymes Rivers, Johnny Robinson, Gaylon Wayne Sanders, Kilroy Scott, Jacy Shockley, Tommy Slack, our King Arthur in "Camelot", Allen Sterling, Donna Taylor Smith, and Gloria Washington.
These next five classmates did not graduate with us because they got married and did not return to school:
Jeanie Keene Miller, Kay Martin Roper, Debbie Ragus Fields, Rita Sewell Vaughan, and Karen Tripp Cottrell.
As everyone enjoyed their meal, our yearbooks were passed around to be signed again…50 years later! What fun it was to sit and read these that evening in the quietness of our own homes!
Prizes were given for the one who traveled the farthest and the oldest: Dennis Beavers traveled farther and Barry Barnard is our oldest…if Billy Wayne Thurman had attended, he is our oldest classmate!
After we finished our meal, we exited the restaurant and gathered outside. As I released the balloons, they began singing our Alma Mater! It was a beautiful sound as the balloons slowly faded out of sight…without hitting any powerlines. It was the most comforting way to end a wonderful gathering of classmates!
Randy Kirkley was burdened with about seven phones taking a group picture or more with each phone! Bless his heart for undertaking this mission of kindness and patience.
At homecoming each year, the classmates from the previous years ending in that number walk across the field. This year, all "2s" are recognized and honored! So we hope to gather and see you all before 6 p.m. at homecoming in October!