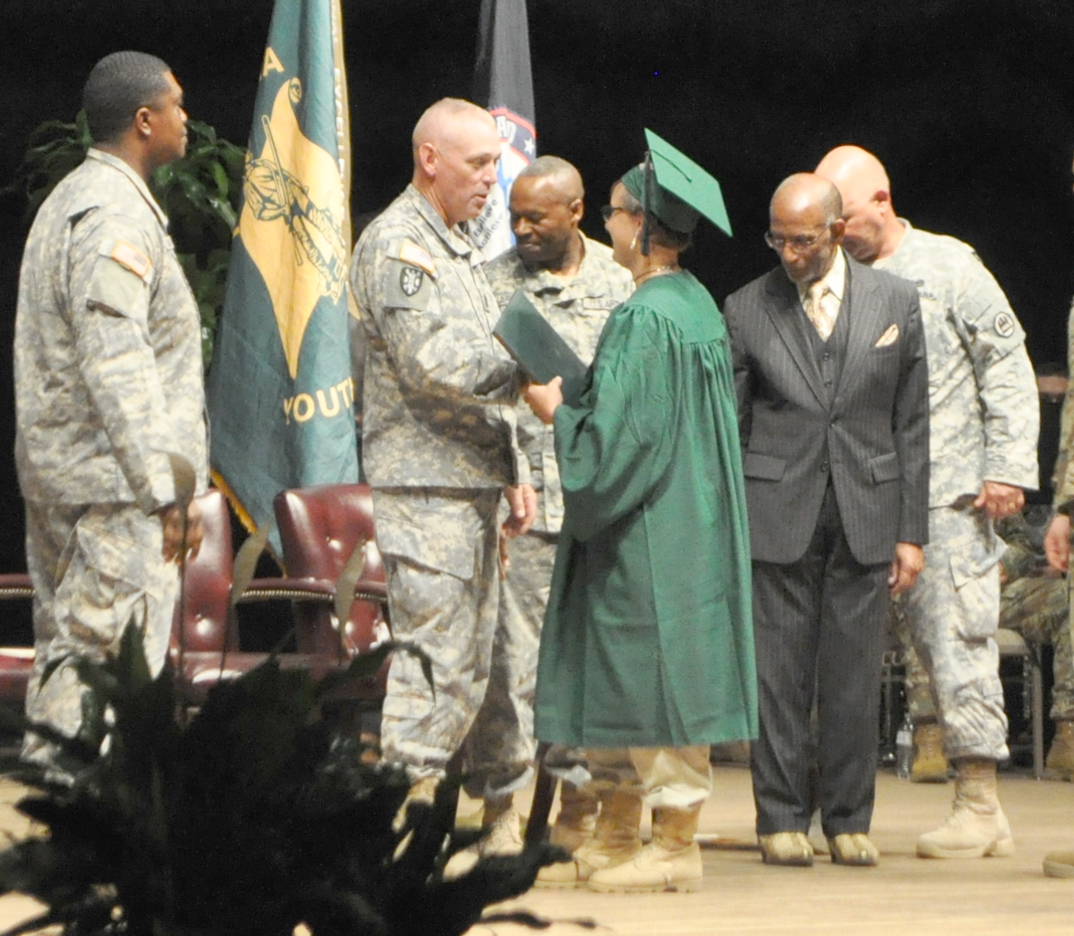 The Louisiana National Guard Youth Challenge Program – Camp Minden graduated 208 cadets Saturday.
Graduation took place at the Shreveport Municipal Auditorium, nearly filled to capacity. Webster Parish cadets who graduated the Class of 2016-1 included Shaine Umphries from Springhill and Brandon Bates from Minden.
The Cadet of the Cycle was Stonewall's Caden Freeman, and the five star cadets, the highest rank a cadet can receive, included Brittany Black from Keithville, Christopher M. Gorbach from Pearl River, Kayla Ann Granter from Breaux Bridge, Kaden N. Johnson from Calhoun, Destiny L. Kirklin from Alexandria, Hunter K. Manuel from Welsh, Devante J. Matthews from Montegut, Savannah L. McLendon from Bossier City, Austin J. Pickering from Dequincy and Caden Freeman from Stonewall.
These cadets excelled in all aspects of the program and were selected by as leaders among their peers.
Platoon of the Cycle went to Platoon 2, and the Commandant Spirit Award went to Diquan Richard of Mamou.
Sen. Elbert Lee Guillory, District 24, served as the commencement speaker.
The mission of the Louisiana National Guard Youth Challenge Program is to intervene in and reclaim the lives of 16-18 year old adolescents, producing program graduates with the values, life skills, education and self-discipline necessary in order to succeed as productive citizens. This second chance program offers young people an opportunity to improve their lives through participation in an innovative, alternative school.
YCP is administered to participants at no cost, and all needs such as meals, bedding, classroom instruction and uniforms are provided free of charge.
Since 1994, program participants have donated more than 5 million hours of community service and more than 100,000 cadets have graduated nationwide, with nearly 20,000 from Louisiana.
Louisiana graduates approximately 1,400 teens per year from three locations: Camp Beauregard near Alexandria, Camp Minden and The Gillis W. Long Center near Baton Rouge.