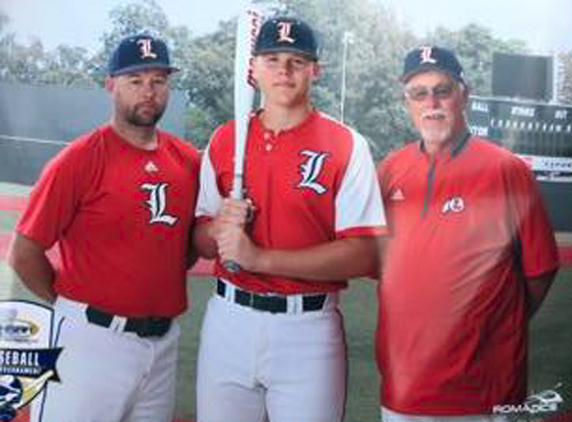 The English language is a funny thing. We have words that are spelled all number of different ways yet pronounced the same and mean the same thing. Take for instance the "grey" versus "gray" debate. While some folks may like to put an "e" in their preferred spelling of the word, if you ask any resident of the Sibley or South Webster area how to spell the word, they will undoubtedly tell you it has an "a" as in the Gray family of Sibley and Lakeside High School and the championship baseball teams they have brought to this tiny hamlet.
Patriarch Bob Gray, who helmed the Raiders and Warriors for some 30 years, and his wife Carla have been a part of the Webster Parish School System for decades. They've seen several sons come through the batting cages and out onto the diamond first at Sibley High School then down the highway about a mile at Lakeside. The oldest of those sons is Will, who now calls the shots as head baseball coach and the baby is Jake, who is one of only three seniors on this year's state runner-up team. One of the other seniors on the team shares the Gray name and is a cousin. In short, the last name Gray holds sway in this town.
Current Lakeside principal, Denny Finley, who also spent years on the field as a baseball coach for the Warriors put it simply that when you think of Sibley/Lakeside baseball, you think of the name Gray.
"There was the late Billy Gray, then Bob, and now Will is in charge of the show. Bob stays on as a volunteer assistant. Their love for the game is unfathomable to most people," the principal says. "The Gray family revolves around baseball, and when talking to them baseball is never far from the conversation. I feel they have helped maintain something for this area that other small areas have lost. When you lose your sports from a small town, the entire town suffers."
The Coach
The current Lakeside coach, Will Gray, played for his father at Sibley from 1993-1996. He went to school to become an educator and coach, following in his father's footsteps, and has been working from the dugout for 18 years. He lives and breathes baseball, but more importantly, he lives and breathes Lakeside baseball.
It started early for Will, who can still vividly remember championship teams at Sibley High in 1990 and 1991 when his dad was looming large along the baselines. "I remember how much joy that brought the players and the community," he said. "I wanted to have a piece of that."
And while Will never claimed that ultimate prize as a player, the lessons he learned on the diamond will last him a lifetime. "I remember my years as a player at Sibley very fondly.
My group was literally like a bunch of brothers," the coach with the forever scruff of a beard said with a smile.
He went on to recount stories of staying at his "brothers" homes, eating supper together, and generally remember how tight-knit a group he and his band of brothers were. "We played in three semifinals, and were the state runner up my junior year."
Despite those three near shots at winning it all, Will's fondest memory came in the 1994 season when a Sibley team with five sophomores defeated Josh Booty and Evangel in the quarterfinals of the playoffs. "Talent wise, we shouldn't have been on the field with them, but we beat them with heart."
Heart. Playing with heart. Giving your all. Giving more than your all. It's common coach speak, but for the Gray family and the pair of coaches bearing that name, there's no hyperbole. The offseason is where great players are molded. The season comes around and the team in South Webster Parish is always a threat. No matter what happens in other sports at the school, there is always the knowledge that the Warriors are going to be formidable on the diamond come spring.
Principal Finley has known Will and Bob for longer than most anyone. He spent countless sunny days on the diamond with the duo and knows firsthand why the school excels in America's Pastime. "Father and son have worked for everything that they have ever gotten and they do not believe in taking the easy way," Finley said. "They believe when you work for something that you are invested and the final outcome will be better."
But, unlike a lot of coaches in today's hypersensitive, media and money-driven world, at Lakeside, the Grays remember life is about more than balls and strikes.
"They both teach young men about life," the principal continued. "They would rather not deal with players' parents, but players themselves. They both want boys to become men and come to them and look them in the eye and have a conversation. The players that stick with them enter a fraternity of brothers and the only way to get into the fraternity is with blood, sweat, and tears."
This style of coaching, this style of teaching, trickles down to the players and is passed on throughout the decades. When you have a Gray as a coach, you know what your son is going to get – a leader on and off the baseball field. Finley said it's just a fact that, "When you give them nine or ten old country boys that buy into that type of mentality, well then they are going to the show [state tournament]. It does not have to be the best athlete, just one that buys into the program."
The reason why Will and his father before him teach boys to be men rather than strictly teaching junior high kids to be varsity starters is because of a simple philosophy passed down from family member to family member. That philosophy is "baseball mirrors life."
"You don't have to have the most talent, don't have to be the biggest or strongest to succeed," Will said. "You just have to have a lot of hard work and determination to be successful. Baseball also teaches you how to deal with failure. Let's face it, a hall of fame player, fails at the plate 7 times out of 10. I try to instill in the boys that you have to accept the fact that there are times that you will fail. What makes you successful is how you deal with the failure, and how you can turn it into a success."
It's about family
That outlook on the game and life isn't found everywhere. It starts at home. And Mrs. Carla, Bob's wife of 25 years, can attest to what is taught on the field and taught in the classroom is also taught at home – at least in the Gray household.
"Bob doesn't come home and harp on things that happen," Carla said, herself a longtime educator and a fixture at every Lakeside baseball game. After all, she's just not watching her husband and Will, she has another Gray to keep cheering on – the youngest amongst them, senior catcher Jake. "He (Jake) may ask or want some advice; if so he gets it. Bob has always had a story about past years as does his mother, grandmother, and we call her. She has been around and has been a part of Sibley/Lakeside ball a long time."
Carla Gray sees firsthand the coaching and education, and it makes her beam with pride.
She also realizes how lucky she is as a momma. "How awesome is it to have your youngest son end his high school career at the state tournament, coached by his dad and older brother. Bob was coached by his dad, Will by his dad, Wesley at a point in time played for Sibley, and Brooks played for his dad as well. Brooks our third son actually finished his high school career at the state tournament on the 2011 team."
As for Jake, the older Gray men know they have to treat Jake the same as other players, but Will admits that it is a "little cool" being able to coach his younger brother. "We had the same scenario when Brooks played. Next year will probably seem a little weird without a brother there to coach though."
Carla reiterates the rule that Jake, nor Will, or any other Gray baseball player has ever received special treatment because of their last name. "I think it's hard to be coached by your dad or your brother," she said. "Having both makes it doubly hard. None of these guys were given anything because family coached them. If anything, they had to work harder."
The tradition of the Gray family and excellence in baseball and in the classroom (Jake is graduating near the top of his class and is a member of the National Honor Society) will continue with the next generation. Will and his wife Michelle are the proud parents of Peyton, a 10 year old at Central Elementary. One day he'll likely don the Warrior uniform as well.
"I look forward to coaching him here at Lakeside," the father said of his young son. "It will be the first time I really get to see him play a lot. People do not realize how much time coaching takes away from your family."
Family. A lot of times teachers call their students their "kids" because of the deep, close bonds they share with the young people. As it is graduation season, do not be surprised if you attend a commencement and see teachers crying right along with moms, dads, grandmaws and pawpaws. These feelings of family can be doubled for a coach who spends four years or longer with these players.
Principal Finley said the Gray coaches are different in the way they treat their baseball family. "Bob is rough around the edges, but loves the kids more than they will ever know. I have seen him slip around the bus and hand money to kids from his own billfold, so they could fit in with the rest of the players and buy their own meal at a restaurant."
Finley said players may never realize the love and respect that Bob Gray has for them. "I value Coach Bob Gray as one of my best friends, and I have witnessed the heartache that he put himself through when he had to make tough calls dealing with players and their futures."
Will leads his baseball family by example on and off the field, Finley said. "He is Deacon in his church and you will not see him pull away from his faith. He is more willing to open up and show his soft side, but is confident and can make the tough calls when needed. I value him as one of my best friends and have always respected his faith and determination to give rather than take. It would be extremely difficult to not like Will Gray."
The Legend
If you've made it this point of the feature, you may wonder where Bob Gray is in all of this. We've heard from the principal, the current head coach, and the mother, but not from the man himself. There's an answer for that and a reason. First, this feature isn't going to quote Bob Gray. The reason? Well, there's a class of coaches who demand a respect that must be given. Names like Franklin, Curtis, Bryant, Bertman, Krzyzewski – these men gave and some continue to give interviews. That's part of the job, but when it comes to an article revering the name and the reasons behind the success; it's more respectable to let others speak on their behalf. After all, they've done enough via their actions on the field of play and in the instruction of life.
So before we close, let's consider a short story by one of Lakeside's current players. At this young man's first freshman practice, he recounted, "I see the legend of Sibley. He pulls up in his grey Dodge 1500 and steps out. He is about 5'11, glasses, and just intimidating. It was Coach Bob Gray, and that was a vital moment that changed my life."
Like most freshmen, this player rarely saw the field, but he kept practicing, working hard, doing the little things and the difficult things. In his words, he worked as hard as he could. Another season comes around and Bob Gray walks up to this young man and asks if the then sophomore can play first base?
"I had never even touched first base, but I was not going to tell him that," the player said.
"I will never forget that game till I die because that moment taught me two things. The first, always work hard and your opportunity will come. If I would have given up when I didn't get to play I would have never even got the chance. The second, when your chance comes do not squander it. Always go all out and never slow up."
Players like these are the ones the Grays are looking for at Lakeside. The coaches are not flashy, not consumed with image or popular opinion. Doing what is easy isn't always what is right. Doing what is hard usually is right; that's why it's hard. That's why everyone doesn't do what's right all the time.
Finley said the Lakeside father and son are looking for players who will get down in the dirt and play, put God, team, and school before themselves. "This translates into that not everyone can play Sibley/Lakeside baseball." But for those who do, those who make the sacrifice, swallow their pride, listen and learn from what their coaches tell them, the rewards will be great.
"As far as the future, only God knows," Will Gray said. "I would like for us to continue to be successful. I'm going to work as hard as I can to help the young men have the opportunity to be a part of something special."
It may be hard to be a Lakeside Warrior baseball player sometimes.
But the hard is what makes it great.