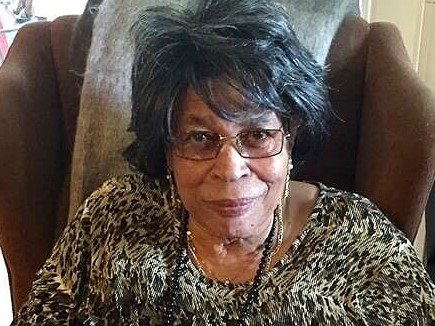 Adell Norton Shine transitioned to be with the Lord on July 19, 2020, from her home in Minden, Louisiana. Adell was born February 14, 1929, as Minnie Lee Norton but later she would go by Adell.
Her parents were Joe Nathan and Lannie Norton of Pine Bluff, Arkansas. She was the youngest of three, with two brothers Napoleon Norton (Los Angeles, CA) and Nathaniel Norton (Deceased). Adell was a lively spirit even at a child, who would try to do anything her brothers were doing, even chop wood. She attended grade school in Pine Bluff.
Later the family moved to Homer, LA in the Blackburn settlement. Here the family laid roots in the community and became long time members of Mt. Pisgah CME Church of Claiborne Parish. Adell married Dave Shine Sr. on May 30, 1947 to this union four children were born.
As a mother, she dedicated her life to raising Dave Jr., Jonathan, Dianne, and William while working multiples jobs. Occupations included 10 plus years with the Minden Boat Company and 18 years with FM Fiberglass. On the weekends and some weekdays, you could find her in her working as a hairdresser.
Adell is preceded in death by her patents: Daddy Joe and Momma Lannie, husband Dave Shine Sr., brother: Nathaniel Norton, and two sons: Jonathan "Joe" and William Shine.
Here to cherish her memory, Adell leaves he brother: Napoleon Norton of Los Angeles, CA, children: Dave Shyne Jr. (Helen) of Sibley, LA and Dianne Shyne Larkins of Minden, LA. Stepchildren: Mary Smith Allen of Riverside, CA, Sharon Cato Edwards of Dallas, TX, George Cato of Dallas, TX, and Gregory Cato of Minden, LA; Grandchildren: Tanisha Johnson of Minden, LA, Tina Goodman (Juan) of Minden, LA, David Allen (Julie) of Minden, LA, Vashion Baldwin (Tanesha) of Elzie, TX, Eddie Larkins Jr. (Lorie) of Stafford, VA, Dominique Gillyard of New Haven, CT, Gretchen Petterway (Dewayne) of Shreveport, LA, Adrell Monique West of Dayton, OH; Godson: Dennis Black (Marilyn) of Houston, TX, many great-grandchildren, Sister-in-laws: Eva Manning, Francis Sims (Willie) and Daisy Johnson of Dayton, OH and many other cherished family and extended family members.
Special Remarks
The family would like to thank everyone for your kind words, cards, flowers, and prayers during this time. She was truly the matriarch of our family and warms our hearts to know that she was loved and cherished by so many. As we take this time to reflect, remember fond memories and celebrate Adell's life, we ask for continued patience and prayers.
We would like to extend a special thank you to Christus Hospice Care of Shreveport, LA. Your professionalism and overall care you gave, was truly a blessing to her and our family. Also, the family would also like to extend our gratitude to Christus Highland Hospital of Shreveport, LA, for always treating our loved one as though she was a queen. Lastly, we would like to thank Benevolent Funeral Homes for your professionalism and care of our loved one as she transitions to her heavenly Father.
"when this flesh and heart shall fail,
And mortal life shall cease
I shall possess within the veil,
A life of joy and peace."
~ Amazing Grace ~