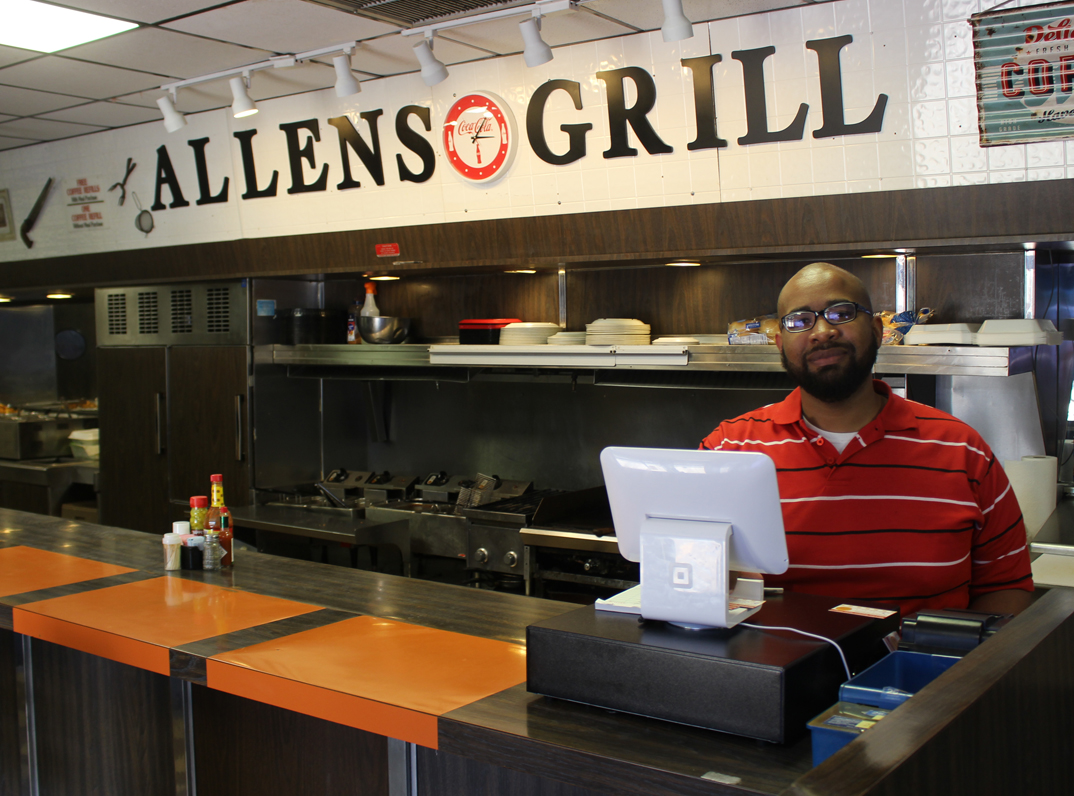 It's mama's home cookin'.
That's how Allen's Grill owner Theadus Allen describes the food served at his newest location in Minden. Just opened this month in the old Golden Biscuit restaurant building on Lee Street, Allen says he wants people to feel like they are eating the food their mother would fix at home. It's soul food; it's southern cooking; it's the kind of food patrons grew up eating. It's fresh food too, Allen said.
"The food we serve, some people refer to it as soul food, some people refer to it as southern comfort food," he said. "I personally just use the terminology 'it's what you grew up eating.' I don't try to do anything fancy. We just try to serve good food that your mom would make growing up."
One thing he feels that sets them apart from other restaurants is that theirs is cooked fresh daily, such as fresh collard greens, fresh vegetables and homemade sides.
"All of our side items are fresh," he said. "They're not canned. We have fresh collard greens, where we wash them and pick them. We have candied yams that we wash and then peel them, peas and beans are fresh."
Allen's Grill offers a daily special where patrons will get their choice of meat and vegetables and a dessert, such as apple or pecan pie or one of three flavors of cakes.
They serve breakfast in the mornings as well, he said.
The restaurant has now taken on a new, fresh look, he said, giving the atmosphere an "at home" feeling.
"We try to make it feel like you're at home, and I use the saying, 'like you're going to Grandma's house,'" he said. "We had all the equipment inside fixed. It had pretty much all the equipment that I needed, but I've been taking care of repairs and fixing and updating anything that needed to be repaired. We did a week of cleaning before we did anything."
Allen has been in the restaurant business in one aspect or another since graduating from high school. He says in high school, he worked at fast food restaurants and has managed restaurants as well. He just took a liking to it, he said.
He opened in Minden because he saw the growth potential for the type of food the restaurant serves, he said.
"I just felt that rural areas would be better than the city," he said. "We opened one in Benton earlier this year, and I really felt Minden was a good location to pick. I wasn't planning to come to Minden this soon, but an associate of mine in Minden told me the Golden Biscuit building was open."
He says he did some background research, looked at the building and felt it would be a good fit, especially since it is so close to several hotels.
"The hotels right there made it a very desirable location," he said.
The first location in Shreveport opened in January 2013, at the Jordan Street location, and then in Benton this year at its Louisiana Highway 3 address, and now in Minden on Lee Street.
Hours of operation are from 6 a.m. until 10 p.m. Monday through Friday, from 7 a.m. until 7 p.m. on Saturdays and on Sundays from 7 a.m. until 3 p.m.