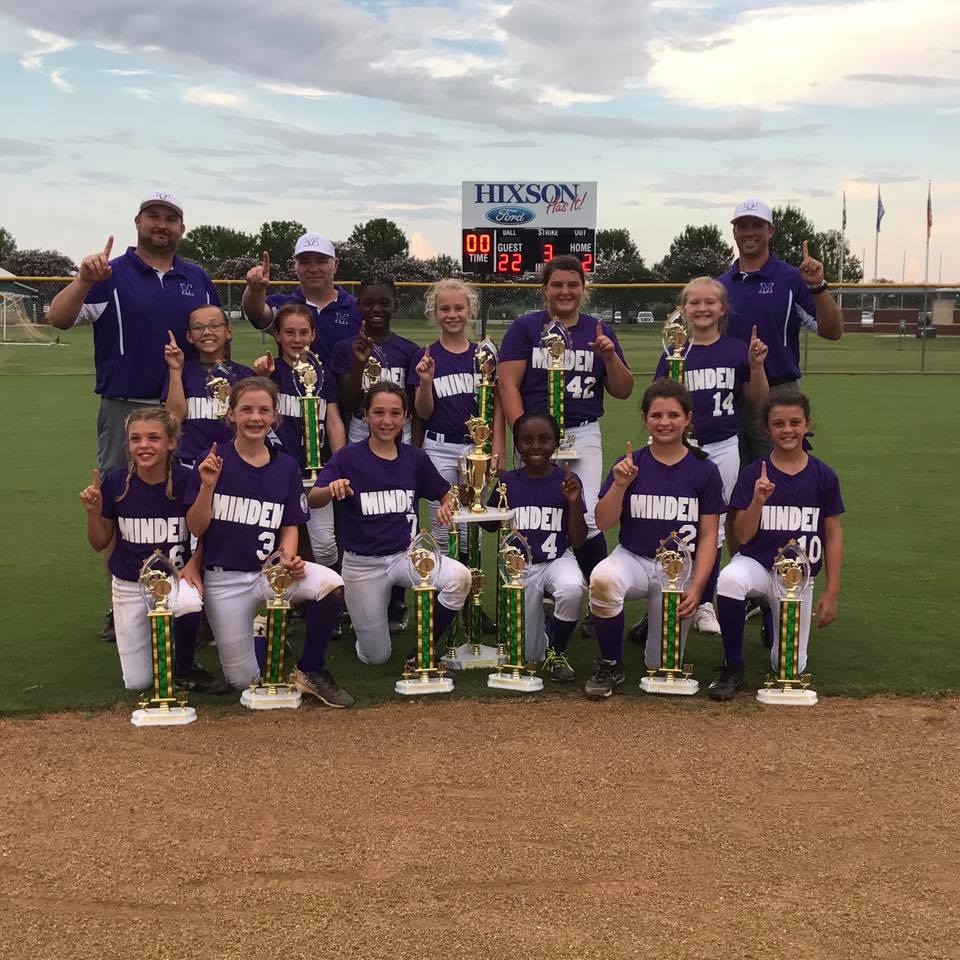 Angels
Minden 11, Rayville 0
Colby Hollis homered, singled and drove in 3 RBIs, Addison Monk tripled, singled and drove in 4 RBIs and Dakota Howard and Kylie Ryan added RBI singles for Minden in their first victory of the weekend.
Monk (6 k's) and Ryan (3 k's) combined to no-hit Rayville over 3 innings.
Minden 6, Springhill 1
Leigha Gilbert singled twice, Addison Monk had an RBI double and Dakota Howard, Rebecca Mosley and Vivian Still added RBI singles for the Minden offense as the Angels moved into the Championship game. Lainey Mercer added a single.
Addison Monk struck out six once again, followed by Colby Hollis with three K's and Kylie Ryan with two.
Minden 22, Springhill 2
Minden dominated Springhill in a championship rematch, led by Jacey Adams with a double, single and 4 RBIs. Addison Monk singled twice, doubled and had 3 RBIs of her own. Ambree Collinsworth had a huge outing, coming through with a single, triple and 5 clutch RBIs.
Baylee Bonsall, Kalyn Williams, Colby Hollis and Rebecca Mosley added RBI singles. Kylie Ryan ripped a 2-RBI double and Leigha Gilbert ripped a double and single to go with 3 runs scored.
Minden will be right back at Johnny Downs Complex in Alexandria for the Dixie Angels World Series, beginning July 28 with opening ceremonies.
Minden Dixie
Youth 12u
Minden 16, Gonzalez 1
CJ Watts blasted two home runs to go with 9 RBIs for Minden. Maddox Mandino and Cooper Chase had three-hit games and Hayden Harmon cranked a big home run of his own and a double to finish with four RBIs. Chase struck out four in two innings to get the win.
Minden 2, Little Farms 0
In a low scoring game, Maddox Mandino and CJ Watts hit back-to-back bombs for Minden's only runs.
Mandino also struck out four on the mound, with Watts pitching one inning of relief and Cooper Chase tossing two scoreless frames.
Minden 6, West Monroe 1
Brandon Winston singled twice and drove in 3 RBIs and CJ Watts delivered a solo home run to power Minden past West Monroe. Maddox Mandino and Cooper Chase added RBI singles and Bryce Powell doubled and singled, while Dayton Sims came through with a single and run scored for Minden.
Chase and Watts each struck out three batters and Mandino sat down two from the mound.
Minden plays again Monday night at 7:30, with a win putting them through to the state championship game.