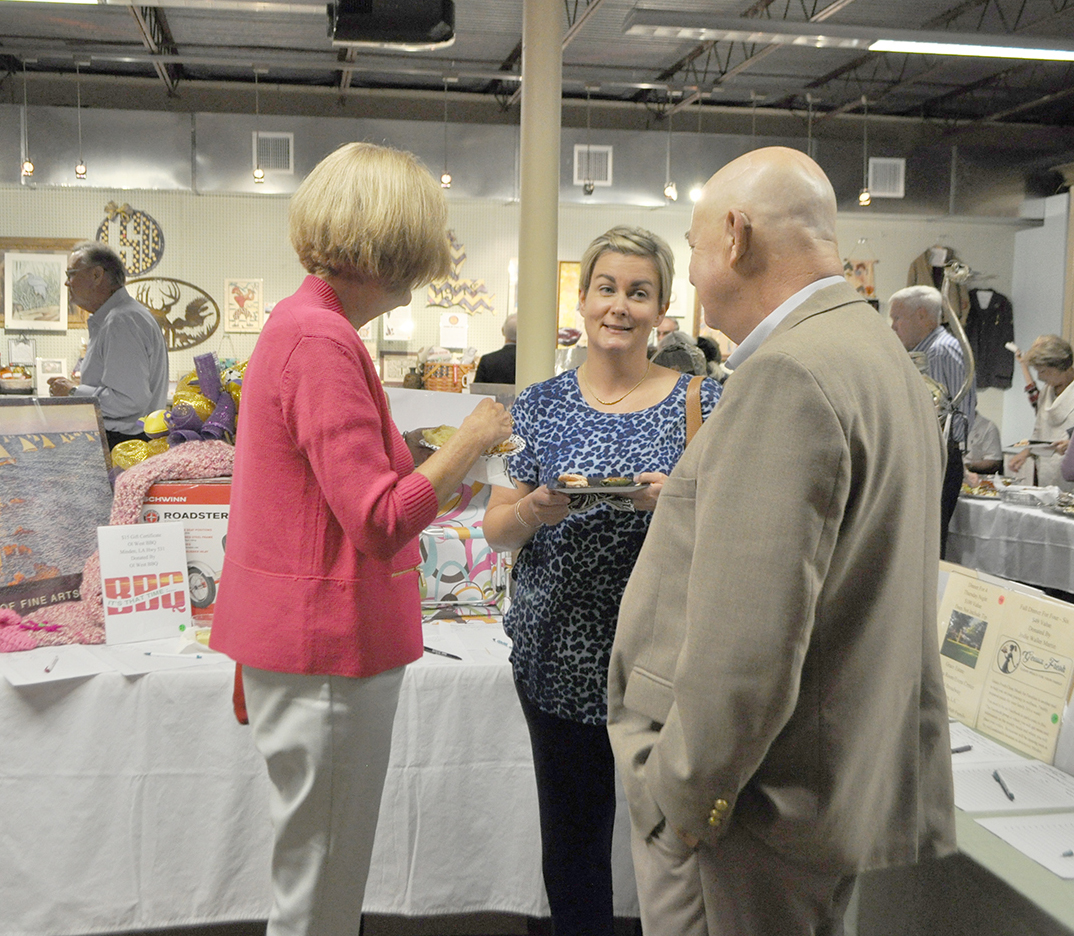 The 2016 Dorcheat Historical Museum Gala saw a big turnout this year as members of the community bid on a variety of items from gift certificates to gift baskets to fishing trips.
Schelley Francis, museum curator, says she was happy with the turnout and believes this year's total will rival 2015's.
"This is our eighth fundraiser, and we raised $30,000 to $35,000 last year," she said. "We hope to get real close to it. The money we raise tonight is very important because it's the majority of what we need to continue for the next year."
The theme was "History in the Making." Funds raised from the gala will be used for operations of the museum throughout the year, Francis said.
"Because of the economy right now, we don't want to jeopardize what we already have by spending money we don't need to spend," Francis said.
This year's winner of one of Cora Lou Robinson's famous paintings was Margaret Evans. The painting, entitled "God and Country," depicts the churches and their preachers in downtown Minden. It also gives respect to Minden's firefighters, the Minden Police Department, the Webster Parish Sheriff's Office, the American Legion veterans and the Louisiana Army National Guard's Youth Challenge Program cadets who put out flags each year during patriotic holidays.
"I love the flags every year," she said. "This has been in my mind for years, and when I saw Eastside Missionary Baptist Church with the American Flag and the Christian Flag together, I knew it was time."
Francis thanked the businesses and individuals who donated items, certificates and services for the gala. She also thanked everyone who helped put it together as well. While the silent auction boasted many items of all price ranges, board members provided the food and drinks.
Carlton Prothro, board member, was also given a "plaque" of appreciation for his years as a board member. The "plaque" was a wooden cutting board with his favorite "drink recipe." Prothro is stepping down from the board, but will continue his bartending services for museum events.
Lou Snook, museum board president, says she is proud of the museum and looks forward to future renovations of the building next door. Once it is remodeled, it will include more displays and one dear to her heart, the St. Jude Children's Research Hospital display, paying homage to Ann Treat, the little girl who started it all for Minden.
"Ann would be a year younger than my oldest son if she had lived," she said. "St. Jude is one of the wonderful things this city does every year."
Treat, Snook's cousin, was diagnosed with leukemia and the first fundraiser was a radiothon that raised about $10,000. Today, that total has ballooned to more than $1 million, making Minden the largest donor per capita for a town its size.
"We are very fortunate that the people in Minden are as giving as they are and allowing us to auction off these items," Snook said. "It's really wonderful, and we are fortunate in that. History is important, and this is a small town that has a lot of history."