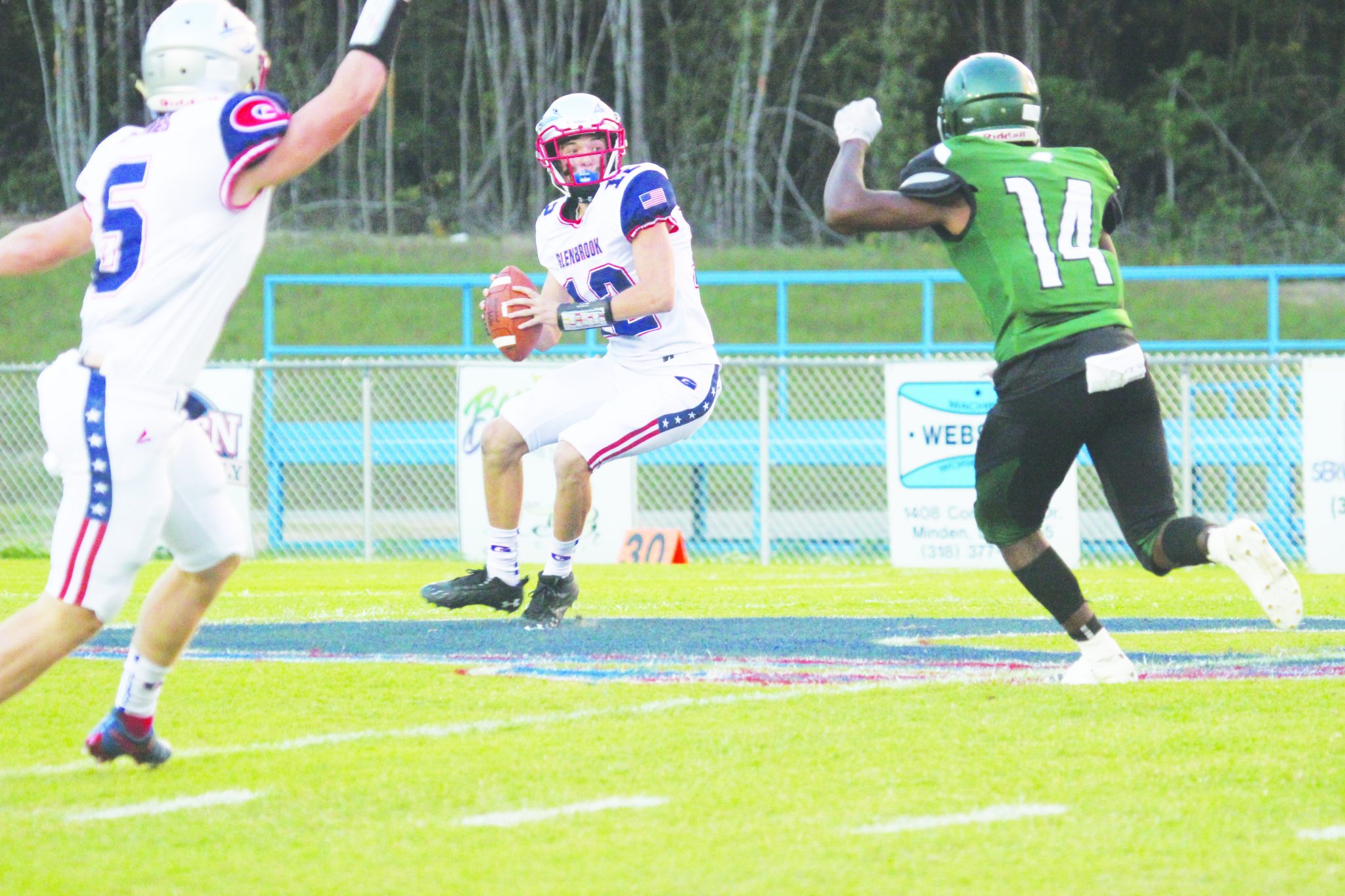 The Apaches went into ambush mode early on Friday night against Lincoln Preparatory School as Glenbrook blitzkrieged its way through the Panthers for a 48-14 win.
Friday's game was set to be a home game for Lincoln Prep, but the Panthers currently don't have a home field with a new school and field being built, so the contest was held at Glenbrook.
Starting with solid field position on the game's opening series after Lincoln Prep failed to recover an onsides kick attempt, the Apaches marched 55 yards on eight plays, capping things off with a 17-yard scoring scamper by DJ Carter for a 7-0 advantage only 1:09 into the contest.
Carter limped off the field into the Apaches' locker room following that touchdown run, finishing the night with that lone scoring run.
"He aggravated a sprained ankle that he's been dealing with and will probably have to deal with the rest of the season," Apaches coach David Feaster said of Carter.
Then Glenbrook recovered an onsides kick try of its own and marched 50 yards to paydirt on six plays, with quarterback Ty Feaster firing a seven-yard scoring strike to Turner McClelland to put the Apaches up 13-0 at the 8:49 mark of the opening stanza.
Glenbrook actually tried another onsides kick on the next play, but Lincoln Prep made the recovery that time and marched down to the Glenbrook 10 before turning the ball over on a fourth-and-15 after being backed up on a pair of penalties.
The Apaches countered with a six-play, 80-yard drive that culminated with Fester lofting a 31-yard touchdown pass to a wide open Cason Clemons, who turned around and waited for the ball like he was fielding a punt before spinning around and sprinting to the end zone.
After the game Coach Feaster praised his offensive line for helping Ty Feaster on 15-of-20 attempted passes for 186 yards and three scores.
"Our offensive line did a great job of giving him time and all he had to do was spread the ball around," Coach Feaster said. "Ty did a great job of finding open guys to throw to. He's got some good experience in the game against Calvary with dealing with pressure being put on him, and I think that showed against Lincoln Prep.
Glenbook pushed its lead to 26-0 with 6:32 remaining in the first half as Maddox Mandino took a Lincoln Prep punt and danced and juked his way for a 66-yard return touchdown.
Three plays into the ensuing offensive series for the Panthers, the Apaches' Hayden Harmon picked off a Ta'Rell Simmons pass, and two plays later Ty Feaster fired an eight-yard scoring strike to Cale Hollis to build a 33-0 lead with 3:44 left before intermission.
The Apaches' swarming defense scored again with 1:55 remaining in the second quarter as Jonathan Bryant sacked Simmons in the end zone for a safety to push the lead to 25 -0.
Lincoln Prep finally lit up the scoreboard on the final play of the first half as Dmitri Payne scooped up a fumble and raced it 80 yards for a touchdown to cut the Apaches' lead to 35-6 at intermission.
"It was a great night for us," Coach Feaster said. "We love playing at home in front of the home crowd and our guys played well from the opening kick on. We played well in every aspect of the game. It was a great win for us because Lincoln Prep is actually a really good football team. It just didn't come together for them."
A 32-yard run by Lincoln Prep's Chauncy Harper to open the second half gave the Panthers a little momentum, but that was soon quashed as Harmon knocked the ball out of Harper's hands on a second-and-10 situation at the Apaches' 34.
Glenbrook recovered the fumble and then marched 65 yards on 13 plays, wth Tre Kent's 10-yard scoring scamper putting the Apaches up 41-6.
The Apaches' final score came with 9: 36 remaining as Rhett Johnson emerged from a crowd of attempted tacklers and raced 45 yards for a score to push the lead to 48-6.
Johnson led the Apaches with 60 rushing yards on six carries while Ty Feaster connected with eight different receivers on the night with Turner McClelland topping Glenbrook with seven receptions for 101 yards.
"We're really blessed in that we do have a bunch of different playmakers," Coach Feaster said. "Something we try to do every game is get all our running backs and receivers the ball. That offers up a lot of different opportunities for us. We have a good stable of running backs and receivers. We're fortunate to be a school our size to have that many different talented skill guys."
Lincoln Prep's final score came with 3:46 remaining as Simmons broke loose on a 43-yard scoring scamper.
Glenbook, now 2-1 on the season, will next play host to Homer at 7 p.m. Friday.