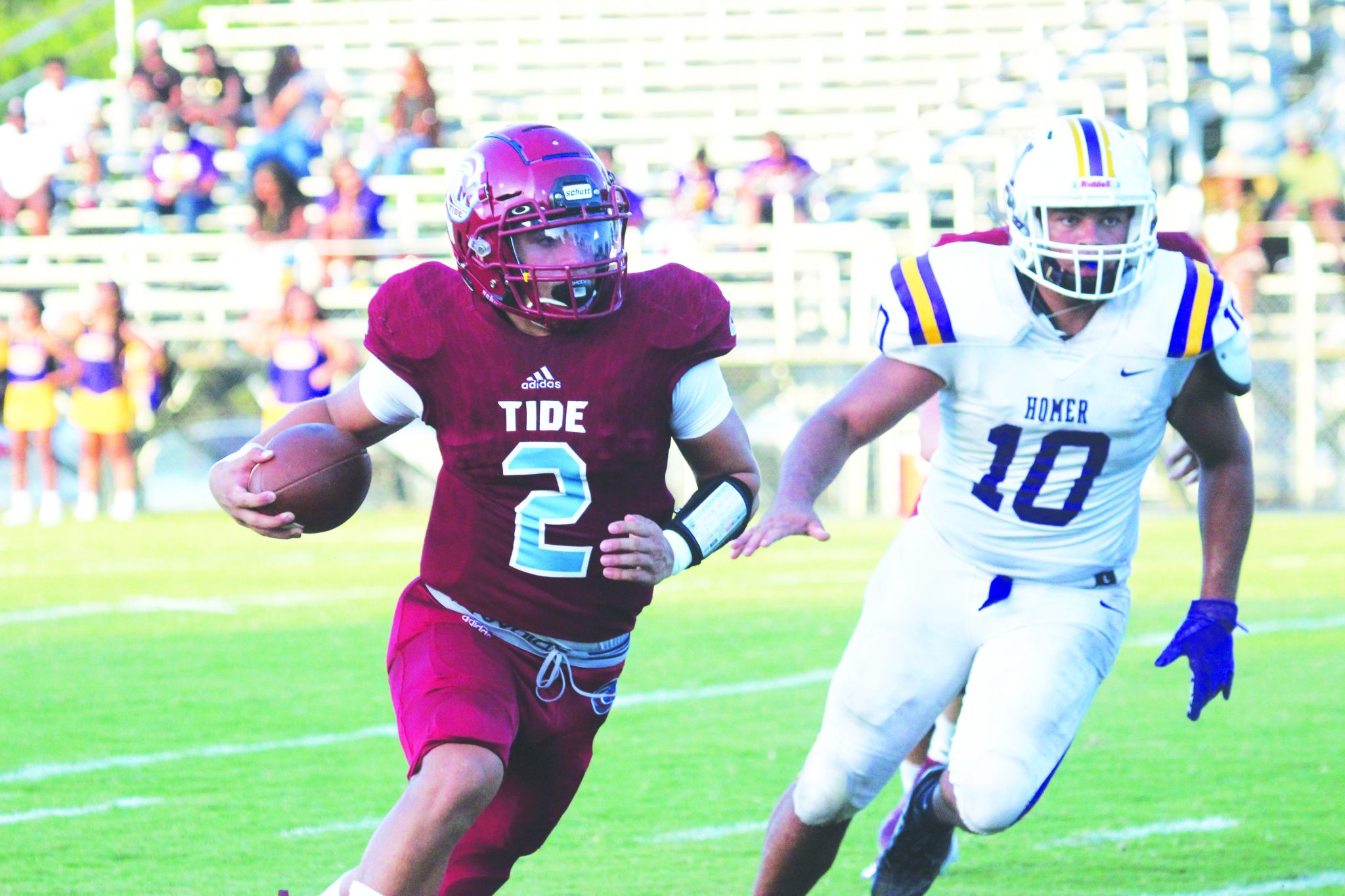 The battle for Webster Parish gridiron bragging rights came down to a heavyweight slugfest with both teams trading punches from start to finish, with both at points gaining upper hands and both suffering near knockouts before climbing back up on their feet.
In the end, Minden High School outlasted North Webster as the Crimson Tide held on for a 34-27 win over the Knights at WW Williams Stadium.
North Webster landed the first big blows, building an early 13-0 advantage on a 63-yard pass to tight end Jantareon Robinson and then recovering an onsides kick and marching down to score on a five-yard scoring scamper by Cooper Sanders.
But the Crimson Tide picked themselves up off the mat and countered with a flurry of scoring punches, with quarterback Andrew Cooper scoring on a 13-yard run, Zedekiah Harris adding a five-yard touchdown run and Cooper connecting with Jaylin Williams on a 25-yard strike to make it 21-13 in Minden's favor with 54 seconds remaining in the first half.
"It was two good teams going at it, showing a lot of good defense and offense," said Minden coach Spencer Heard. "I'm proud of the way our guys just continued to battle, especially after facing early adversity, getting behind but fighting back until the end."
But then it was North Webster's turn to counterpunch, and the Knights did just that with a 35-yard scoring strike from quarterback Collin McKenzie to Sanders that after a two-point conversion by McKenzie tied the game up at 21-21 with 35 seconds left before halftime.
Momentarily it looked like a late jab by the Crimson Tide would send Minden into the locker room with a halftime advantage as Cooper hit Thornton on a long scoring strike as time expired, but the play was called back due to an illegal man downfield flag.
"It was a tough, hard-fought ballgame," said North Webster coach John Ware. "Hats off to Minden. They did what they needed to do to win. We made some good plays and we kept plugging away the whole game, but in the end they just made more plays than we did."
The Tide poured it on early in the second half, with Cooper racing 51 yards for a score 52 seconds into the third quarter to put Minden on top 28-21. Minden's Harris scored on a nine-yard run early at the 10:27 mark of the fourth stanza that put the Tide up 34-21.
But this time it was the Knights' turn to try to rally back from behind.
McKenzie scored his second rushing TD with 2:47 remaining to cut the Minden lead to six points before the Knight's held the Tide to a three-and-out series, forcing a punt that gave the Knights a late scoring chance.
But Minden's Isaiah Thornton, who scored on a pick six during last week's win over Green Oaks, landed the last big punch against North Webster as he intercepted a pass to secure the win for the Tide."He's really stepped up and had a solid senior year so far playing on both sides of the ball," Heard said of Thornton. "He's making some big plays in the defensive secondary and I'm very proud of Isaiah and what he's been able to do so far this year."
Minden totaled 340 yards of total offense — 295 on the ground — while North Webster tallied 308 yards of offense with 143 coming through the air.
"Going into it we knew it was probably going to come down to the battle along the front lines. They confused us some up front with some of the stuff they were doing that we weren't used to seeing. We had a lot more missed assignments up front because of that, and they're pretty good up front."
Minden (2-1) hits the road for the first time this season next week as the TIde plays at Mansfield while North Webster (2-1) will be at home against Jena (2-1).