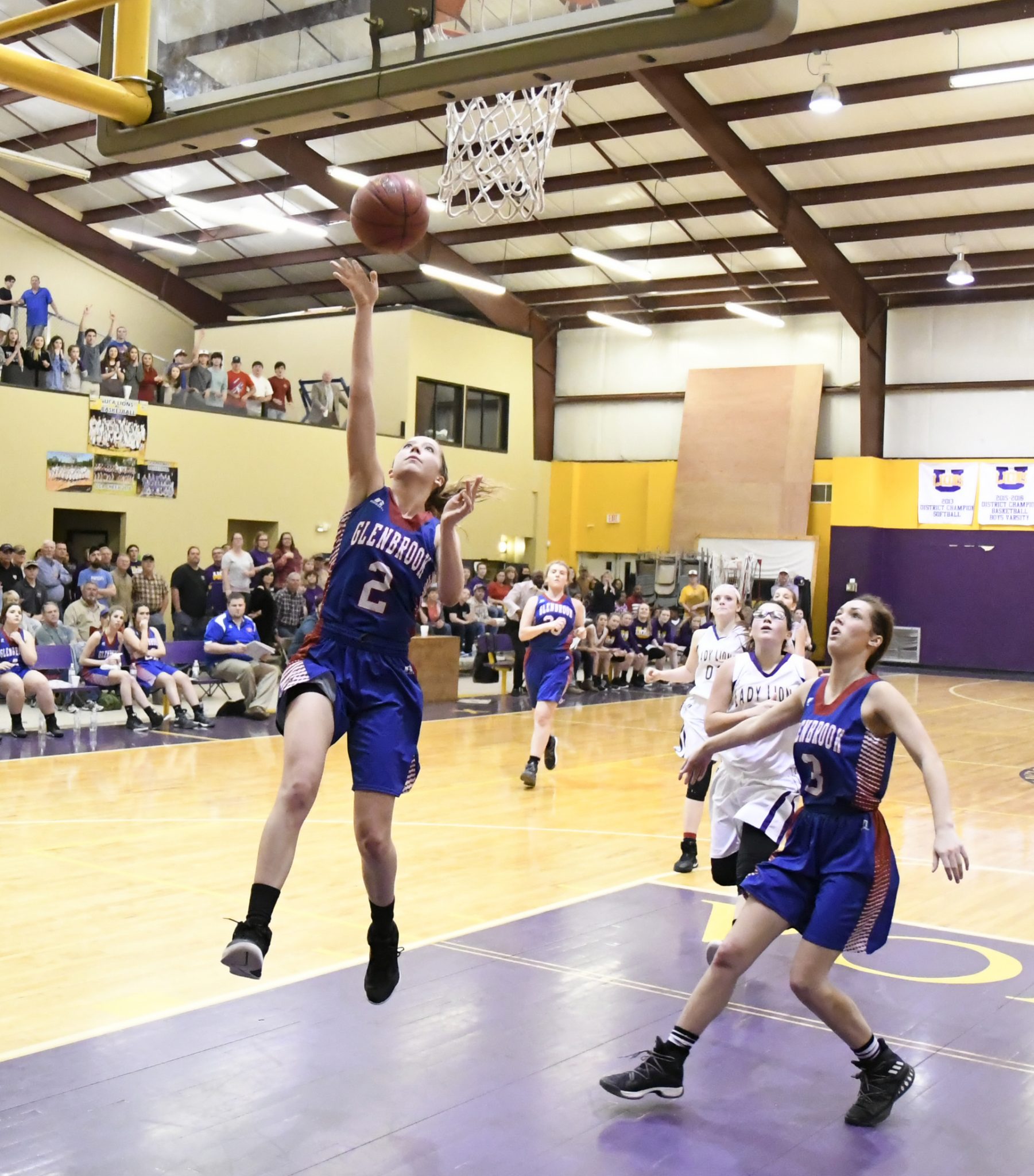 FARMERVILLE – The Glenbrook Apaches watched the district title slip away Tuesday night against Union Christian Academy.
Glenbrook fought for every second of Tuesday's 56-47 loss, but foul trouble and free throws proved costly, as did a handful of questionable calls.
The Apaches, who played and went to overtime on Monday while the Lions were idle, needed to win or lose by less than 5 to win the district title, but a late run by the Lions proved decisive.
Glenbrook's Joseph Windham and Da'maza Robinson sat large stretches of the game in foul trouble, causing Glenbrook's offense to struggle at times.
"I was proud of our effort and toughness tonight in a hostile gym," Glenbrook head coach Jeff Dalton said. "It's disappointing as a coach when you see your team work so hard to be in a position to win a game of this caliber, but you feel they aren't given a fair chance to compete. (UCA) had one player shoot more free throws than our entire team."
The Apaches trailed most of the night as the Lions kept the game at a two-possession lead most of the way.
Glenbrook trailed 47-39 late in the fourth quarter, but cut the lead to 49-45 inside the 3-minute mark.
UCA pushed their lead to 51-45 with 1:32 to play. Needing a bucket, Glenbrook turned the ball over leading to a Lions lauyup to push their lead up to 8 points.
Windham scored in the paint with 27 seconds left, cutting the lead to 6 points, but two made free throws late the lead remained at 8.
Robinson got his man into the air on Glenbrook's final possession and heaved a 3-pointer after absorbing some contact, but the call never came and UCA celebrated a district title.
"The guys showed a lot of poise in how they handled themselves," Dalton said. "Proud to be their coach."
Windham finished with 12 points, Cade Conterez had 9 and Mason Hood finished with 8.
Glenbrook vs. UCA (girls)
In the girls game, the Lady Apaches fell in overtime 55-49.
The Lady Apaches were the victims of some questionable calls as well.
"The girls deserved better than what they got tonight," Dalton said, filling in for coach Rendi Dillard who was out with the flu. "They kept their composure when most would have lost it."
UCA shot 40 free throws to Glenbrook's 16 in the game.
Amelia Christy led the way with 15 points, followed by Olivia Dalton with 12 points and Kannon Butler with 7.
Minden vs. Benton (boys)
The Crimson Tide won a shootout with the Benton Tigers, 62-61.
"I thought it was one of our better games," head coach Rennie Bailey said. "We were tied most of the second half."
The Tide were down 61-60 with 10 seconds to play Tuesday night on their home floor when Zi Crawford dished to Kelcey Miller for the game-winning layup.
"I thought it was a great team effort," Bailey said. "Zi did not start, but he came off the bench and made great plays and great decisions. We need to win this next one."
Crawford finished with 14 points, Jordan Becnel finished with 13 and Darryl Kemp added 10.
Minden vs. Benton (girls)
The Lady Tiders have now dropped 3 of 4 after Tuesday's 54-46 loss to the Benton Lady Tigers.
Minden trailed most of the way and could never establish an offensive rhythm against a team they handled earlier this season.
"We've got to pick up our play," Lady Tiders head coac Jacob Brown said. "I'm proud of my girls for competing and battling back throughout the game, but we've got to be who we were earlier this season. This team is very capable, but talking about it is not going to get it done. We need a win Friday going into the playoffs."
Destini Powell led Minden with 14 points, followed by Bre Rodgers with 13 and Strawberry Batton with 9.
Lakeside vs. Red River (boys)
The Lakeside Warriors lost to Red River 63-57 on the road.
"The second half was dead even," Lakeside head coach Jason Gould said. "We cut their lead to 1 several times, but just couldn't get over the hump. We aren't playing that bad right now, just not finishing games."
Jalen Gould had 19 points to lead the way and hit 5 3-pointers. Damian Coleman had 11; Chase Mitchell added 10 and Michael Bradford pitched in 8 points.
Doyline vs. Quitman (boys)
The Doyline Panthers picked up a win on senior night 57-52.
The Panthers won in the halfcourt and avoided foul trouble to stay in the game through some tough scoring stretches. They also locked down defensively.
"I thought we did a good job in the second half especially," Doyline head coach Michael Normand said. "We avoided getting in foul trouble and that allowed us to apply some pressure late."
Decarri Markray led Doyline with 18 points in the win, followed by Jatavion Jackson with 15 points and big Xavieon Jackson with 12 points.