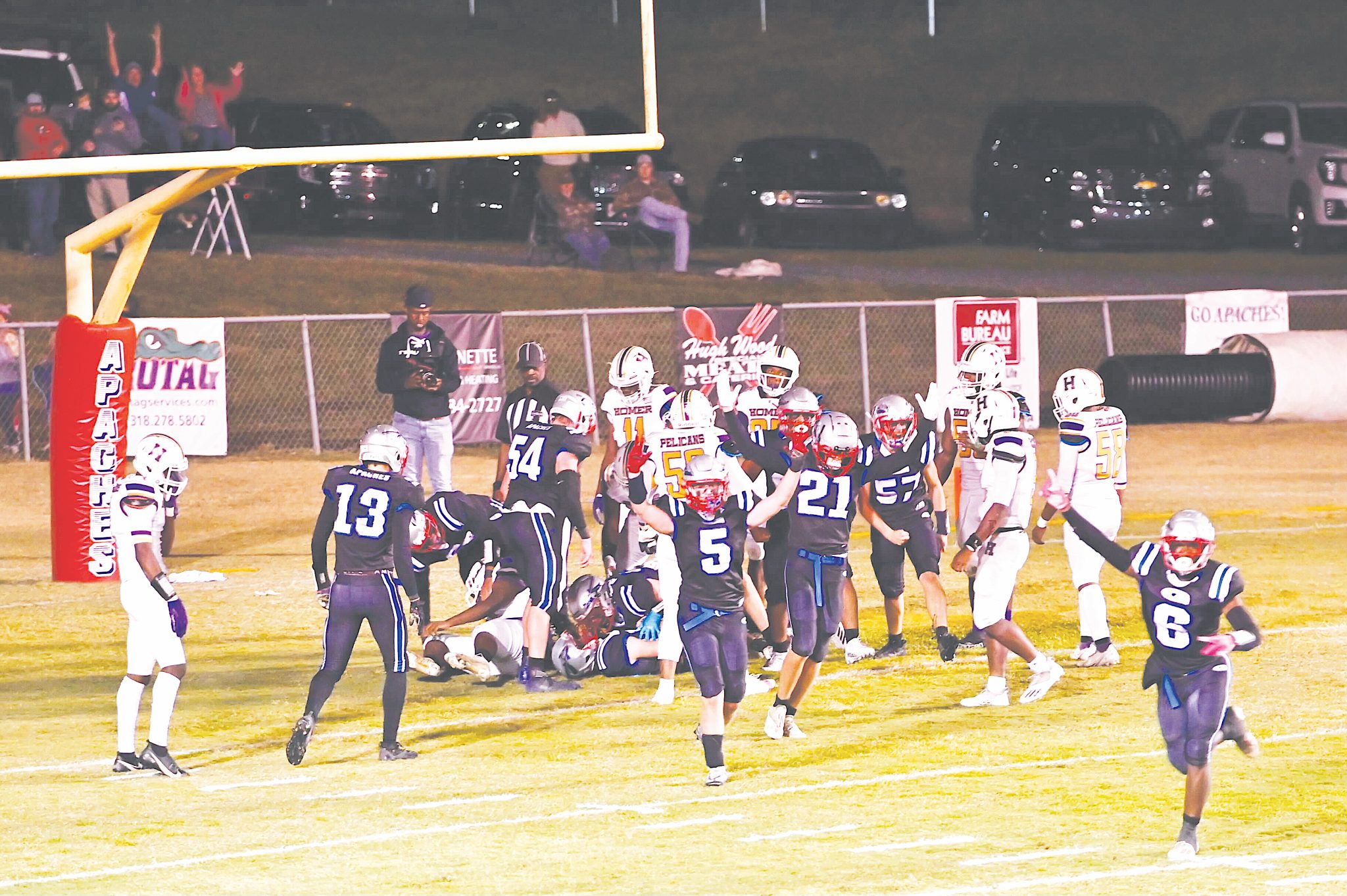 The undefeated Glenbrook Apaches are the only Webster Parish remaining in this season's Louisiana High School Athletic Association playoffs, which move into second-round action tonight.
And the Apaches are determined to continue making history.
Glenbrook completed its 2022 regular season unbeaten as the Apaches took over early to defeat River Oaks 46-14 at Apaaches Stadium before opening the playoffs with a bye as the sixth seed among Division IV Select Schools.
The Apaches (10-0) are one of only five unbeaten teams in Louisiana heading into the playoffs with unblemished records, joining Destrehan (10-0), De La Salle (9-0), Many (9-0) and Vermilion Catholic (10-0).
Tonight Glenbrook will play host to 11th-seeded Catholic-Point Coupee, which defeated 22nd-seeded Central Private 50-6 in a first-round game played last weekend.
The Apaches were ineligible for postseason play last year in their first, probationary year as a LHSAA member school.
But this year the Apaches are right in the thick of postseason play while making history in their first LHSAA playoff game ever, and head coach David Feaster knows Friday night will be unlike any playoff game his team has played before.
That's because even though the Apaches were no strangers to postseason play as members of the MidSouth Independent Association of Schools, the atmosphere Feaster expects his team to see and experience was nothing then compared to what he expects tonight against Catholic-Point Coupee.
"The older guys have played a playoff game at home," Feaster said. "They won a playoff game at home. But that was nothing like this is going to be. Looking at film, there was maybe a fifth of the crowd here then for that playoff game then compared to the crowds we've had the past few home games.
"It's just a whole different environment out there now. The playoff experience for this team happened in that win over Homer. It happened during that last regular-season game against River Oaks. That gave us a taste of the atmosphere we're going to see out there (tonight). It's going to be crazy."
Those older guys Feaster mentioned include seniors Maddox Mandino and D.J. Carter, who started as eighth-graders five years ago when Feaster joined the Glenbrook staff as an assistant. Senior Apaches Cason Clemons, Hayden Harmon and Luke Vining also all started as freshmen.
When it comes to winning, including in the postseason, Feaster is a well-seasoned, veteran coach.
His 186-76 career record makes him one of the winningest active coaches in the state.
Feaster went 59-17 in six seasons at Parkway, including 11-2 in his final season. Feaster has also coached at Many (1996-2003), Minden (2004-07) and Leesville (2009-10), compiling a 110-58 record along the way, prior to going to Parkway.
He went 1-8 in one season at D'Arbonne Woods in 2017 before taking over a Glenbrook squad that went 1-9 the same season Feaster was coaching at D'Arbonne Woods.
Since then the Apaches have gone 22-7 under Feaster.
With that kind of record and momentum heading into the playoffs, Feaster feels his Apaches will be ready for Catholic-Point Coupee.
"After we beat Haynesville earlier this season, I think the guys started asking if Haynesville was that bad or if we were that good," Feaster said. "And I had to tell them, Haynesville isn't that bad.
"We're hungry. We're ready. This team is on a mission and they're only getting started. We're going to take it one game at a time and focus on the goal we've had since before the season began — winning a state title."