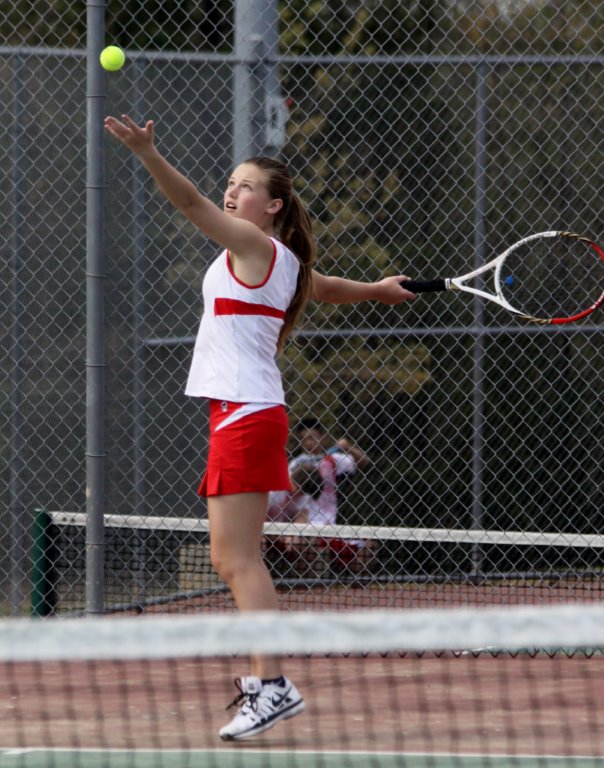 JACKSON, MS. – By virtue of their winning or of finishing as the runner-up of their division of play in the North AA Tennis Tournament, two Glenbrook Apache netters advanced to the Class AA Tournament held at the Bridges Tennis Center in Jackson, MS.
Competing in the Class Tournament are the final four individuals and/or doubles' teams from the North and South Tournaments. In the semifinals, Catherine Willis defeated Hodges (Laurel Christian School) 6-0, 6-3.
"Catherine's on-court strategy had a positive response for each of her opponent's attempts to earn points," Glenbrook head coach Wayne Orr said. "Winning the first seven games of the match allowed her to calm her nerves."
In the finals, Willis was defeated by Emily Hillhouse (Hartfield Academy) 6-1, 6-1. "Seemingly Catherine's allotment of positive ground strokes, volleys, and serves had been used in the semifinals," Orr said. "Unforced errors, the heat of the noon-day sun, and consistency of controlling the points by her opponent earmarked the match."
This was Willis's third consecutive year to compete in the class tournament.
Graham Lemoine, competing in the Boys' No. 2 singles, was defeated by Gray Chancellor (Laurel Christian School) 6-0, 6-2 in the semifinal match. Lemoine, a senior at Glenbrook, was competing for the first time in his high school tennis career.
"Graham's inconsistency in returning serve and his inability to string points together to earn games identified the first set," Orr said. "The second set began with a little more 'pep to his step,' but that renewed vigor began to wane as his opponent became more aggressive in his net play.
"Graham has enjoyed a varied tennis career in singles, doubles, and mixed doubles that has contributed to the success of our program. His versatility will be difficult to replace. He, along with his twin sister Madison and Bridget Cone (our three seniors), will leave a void in our line-up that must be filled by our younger players."