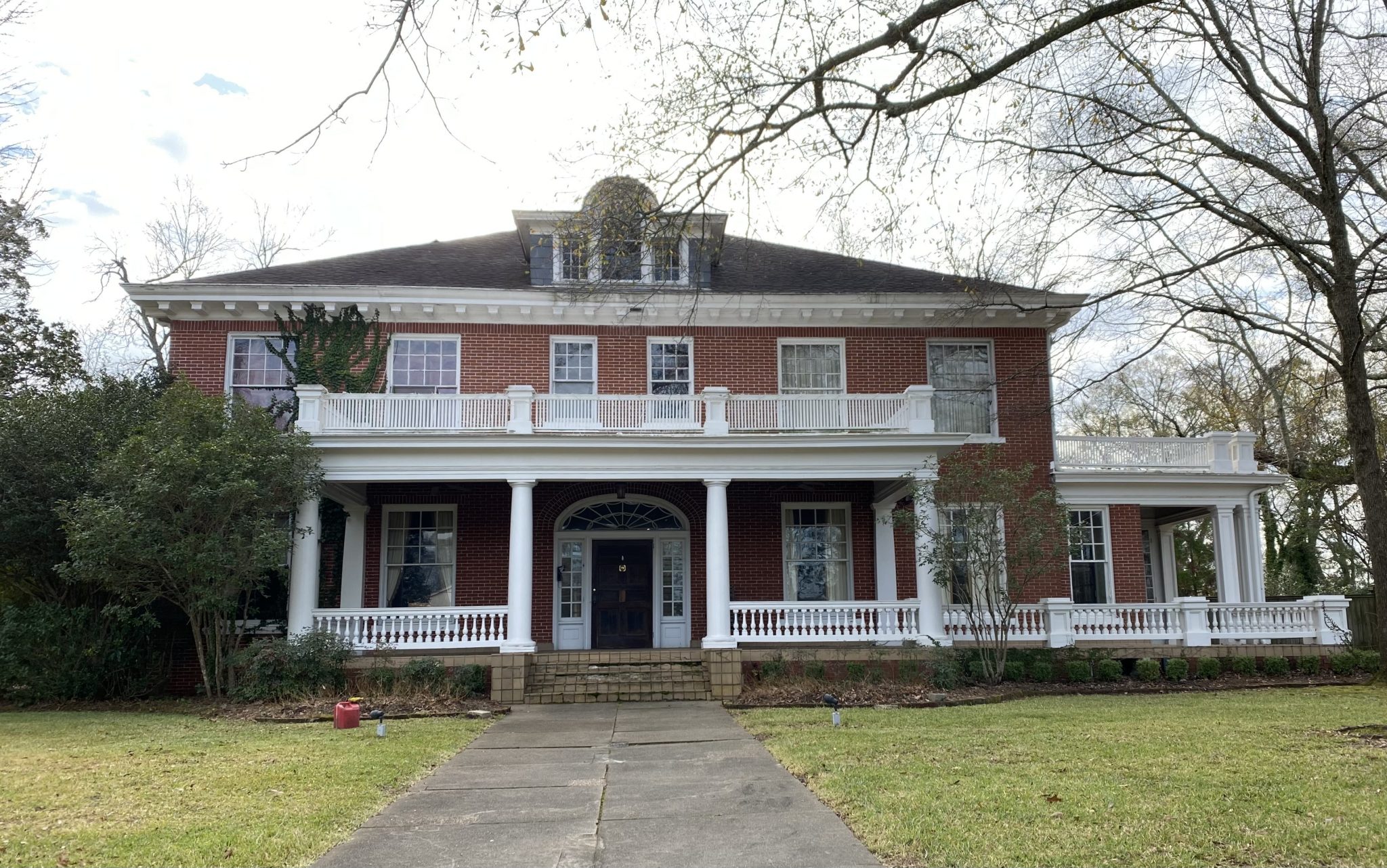 Recently some controversy has arisen in the Historic District of Downtown Minden concerning Huffman Management's plan to have their recently acquired property, formerly home to Grace Estate, turned into a Bed & Breakfast/Event Center.
The controversy more so centered around the event center, with some residents of the historic district bringing up worries that the center would lead to disruptions in the neighborhood, whether that be traffic, noise, etc.
Huffman Management went to the planning commission in order to be granted the same variances that Grace Estate had prior, those being using the property as a Bed & Breakfast and an event center, with the main difference being changing the variance Grace Estate had to operate a tea room to instead be a variance to operate a ten-seat bar.
At the initial planning commission, concerns were raised regarding having a bar in the neighborhood, so that idea was scrapped and then brought back to the table with just the B&B and Event center. The variance for the B&B passed and the variance for the event center failed.
That brings us to Wednesday morning, where Jim Huffman presented an appeal to the City Council to be granted the event center variance. During the course of this meeting, Huffman spoke about his vision for the business and the concessions that he has made to his plans for the event center in order to address the concerns that had been raised against it.
"As a company and as a family, let me first state that we are neighbors of this home. We've been in the hospitality industry since 1979," said Huffman.
"Basically, all we're asking for is for us to continue to do what is currently being done. We're not asking for any variances that haven't already been granted, and we're willing to even not utilize some of the variances that have already been granted to that home, such as the tea room portion."
First addressing the traffic concern, Huffman started off by stating that the main road that was cause of worry due to possibly being too narrow, Sylvan Place, could indeed have two cars pass one another, and had pictures to prove the point. Later he also stated that he reduced the max occupancy from 500 to 100 to address these concerns as well.
"Some things that you may have heard in the past is that the street next to it is too narrow, and can't hold two car traffic without going into other people's yards. That's not true and I do have photos to prove that."
Another of the complaints levied against the event center was that noise would be generated from the establishment during the event. To address this, Huffman agreed that they would not allow live bands to play at the venue and that no firework shows would take place there as well.
"You may have heard that this will bring noise issues. At this point we're willing to say we want to be good neighbors. Therefore we will not book any bands or any events with bands at that event center," said Huffman.
"In spite of the fact that there's only been three fireworks shows, you may have heard that fireworks create an inordinate amount of sound. And as a company we've said ok, we want to be good neighbors, we won't have any fireworks."
Later during the discussion Councilman Terika Williams-Walker of Dist. B brought up the fact that live DJs could possibly produce too much sound as well.
"My question is, I see where you say no outdoor bands, but what about a DJ? It's still noisy," said Walker.
On the spot, Huffman agreed that there would be no DJs, stating, "Ok, no DJ. No bands whatsoever, no noise whatsoever, with the exception of laughing children."
Later Walker also brought forth the possibility of reducing the max occupancy even further, having the occupancy that had already been reduced from 500 to 100 changed from 100 to 50. While the effect this would have on tackling potential concerns is debatable, it once again demonstrated a willingness on behalf of Huffman Management to make whatever concessions were deemed necessary in order to be granted the variance.
"Right here where you said the event size should not exceed 100 people. Have you thought about decreasing that number from 100 to maybe fifty?" asked Walker.
Huffman responded, "Ok, done. 50."
With the main concerns being addressed, Huffman then clarified why exactly it was so important to be granted the variance for the event center in the first place, the main concern being allowing those who utilize the event center to take advantage of the outdoor spaces as well.
"The reason why we need the event center classification is because, without it, we cannot advertise for meeting space, we cannot advertise for family reunions, military reunions, we cannot host those things in our home," said Huffman.
"I was asked once, 'if you're really focused on family reunions, and you're really focused on smaller events, why don't you say you'll just only do what's inside your home?' That seems like a fair request, but, given some of the hurdles that we have faced recently, I'm afraid that will lead us down a path that would have police officers called when we have a family reunion and we have a bouncy house behind the house. I'm afraid if I allow ten people to barbeque on my back lawn, that I won't be holding up to my end of the bargain, which is to only have events inside the home."
"Knowing that that is the threat, I would request that we allow the variance to go through as an event center with the assurances, no fireworks, no live bands. We will control the noise at that home, but we do request the event center include the grounds, and again, should include the grounds because of family reunions, having barbecues, children having bouncy houses, ladies wanting to have a tea party on the front lawn," said Huffman. "It's those kinds of events that we do want to continue to be able to have."
Of course there were those in attendance that were there to voice the supposed concerns of the residents of the historic district, those being Catherine Hunt, Emily Hunt, and Leslie Rainer.
However, few to no new concerns were raised during this meeting that hadn't already been addressed. Multiple times they referenced signatures for a petition that they had acquired in late January.
"When you say a few though, we have 65 signatures that represent 45 households. How is that a few?" said Catherine Hunt.
Emily Hunt added, "We collected signatures throughout the historic district and down Pennsylvania, and I can tell you these people excitedly signed our petition."
However the concerns that residents of the historic district would have had at that time, noise, traffic, etc., would have been addressed by the concessions Huffman Management has made.
The only other relevant concern brought forward was that of an overarching desire to keep the historic district entirely residential, despite the fact that Grace Estate had been granted these same variances.
"As neighbors, we feel like we're defending our neighborhood, and we're having to do it over, and over, and over, and over, again. I'm sick of having these meetings. There's a reason why the planning commission is only supposed to hear this once a year. And then there's supposed to be an appeal," said Emily Hunt. "When all we want is for our residential area to be in fact, residential."
Nearing the end of this particular discussion, Huffman once again restated his willingness to make whatever changes necessary to make sure his business would not affect the lives of their neighbors while also pointing out the hypocrisy of some of the most vocal opponents of the variance, stating that in the past they had attended events at Grace Estate similar to the ones he plans to hold there in the future.
"Bottom line is, a lot of my opponents have asked for certain things. No fireworks. We said ok, no fireworks. They said, bands too loud. We said ok, no bands. We keep taking our dream, and what we want, and we keep shrinking that down, smaller and smaller, and smaller, to appease those very loud negative individuals, that continuously bring up the negativitieses of the place, not admitting that they attended multiple events," said Huffman.
The longer the discussion went on, the more it became a back and forth between Huffman and Rainer, Catherine Hunt, and Emily Hunt, more so than the original goal of the discussion, which was supposed to be Huffman's appeal to the City Council.
Bringing this fact to life, Bloxom proposed the decision that was ultimately made, which was to table the discussion to allow more time for Huffman and residents of the historic district to discuss the matter further with the new concessions in mind, and hopefully come to a mutual agreement.
"Mr. Huffman, I'm sorry to do this to you, but I really believe we should just remove this from the agenda, let the historical people have a meeting, make their reference, if they have to come back to us then, let's address it in April," said Bloxom.