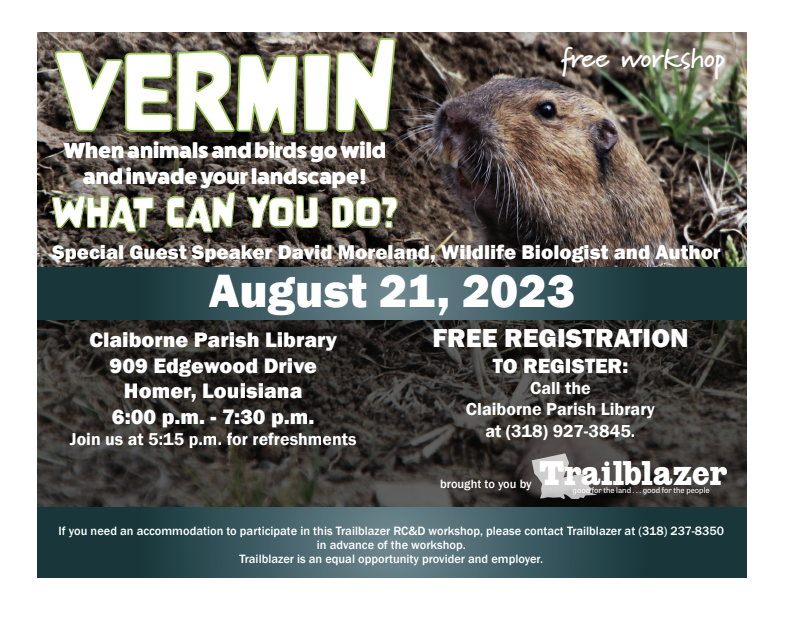 August 21 Workshop in Homer
A free workshop discussing pests that invade your landscape will be offered on August 21, 2023, at the Claiborne Parish Library in Homer, Louisiana. Wildlife biologist and author David Moreland will discuss common backyard pests and control methods. Moreland is a retired wildlife biologist with the Louisiana Department of Wildlife and Fisheries. He served as State Deer Biologist for 13 years and as Chief of the Wildlife Division for three years. He is a regular contributor for the Louisiana Sportsman magazine.
There is no charge to attend this workshop, but because space is limited and food will be served, pre-registration is requested. To pre-register or for more information on the workshop, call the Claiborne Parish Library at (318) 927-3845.
The Claiborne Parish Library is located at 909 Edgewood Drive, Homer, Louisiana. On August 21, 2023, on-site registration/sign-in will begin at the library with refreshments at 5:15 p.m. The workshop presentation will begin at 6:00 p.m. and conclude at 7:30 p.m. Persons with disabilities who anticipate needing reasonable accommodations or who have questions about physical access may contact Trailblazer RC&D at (318) 255-3554 or ceo@trailblazer.org prior to the meeting or event.
This presentation is hosted by Trailblazer RC&D and the Claiborne Parish Library. Free registration for this presentation is made possible by the support of Mudd & Holland Consulting Foresters; Canfor Southern Pine; Drax; Burnham Construction; and Trailblazer RC&D. Contact Trailblazer RC&D regarding event sponsorship opportunities at (318) 237-8350.
Trailblazer RC&D is a nonprofit organization that provides leadership, coordination, partnership development, and technical assistance projects to encourage strong communities, sustainable agriculture, and a healthy environment.