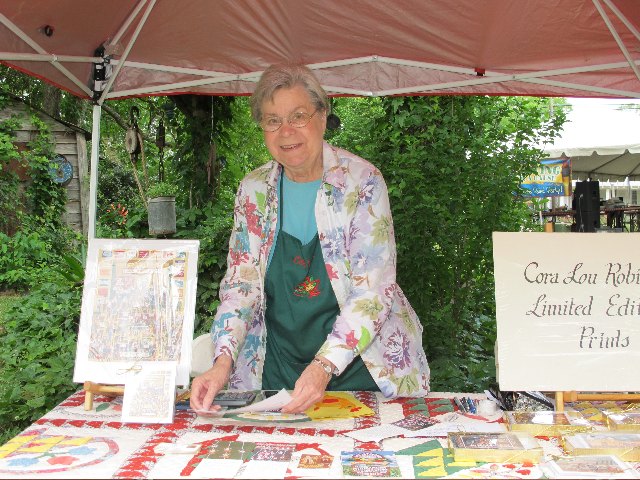 Several artists – some well known, others just beginning – will be at The Farm for the "Art at the Farm" Studio Tour set for 5 until 8 p.m., Friday.
Refreshments will be available, compliments of Geaux Fresh, Hugh Woods Catering and Friends of The Farm.
Artists displaying their work will be the distinguished Cora Lou Robinson, Chris Broussard, Jennifer Heard, Baygent Baker, Rusty Carter, Dawn Ash, Kimberly Ellington, Kerry Ellington, Kayla Martin, Lauren Davidson and Christine Gladney.
The art will be there for show and for sale.
Artist Chris Broussard said the event is part of the Shreveport Regional Arts Council's April Culture Crush Artists' Studio Tours.
"I think this is an exceptional opportunity to match up collectors with artists they may only meet during a studio tour such as this," Broussard said. "At the same time, this studio tour will give our local art enthusiasts a chance to recognize the talent in their own community and consider becoming official collectors too. We are truly excited about this. It's our first studio tour and we are excited to showcase 11 of our local favorites."
"If you are interested in becoming a collector of northwest Louisiana collectible artist, the Artist Studio Tours are your best opportunity to meet those artists whose work national critics, including me, have determined worthy of collecting," Robert Pincus, Ph.D., former art critic for the Los Angeles Times and the San Diego Union-Tribune, and lead critic for SRAC's Critical Mass Exhibitions, said. "People collect art for various reasons, but often one's collection is a way of representing the inner self to the world."
The artists, all visual artists, with the exception of Sculptor Kerry Ellington, are:
Cora Lou Robinson: Cora Lou is an artistic legend in Minden. She is known for her paintings that have been sold at auction for St. Jude Children's Research Hospital. A retired teacher, Robinson uses her artistic talent to bring awareness to Minden's history. She will be showing pieces not seen before from her personal collection.
Chris Broussard: Broussard will be showing two pieces from her collection. "Torn Images," was created from recycled magazines and watered down glue.
"Earth Angels" will also be exhibited. Broussard will also be exhibiting "Rural Renderings," used from Styrofoam plates and cutting them into "printing plates." By using these and acrylic paints, it creates a more detailed print, she said.
Jennifer Heard: Born in Bossier City and raised in Vivian, Heard is largely self-taught in assemblage, watercolors, acrylics, colored pencil and charcoal.
She is talented in taking old wood bound for the landfill or burn pile and turning it into something new and pleasing to look at. She has also painted murals in two pediatricians' offices in Minden and several private residences in the Minden and Fort Worth, Texas areas.
Rusty Carter: He was recently laid off and became a full time artist. He exhibited his paintings for the first time a few years ago during ChickenStock. His sales that day were the encouragement he needed to continue. He is a full time artist now.
Baygent Baker: Baker is a traditional artist working primarily in acrylic paint and colored pencil. She finds her inspiration in nature and loves to capture the beauty that surrounds her.
Christine Gladney: She is a multi-disciplinary artist from Homer, and will showcase her stained glass.
The Farm of Cultural Crossroads is located at 419 E. Union St.