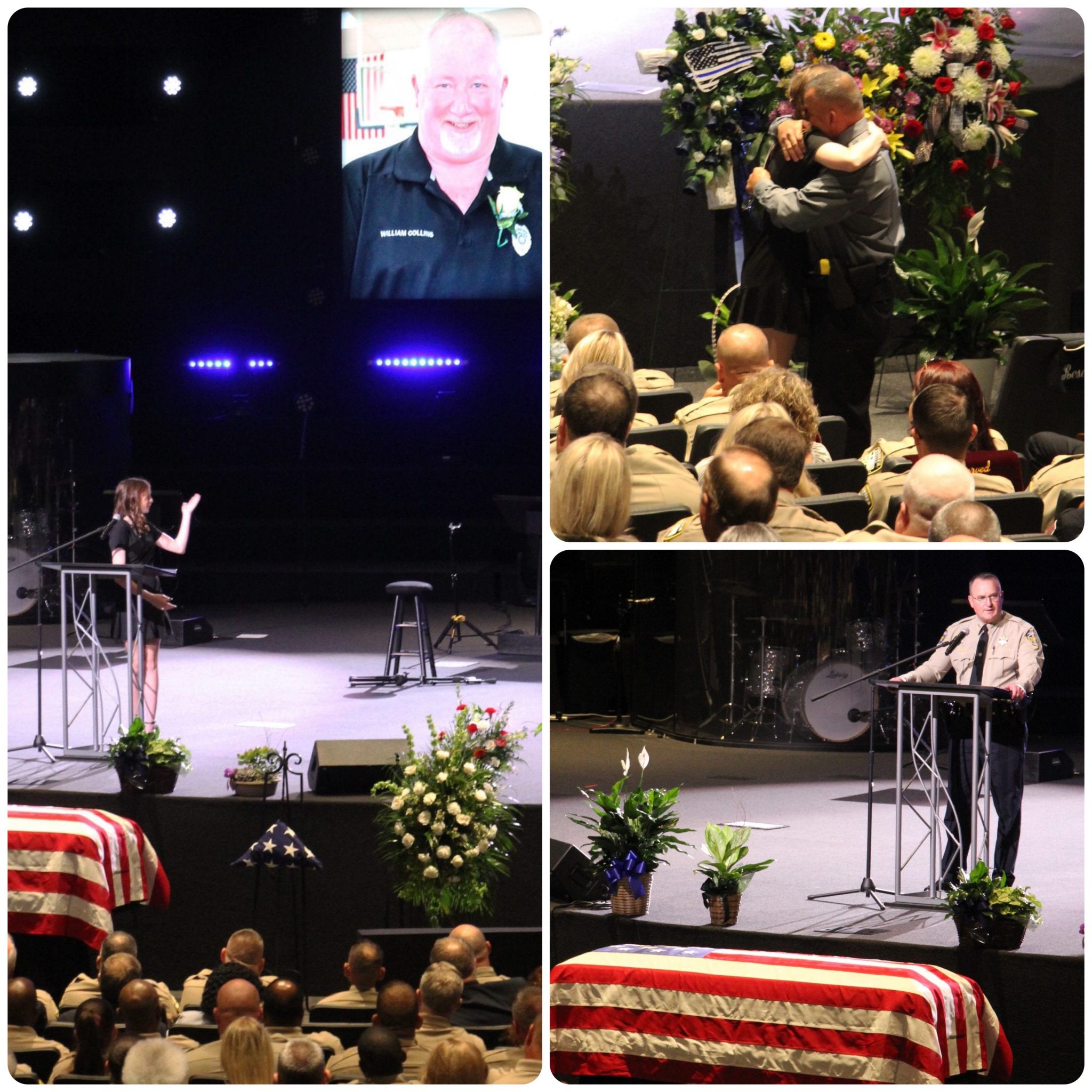 This weekend law enforcement officers, friends, family, and members of the community gathered in order to celebrate the life of one of Webster's own, William "Billy" Collins Jr., a Webster Parish Sheriff's Deputy and Doyline Police Officer who lost his life after sustaining a gunshot wound while responding to a disturbance call.
It started on Thursday with a Sea of Blue being conducted by law enforcement following the visitation held at First Bossier Baptist church. A long line of patrol units traveled east along Highway 80 with emergency lights from the vehicles flashing red and blue all the way to Hillcrest Memorial Park and Cemetery as an expression of respect from fellow officers to the fallen deputy.
Friday a celebration of life was held at where some who were close with Collins spoke in remembrance including Doyline Police Chief Robert Hayden, Webster Parish Sheriff Jason Parker, and even one of Collin's own daughters, Danielle Collins.
"Courage. That word is the most fitting for the actions performed by Billy Collins, and though we grieve today for the earthly loss of our family, we also want to celebrate the life of this great man," said Sheriff Parker.
Parker kicked off the proceeding with a thoughtful speech recalling the man that Collins was and the dedication he showed to Webster Parish and its citizens.
"He was a man of professionalism and action. A man who loved his job and community. And a man with the utmost respect with his charge as a peacekeeper and defender of the people of Webster Parish," said Parker.
"Without hesitation, Billy always answered the call to serve and protect. He performed his loyal duty for his fellow citizens. It was a duty that he held to the highest esteem," said Parker.
"To do his part to uphold the rule of law, to respond to those in need, even in harm's way. That's exactly what Billy Collins did last Friday, when he responded to a call for someone in need. He honored his badge, and he selflessly performed his duty, and made the ultimate sacrifice to prevent it from happening to another."
"You may not ever see it on the national news, but this community is extremely thankful that there are law enforcement officers like Billy Collins in the world to keep us safe," said Parker.
"Sgt. Billy Collins. A faithful Christian. A selfless servant to the people of Webster Parish. He will ever be celebrated and remembered for his sacrifice, for his loyalty, for his courage, for his love of the fellow man. Thank you Billy, we love you brother."
While others referred more to his life as an officer, his daughter provided a glimpse into what Collins was like in his personal life, recalling fondly his humor and his loving support.
"My dad was always the man that would tell you that you could count on him. No matter what the situation was. He cared so deeply for those he loved. I wish I could convey the amount of love and pride he held for his family and his community. But I know you all know how deep it was," said Danielle Collins.
Doyline Police Chief Robert Hayden also recalled a conversation that now holds somber tones when heard with context of what happened July 9th. One in which Chief Hayden was attempting to coax Collin's wife, Teresa's worries about Collins joining the Doyline Police Department since her grandfather, Deputy Vernie Roberts, had lost his life while serving in northern Oklahoma in 1999.
"Teresa and her family started reliving the nightmare they had once lived before," said Hayden. "When I received the call and was told what was happening, I immediately remembered the conversation Teresa, Billy, and I had four short years before. That conversation will always haunt me because I said, 'Doyline is a one-mile radius town with good people. And I do not think anything bad will ever happen to him.'"
After the Eulogy, a Last Call was conducted where Officers and Deputies from Webster Parish and Doyline made a final pass by the casket before heading to Hillcrest Memorial Park and Cemetery for graveside services that included a Patriot Guard presentation, a 21-gun salute, Taps, a helicopter flyover, and flag presentations.
While not directly related to the funeral proceedings, this incident in a sense reached a conclusion on Saturday, the day after all these proceedings took place, as it was announced that the suspect responsible for murdering Collins Jr., Mahlon Taylor, 59, succumbed to his injuries and died at Ochsner LSU Health Shreveport.
Rest in peace Officer Billy Collins Jr.